---
Some weird MOVEs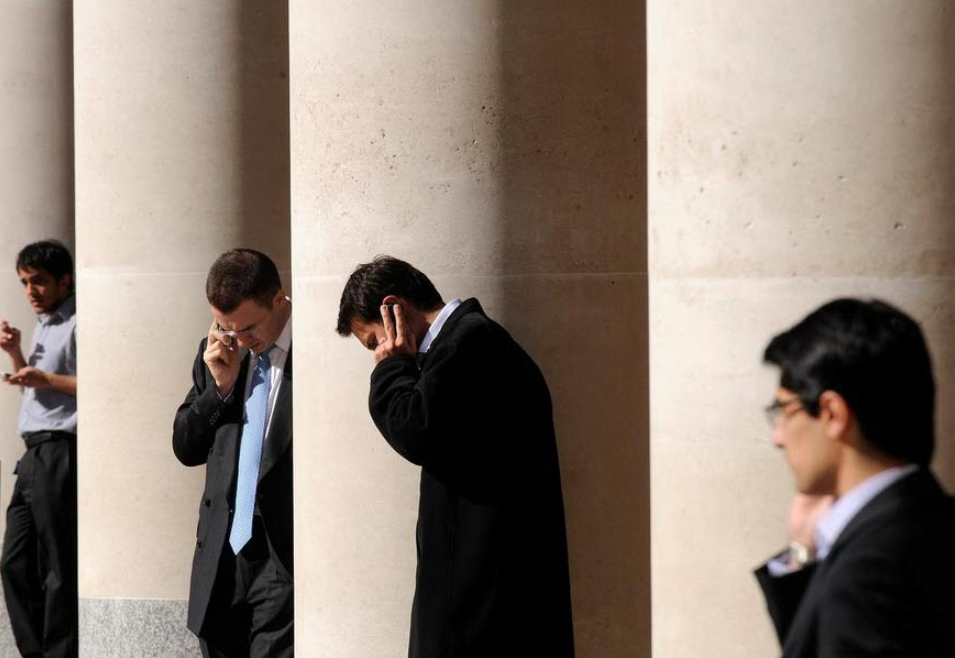 See TME's daily newsletter email below. For the 24/7 market intelligence feed and thematic trading emails, sign up for ZH premium here.
GS On Powell: Balanced...
GS: "We saw Powell's comments in the press conference as balanced. Overall, we saw the key takeaways from today's meeting as consistent with our expectation that the taper will run its course at a $15bn per month pace and that the FOMC will then hike interest rates for the first time in July 2022, shortly after tapering concludes".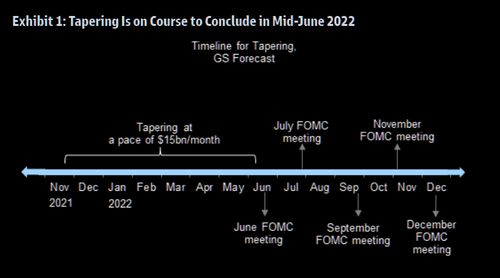 Source: Goldman
Yield Curve - Why So Flat?
JPM sums it up very well:
"We find that a position wash out and an associated deterioration with liquidity, along with re-balancing flows from defined benefit pension funds and balanced funds as well as still ongoing QE have all contributed to the flattening in yield curves."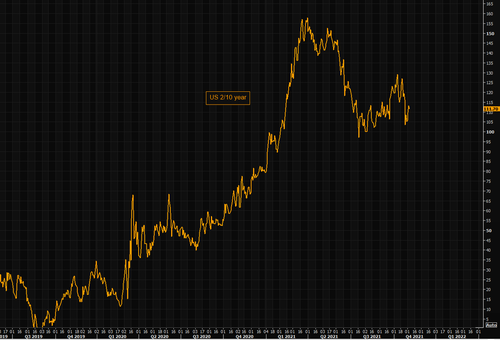 Source: Refinitiv
The Positioning And Shitty Liquidity In Bonds
Note the change in macro hedge fund's bond beta. From very short in Sep, to very long. Second chart shows the crashed liquidity in bonds.
Liquidity has totally crashed over the past months, bringing it back to its lowest levels since the corona panic.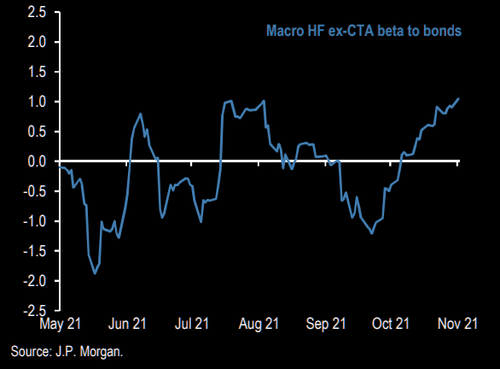 Source: JPM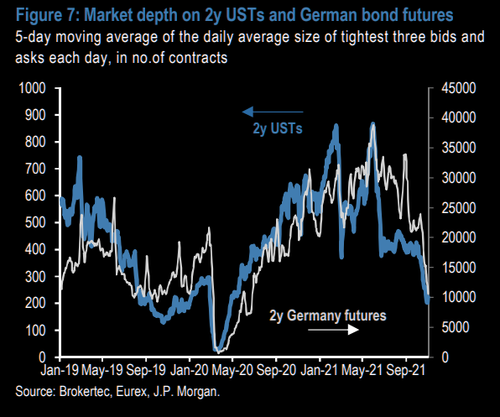 Source: JPM
The chart of the day
UK 2 year yield is creating huge p/l pain among bond traders today.
First the explosion to the upside in yields and then the latest from BoE leading to the 2 year yield puking.
Good luck trading big products...
Source: Refinitiv
The everything ATH market
Freshly updated Fed balance sheet and the SPX.
Is SPX getting a bit ahead of itself, or is seasonality the only thing to care about?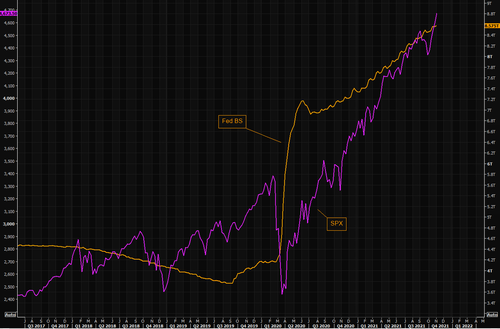 Source: Refinitiv
SPX 5000 - the everything bull next?
JPM's head of US market intelligence, Andrew Tyler, argues that we are setting up for an "everything rally" into year end. Imagine tech and value rallying together from here?
He writes:
"Large-cap Tech is seemingly more correlated with real yields; whereas, Value and Banks are more tied to the shape of the nominal curve. It is possible that he nominal curve steepens while real yields real neutral. In Mislav's strategy note this weekend, his research shows that after the 2013 tapering Tech rallied alongside the Value sectors."
How do you play such a scenario?
Given the most recent vol reset, we like using relatively cheap volatility for directional options plays. If this melts up, upside calls will kick in quickly.
Use it for replacement strategies or pure speculation.

Source: JPM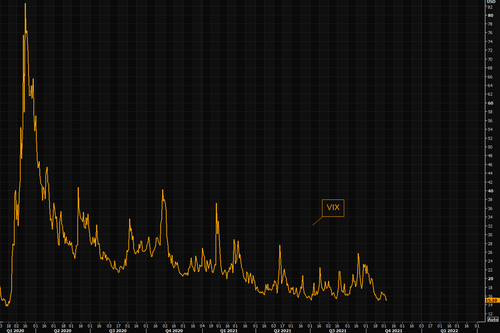 Source: Refinitiv
MOVE refuses easing much
Bond volatility stays at elevated levels. The gap vs VIX remains wide, but note it actually managed shrinking small today as equity protection stayed relatively well bid...despite equities squeezing higher.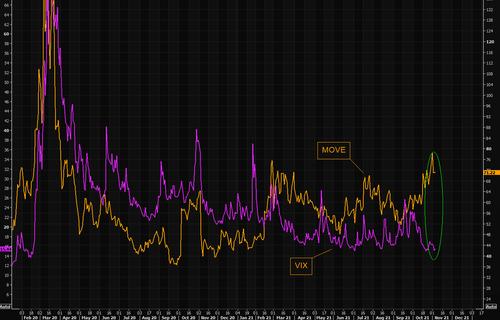 Source: Refinitiv
Oil - good luck trading it
Oil is putting in some of the weirder candles we have seen in a long time.
50 day moving average is around the big 80 level. Watch it closely.
The gap between oil and SPX is getting rather big here. As we pointed out recently, oil open interest is horrible and is not helping the erratic moves.
We have yields moving like small caps (see UK stuff today), oil doing the same thing and equities melting up.
Cross asset liquidity isn't great, and this could become an overall problem.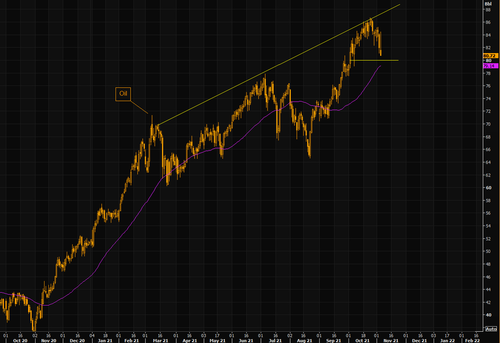 Source: Refinitiv
Source: Refinitiv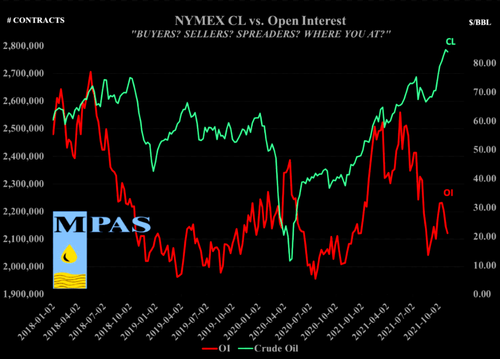 Source: MPAS
Copper - more downside?
Despite copper doing nothing over the past months, the metal is still up 24% YTD, now matched by SPX. Since the pandemic lows, the metal has doubled.
Numera is pout with a bearish copper trade logic. They write:
"All major copper end-­uses recovered faster than global GDP, benefiting from strong credit and infrastructure spending in China, and soaring goods consumption in DMs. Meanwhile, weak mining investment and mobility curbs in LatAm capped the supply response, lowering copper inventories."
Second chart shows Chinese housing. Demand isn't looking great. Building construction is some 30% of global copper demand...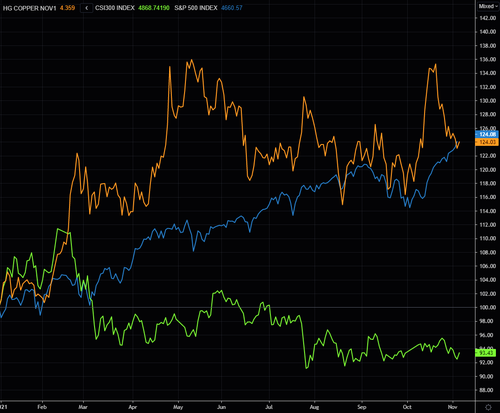 Source: Refinitiv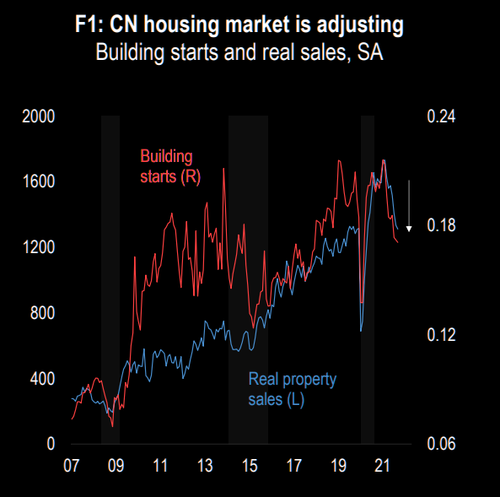 Source: Numera
Mighty dollar - will you?
Today was a buy everything day. People bought equities, bonds, gold, VIX and the dollar.
The DXY is once again closing in on the huge 94.5 level. Second chart shows the net specs continue holding big DXY longs.
Let's see how this plays pout from here, but a close above the 94.5 and the DXY will get seriously "squeezy"...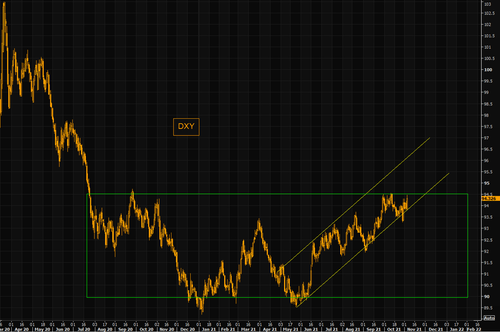 Source: Refinitiv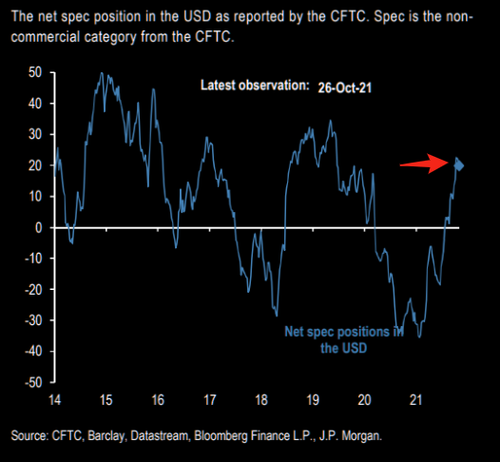 Source: Refinitiv