---
Nobody in control...yet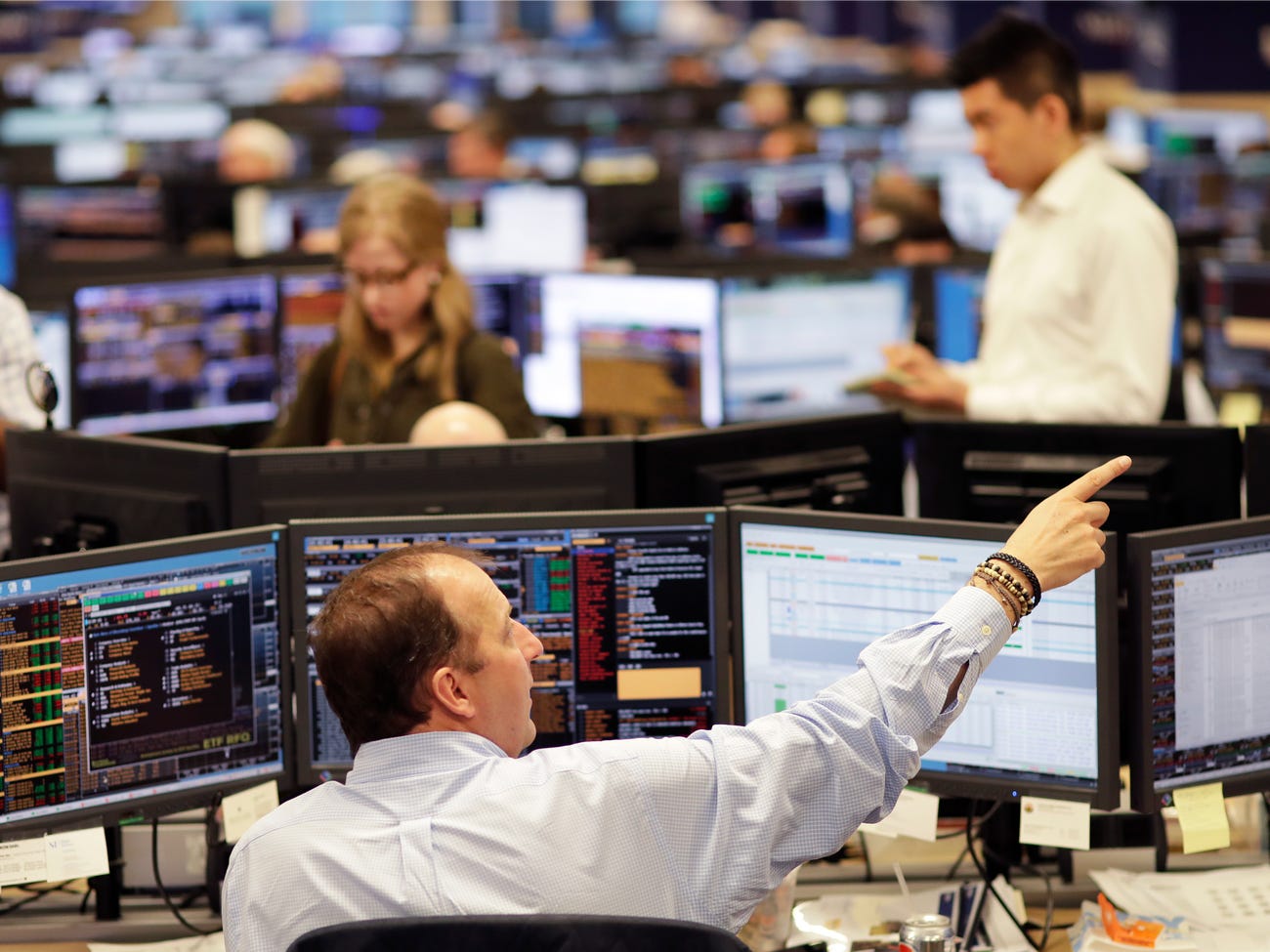 Goldman is not jumping on the bounce train
Goldman's asset allocation strategists have the following things to say this morning:
1. remain defensive in our asset allocation into year-end. Remain UW equities for 3m horizon
2. "While sentiment and positioning is somewhat bearish we do not think we are at peak bearishness. Sentiment can stay bearish for a long time during bear market - a combination of extreme bearish sentiment, positioning and valuations provide a stronger bullish signal..."
3. "We think equity drawdown risk remains elevated into next year....."
JPM on the possible next phase of the squeeze
Andrew Tyler, head of US market intelligence, writes:
The key to a more aggressive squeeze may lie with
1. CTA buying – thought to activate in the 3800 – 3900 range
2. Buybacks – said to accelerate coming out of the earnings blackout window as soon as next week
3. Macro data – this is still a market driven by yields and the Nov 2 Fed meeting and Nov 10 CPI release loom large.
Big boys volatility ain't low
Major FX vols are elevated (red crosses).
Source: GS
Remember Yuan volatility?
Yuan 1 month volatility is back to recent highs...which is rather elevated levels for the CNH. You don't trade the "gap" between CNH vol and VIX, but as long as cross asset vols remain well bid, the case for VIX easing much in the short term is not realistic.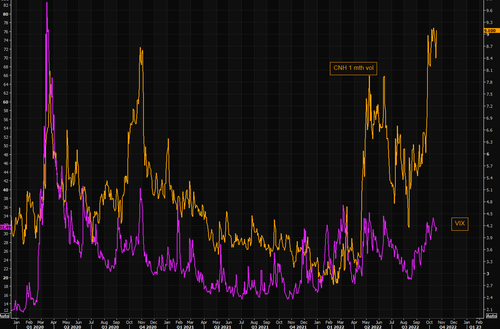 Source: Refinitiv
Up, up and away
Unstoppable JPY is approaching the 150 magnet. For a few days the US 10 year was lagging, but that seems to be changing...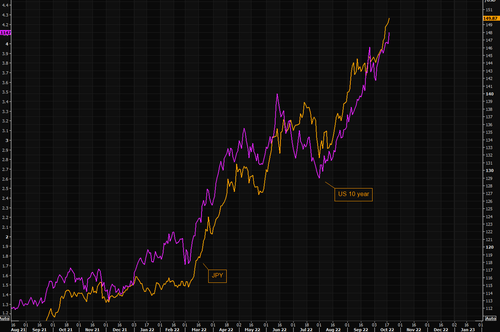 Source: Refinitiv
When VIX looks "low and tiny"
Cross asset volatilities have been on the rise for months. Equity vols on the other hand only picked up recently. The gap vs cross asset vols remains very wide. Chart showing JPM FX vol index vs VIX.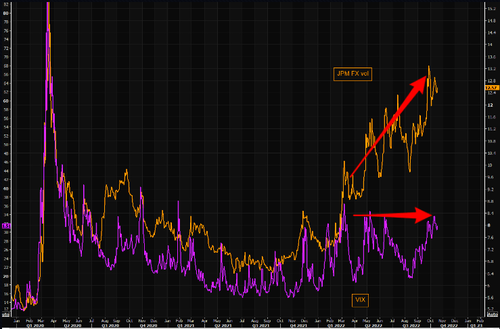 Source: Refinitiv
Equity volatility just adjusting to "reality"
BofA's derivatives team dives deep into volatility across assets. One of the conclusions regarding the most recent pick up in equity vols:
1. Equities are growing increasingly reactive to economic data surprises
2. Short-dated S&P vol has continued to underprice economic data risks
3. Rates tend to worry more than equities about the economic data
4. Rates vol has been better priced for this year's extreme data volatility
Do we see the MOVE vs VIX gap shrink eventually? Chart shows that being long the 1 day atm straddle into economic events has been rather profitable over the past quarters.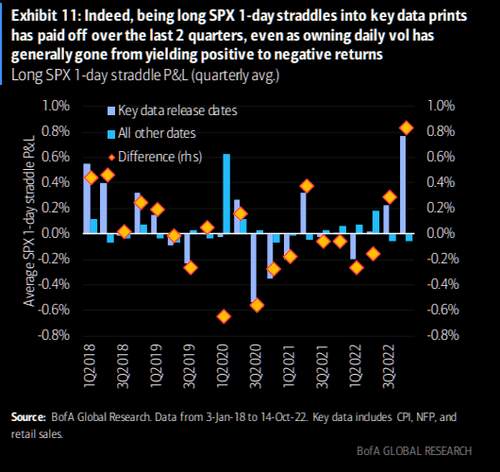 Source: BofA
The dollar and the EPS
EPS slows by 1% for every 2% appreciation in USD.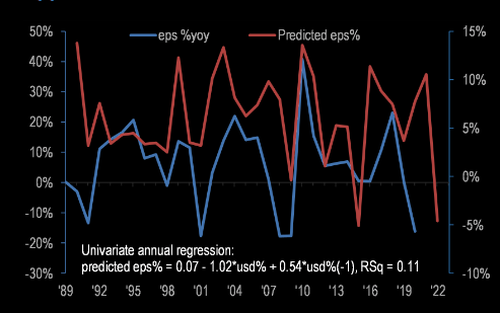 Source: JPM
Hiking stops, QT continues
Even if central banks stop hiking, there might be continued pressure from QT...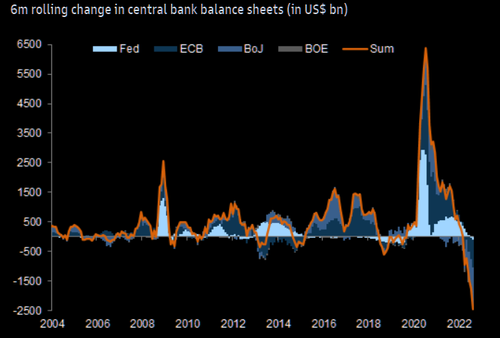 Source: Goldman
Who is in control?
Huge moves, but SPX is trading at the same levels we traded at almost four weeks ago. Bullish or bearish? For now, nobody is in control...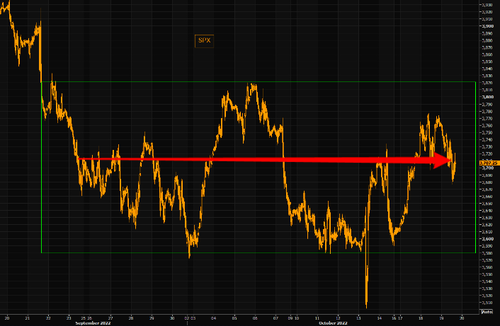 Source: Refinitiv
See TME's daily newsletter email above. For the 24/7 market intelligence feed and thematic trading emails, sign up for ZH premium here.
Loading...