---
Will "it" bounce?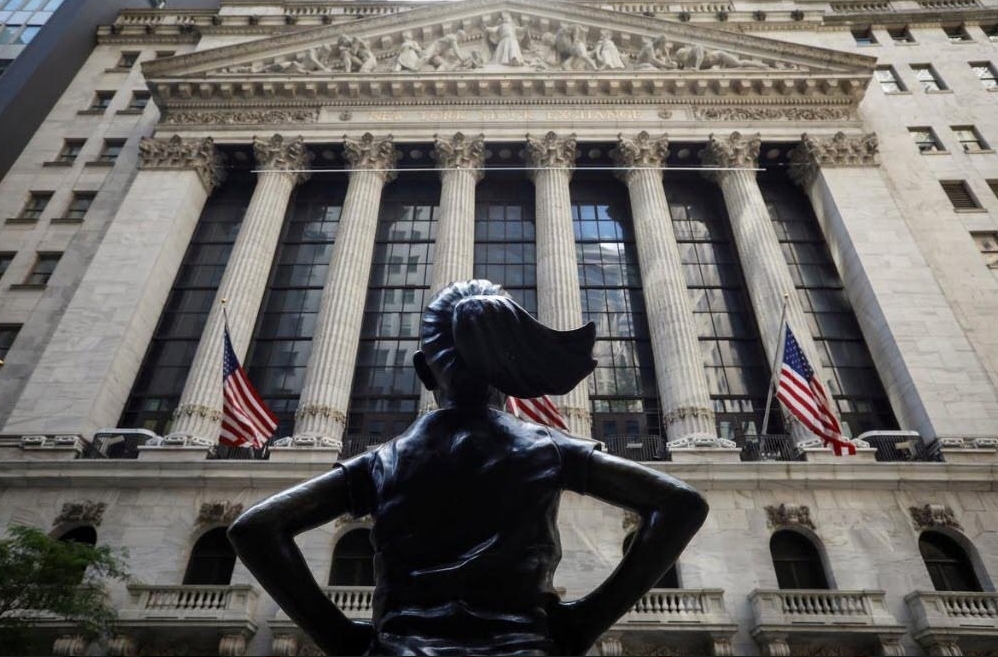 See TME's daily newsletter email below. For the 24/7 market intelligence feed and thematic trading emails, sign up for ZH premium here.
NASDAQ - to dare or not to dare?
NASDAQ has actually done nothing since early September. The index has been stuck in a perfect range since mid Oct. The only thing that has risen is tech volatility, VXN. Price action today is not overly impressive post the carnage yesterday, but note VXN is up as we trade close to the 100 day, the longer term trend line and the lower part of the range. All break out attempts (up as well as down) have been reversed since October. Is this time different?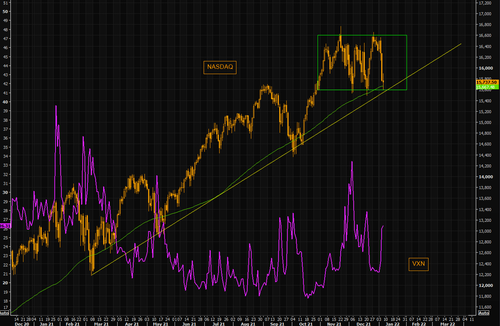 Source: Refinitiv
The absurdity of put hate
The crowd continues to make the same mistake over and over again. They hate puts when they should love them, and they love puts when they should hate them.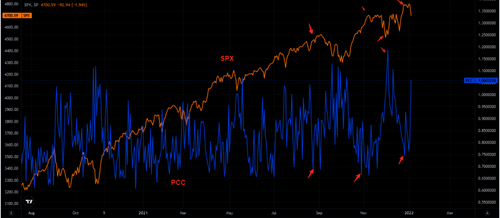 Source: Tradingview
Oil - there was blood in the streets...
Oil has surged since early December, but is "decoupling" from the US 10 year break evens lately. Black gold is getting rather overbought here. On Dec 1 we sent our thematic email (ZH premium subs only) "Oil - blood in the streets?" and suggested oil was way too hated and that a proper bounce was due. We wrote: "If you ever wanted to buy when there is blood in the streets, now looks like a bloody good time". Fast forward to today and oil has gained around $14-15. If you played the bounce logic it is time to book profits.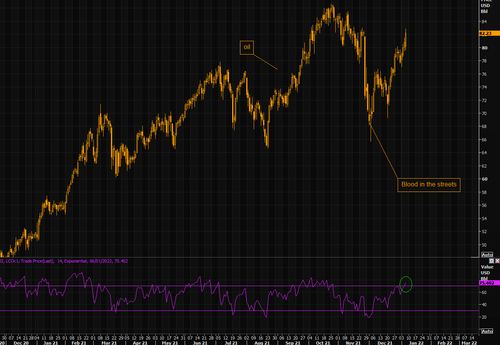 Source: Refinitiv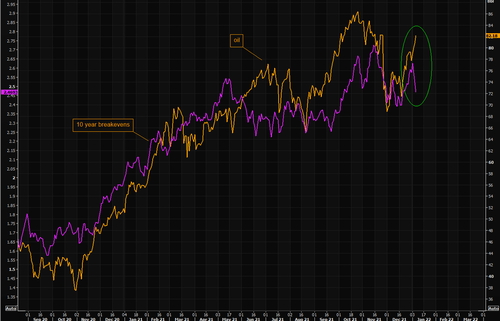 Source: Refinitiv
Bitcoin - oversold
Bitcoin is putting in a classical hammer candle as of writing. Let's see if BTC manages catching a few short terms bids. Skew has imploded recently as people have abandoned calls relatively speaking. After all, this stuff is very oversold...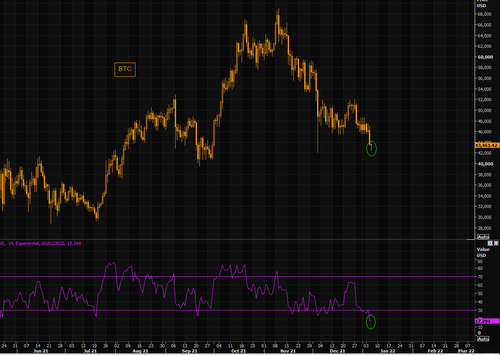 Source: Refinitiv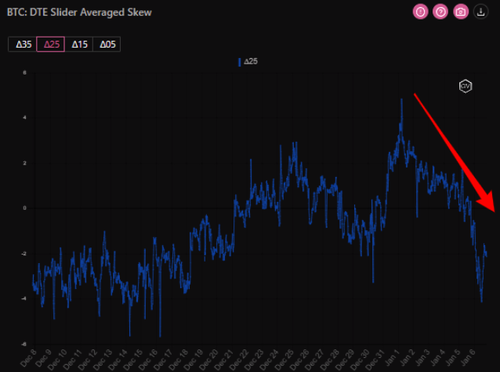 Source: Genesisvolatility
Waiting for the institutional bitcoin inflow?
Looks like you have to wait a bit longer. BTC has several problems when it comes to attracting the "real" institutional flow (we are not talking MSTR nor El Salvador). BTC lacks a shorter term trend and volatility continues to be huge. This is not what institutions are looking for...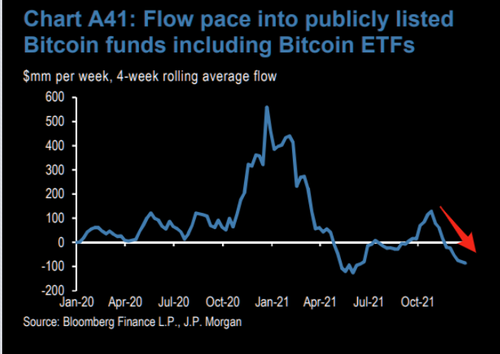 Source: JPM
ETH's "fundamental fade"
It is never a good idea to start losing market share. JPM points out the poor trend for ETH: "...we are at least a year away from the full scaling of the ethereum network. The risk is that during that period the ethereum network will lose further market share against competing networks. And the ethereum network has been losing market share at a rapid pace over the past year." The bank sees the biggest risk being that by the time ETH's Sharding system is implemented in 2023, "...competitors' ecosystems would have grown by so much that activity won't return en masse to the ethereum network".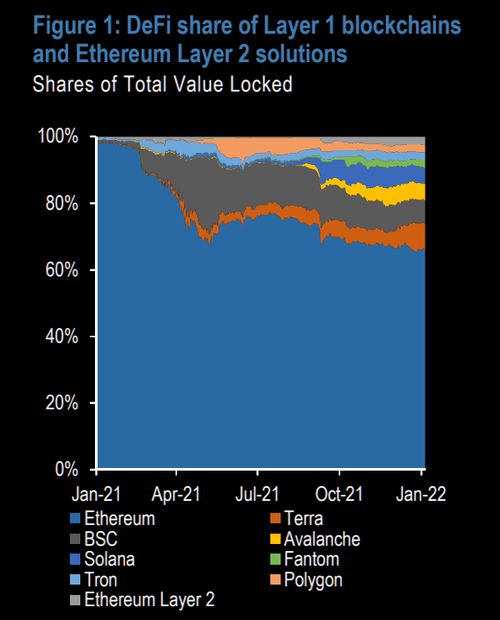 Source: JPM
Retail Army: breaking up is hard to do
1. The most popular stocks this past week continue to be long time retail favorites including AMD (+$248MM), NVDA (+$173MM), and TSLA (+$115MM).
2. In terms of volatility, retail traders bought $292MM of delta and sold $1.6B of gamma this past week. TSLA and AMZN accounted for around 45% of the gamma supply. At the other end of the spectrum, they bought around $120MM of QQQ gamma. (JPM derivs)
Apple - enjoying the theta checks?
Our latest logic since a few weeks ago regarding the $3 trillion giant is to use elevated vols in order to overwrite. Apple has remained stuck inside a rather volatile range. "Must be long"s that have been overwriting actively have enhanced yield. This one needs to consolidate for longer...Second chart shows Apple gamma. Note the stock is in long gamma territory as lot of players have been active in overwriting longs, "filling" dealers with long gamma.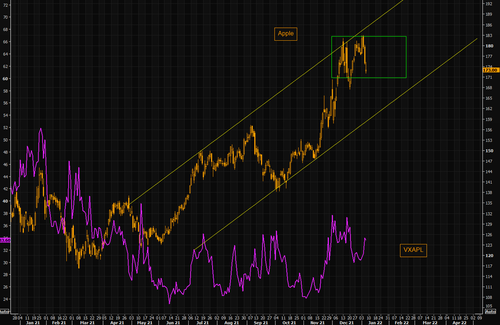 Source: Refinitiv
Source: Tier1Alpha
Fed - from late to hurry u
TS Lombard's Steven Blitz latest thoughts on the Fed: "In sum, this shift to a balance sheet focus conveys their heightened concern about getting inflation under control, knowing how far behind they are, but this is also history repeating itself. The long history of the Fed and business cycles, beginning in the 1920s, is repeatedly being late to remove accommodation coming out of recession, then hurrying to catch up, thereby creating the next downturn. The same outcome now looks to be baked-in-the-cake, unless the Fed, unwilling to accept a bear market in equities, moves the goal posts, and declares 3% the new inflation target – while still hoping for a bailout from better productivity and a deflation wave from the rest of the world later in the year."
How about BTD in China?
The recent 33% peak-to-through market correction is reminiscent of a Major correction, which tends to precede a strong subsequent market recovery.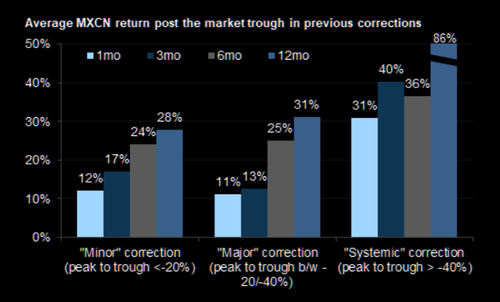 Source: Goldman