---
Selling low buying high frustration continues...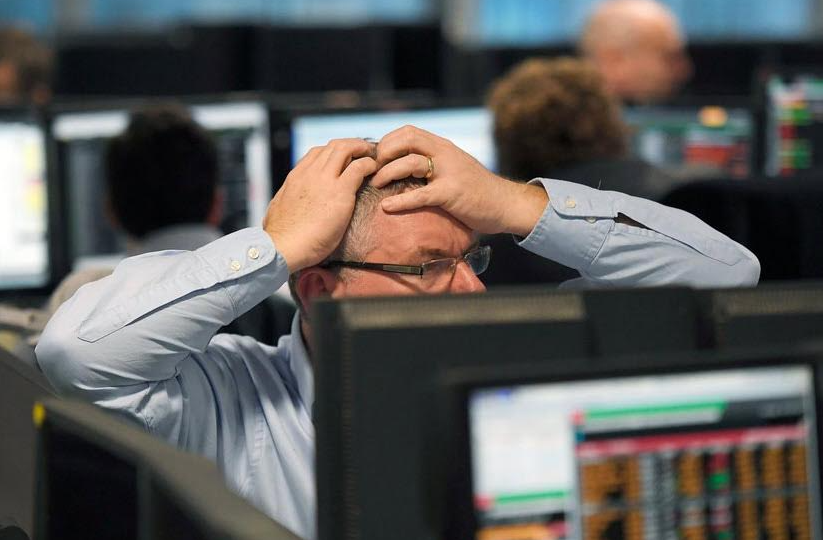 See TME's daily newsletter email below. For the 24/7 market intelligence feed and thematic trading emails, sign up for ZH premium here.
Erratic is king
The main pillars of this market stay intact: short gamma and poor liquidity. We are moving away from the "deepest" short gamma levels, but QQQ's remain in short gamma land. The agony of selling lows and chasing highs continues...all in a poor liquidity volume environment.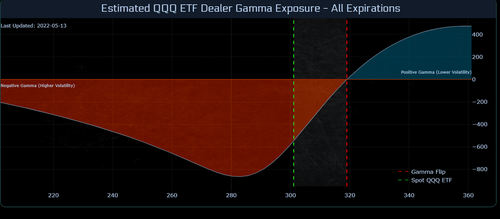 Source: Tier1Alpha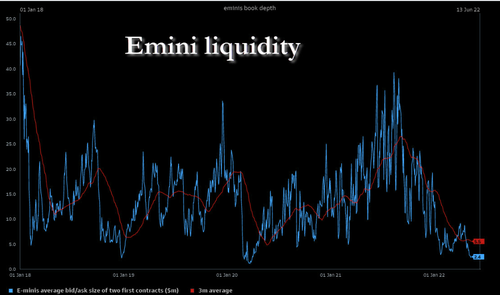 Source: ZH
Powell has already done a Volcker
The great macro team at DB on their shadow rate and Powell's actions"...our shadow fed funds rate currently stands near 2.3%, which is 2.8 percentage points higher than its level six months ago. This nearly three percentage point rise in our shadow rate over the past half year, which reflects not only the Fed's tightening moves but also their balance sheet decisions and guidance about future policy, is the sharpest rise in this metric since the Volcker Fed in 1981". The investment bank basically argues that Fed has already gone a long way in positioning policy to the economic outlook. US financial conditions have tightened substantially in recent weeks...(not due to the 75 bps hikes only).

Source: DB
Hedge fund havoc: largest 5-day gross reduction ever
"Fundamental L/S Gross leverage saw the largest 5-day reduction on our record, driven by mark-to-market as long losses have far outweighed gains from short positions" (GS Prime Brokerage)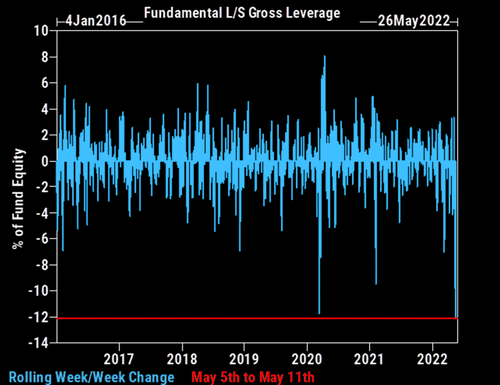 Source: GS PB
Junk yield starting to feel tempting
The yield on junk bonds has moved up to 7.4%, highest since May 2020. Last year they hit an all-time low of 3.9%. 7.4% starts to feel tempting IF inflation gets under control...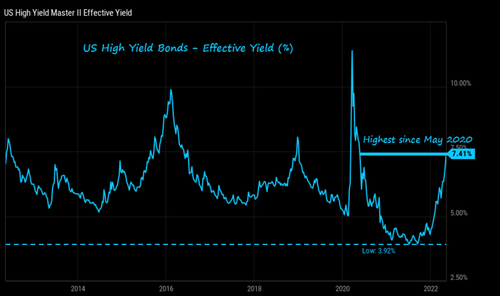 Source: Bilello
Was this the capitulation?
Harnett and team have been spot on. They see signs of capitulation in stuff like cash levels, FMS growth and profit expectations, but according to the investment bank we are not seeing capitulation in:
BofA FMS rate expectations net +86%...no…rate cut expectations always seen at lows
BofA FMS equity AA net +6%…no…lows require -20-30% allocation (i.e. investors UW stocks)
BofA FMS bond AA net -68%…no…lows require investors to close their UW bond allocation
BofA GWIM private client equity AA 63%...no…prior lows saw equity allocations pullback to at least 56%
Equity inflow unwind…no…for every $100 inflows past few weeks we have seen just $4 redemptions vs >$50 prior in prior bear markets
Equity redemptions % AUM….no…outflows thus far 0.2% AUM vs 3-6% at prior lows. 
Let's see how this plays out, but as we sent in our thematic email yesterday (premium subs only), "...we could be closer to a bounce", a lot of selling has already taken place...
Duration short
As proxied by the JPM "Treasury Client Survey"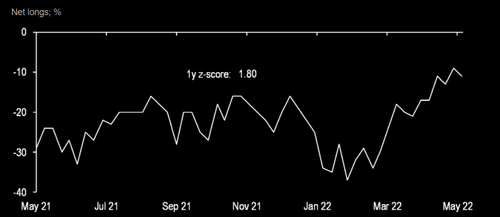 Source: JPM
We have seen this movie before...
...but first a bounce. Albert Edwards reminds us of his US IT out performance charts that have been very accurate so far. Why not a bounce, get some more people to buy the dip and then the "movie again"?

Source: Soc Gen
Volatility - the instrument of truth
That is what Chris Cole refers to when it comes to volatility as an asset, and we agree with him. VIX has refused to get "excited" about the latest market turmoil, and the Heinz (catch up) moment is playing out today. This market continues to be extremely complex and oscillations are huge. The gap between VIX and SPX continues to be rather wide. VIX 1st month futures (inverted) vs SPX.
Source: Refinitiv
Fed funds > 4%...if...
Recall the Taylor rule? TS Lombard's Steve Blitz argues for "his" adjusted version. He writes: "...this adjusted Taylor rule requires a 4.5% funds rate – or 4.25% " if the inflation target rises to 2.5% (which they will do, even if now unannounced)... Accounting for lingering inflation tied to the emergence of a credit cycle (smaller now, bigger in a few years) and that the output gap now means something, 4.25% is a reasonable expectation. Unless growth collapses. In the world today, all possibilities have become probable."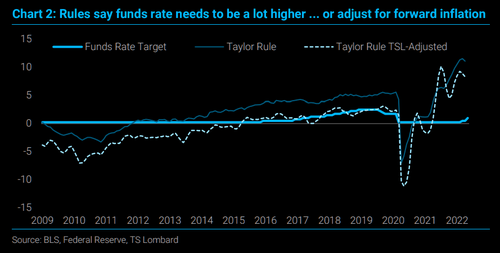 Source: TS Lombard
Crypto panic comes with a price
We often come back to the fact most people tend to buy protection too late, ending up buying rich options in terms of volatility (and often direction). Yesterday, in our thematic crypto email, we reminded our readers: "Chasing crypto vols here is a very late trade..." Fast forward to today and ETH tails have reset big. Tables show May 27 ETH downside puts yesterday compared to today. It is expensive to panic...