---
Closed markets macro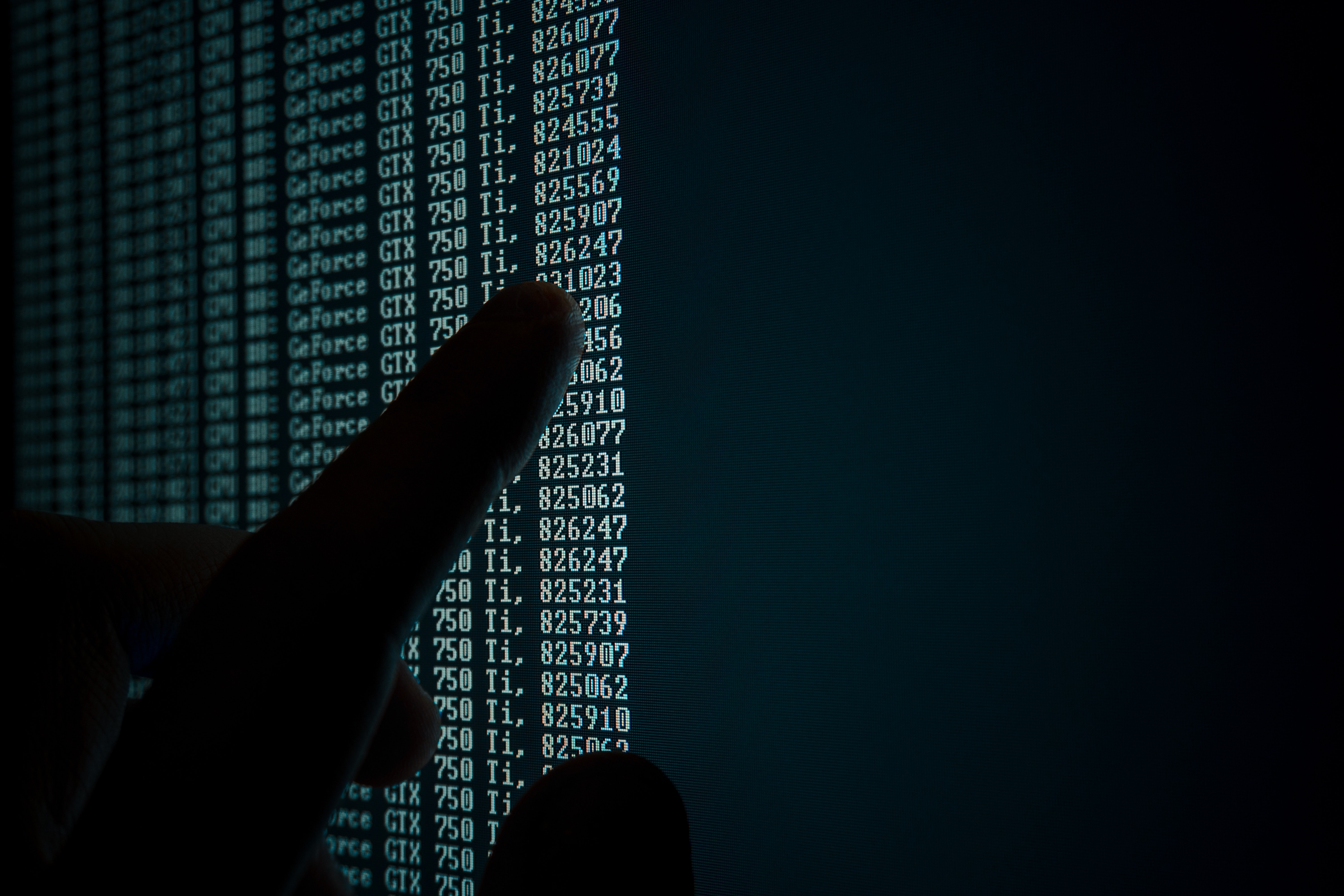 See TME's daily newsletter email below. For the 24/7 market intelligence feed and thematic trading emails, sign up for ZH premium here.
GS on the China rate cut
We see a few reasons for the cuts:
1) Increased downward pressures on activity growth from Omicron outbreaks and the property slowdown. Local outbreaks of Omicron have affected multiple provinces and policymakers reimposed strict control measures such as suspension of inter-city transportation and the promotion of "staying put" for the Chinese New Year holiday.
2) Broad credit growth missed expectations despite policy guidance for accelerating credit extensions, on the back of sluggish activity growth and weak credit demand. Market color suggests going into January, when credit growth typically tends to rise rapidly on seasonality, weak credit demand might continue to drag on overall credit extensions
3) Lower CPI and PPI inflation leave room for policymakers to ease monetary policy further. (GS asia economics)
China - running still
TS Lombard's latest on China can be summed up with:
1. Amid rising Omicron headwinds, China to remain cautious on Covid in 2022
2. Bottom line for growth and employment approaching; Beijing will increase stimulus response
3. Policy easing cycle is positive for bonds but sets up RMB depreciation
Source: TS Lombard
Slow "reverse QE"
Temporary relief from Powell – slow'reverse QE' confirmed. Powell says Fed will stop replacing maturing bonds, but will not sell holdings: slow QT.

Source: Macrobond
The Fed is set to become a net seller of MBS and spreads are likely to widen
The Fed has started tapering its net additions of $40bn a month in MBS for most of QE4 and is only set to net add $20bn in the January reinvestment period. They are on schedule to end net purchases after the February reinvestment period. JPM: "Our current base case has the Fed reinvesting all paydowns into MBS from March through June, and first letting MBS run off the balance sheet in July. Fed holdings of mortgages began the year at $2.60tr, we expect a peak of $2.62tr in February and at YE22 the holdings to be $2.47tr (down 5% y/y). By the end of 2023 we expect the holdings to decline a further $361bn (down 19% from the peak)".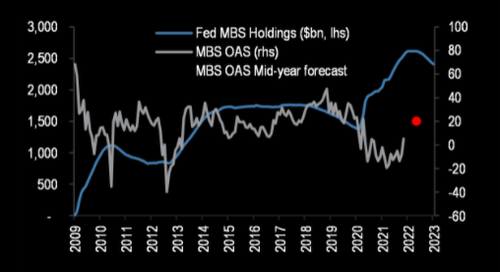 Source: JPM
More on FED and MBS
The Fed currently holds 32% of outstanding mortgage bonds. We expect this to decline to 24% by YE23.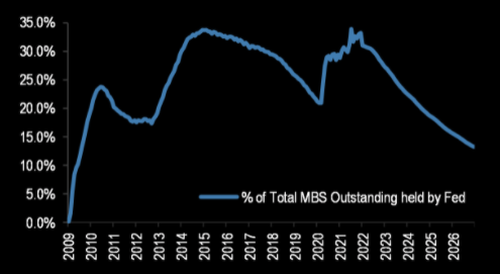 Source: JPM
Fed - time to normalize
Morgan Stanley's Wilson remains pone of the big bears out there and expects a correction of 10-20% during H1 2022. One of the similarities he sees is the Fed "set up" in the 1940s. He writes: "It was a very similar set-up to today with spiking inflation forcing the Fed's hand to start to normalize extraordinary monetary accommodation. The equity market took notice by adjusting the risk premium sharply higher, much like we are seeing today with the highest-valued stocks. Our view is that this could also happen to the S&P 500 as the Fed begins to act. If so, it's anyone's guess how high ERPs can rise but 350bp seems like a low estimate if the markets decide it's time to adjust for a new regime." Worried Wilson remains worried...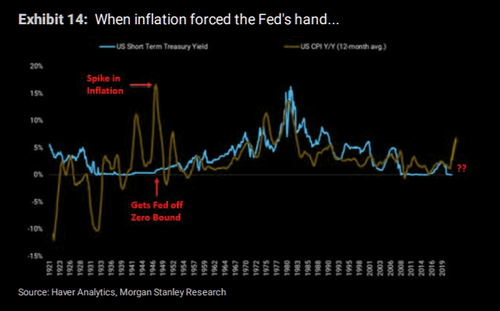 Source: MS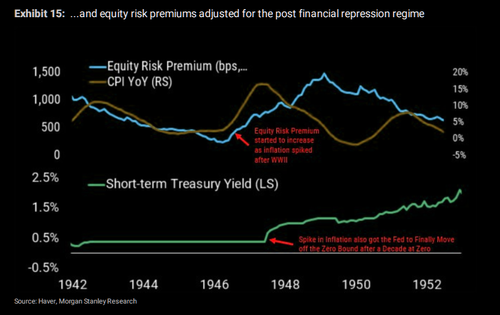 Source: MS
Bond people remain stressed
Bond volatility continues to stay at elevated levels. VIX is up from recent lows, but the gap vs MOVE index remains huge. Let's see what happens when we open the markets again (in case you have missed it Treasury futs implying the 10 year at 1.82%).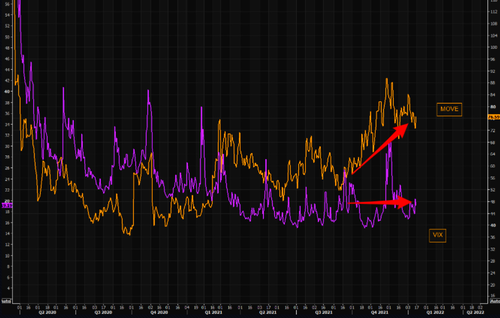 Source: Refinitiv
EWZ - is the forgotten value play waking up?
Brazil is hated by most investors, and the ones that love it have been stopped out/massively under water. EWZ has under performed most assets, but note it is trying to take out the negative trend channel as well as the 50 day moving average. Brazil is an oil/commodities related play and the gap vs oil is becoming very wide. Third chart shows VIX vs VXWEZ. The Brazil relative stress we saw during the autumn has "evaporated". Volatility is not dirt cheap, but offers relatively cheap options plays, but above all signals that Brazilian stress is not that severe these days...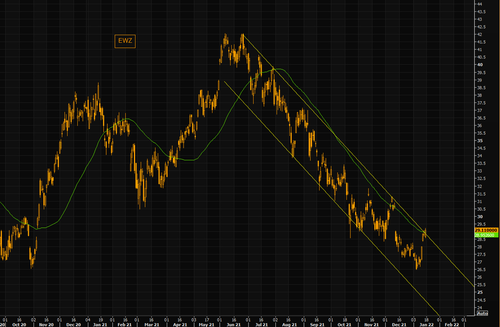 Source: Refinitiv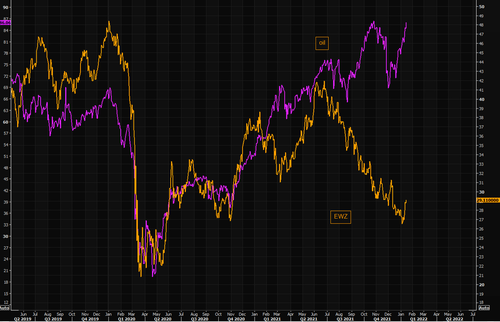 Source: Refinitiv
Source: Refinitiv
EM FX has outperformed G9 FX in recent weeks...
GS: "...but keep view on a tight leash in the face of core rates volatility" . Chart shows average total returns, indexed to 100 on January 4, 2021.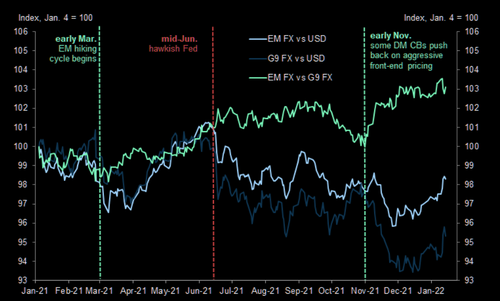 Source: GS FX