---
(should you still) Fear the bear?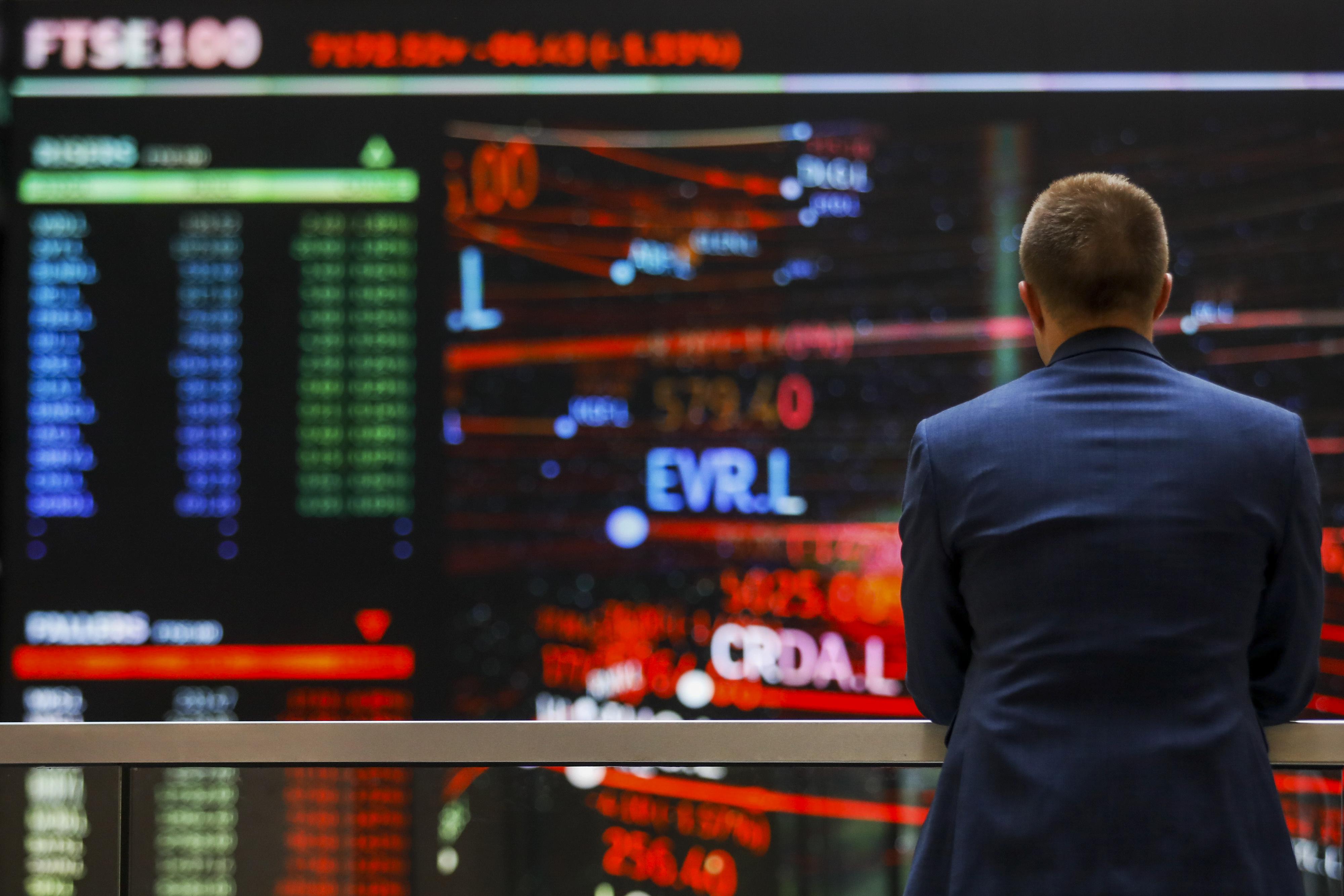 See TME's daily newsletter email below. For the 24/7 market intelligence feed and thematic trading emails, sign up for ZH premium here.
Shorting is huge
We have seen some extreme shorting take place lately. As we noted on Friday, the perceived bear is stronger than the actual bear. NASDAQ futures basically closed at the same levels we traded at on Monday lows, after having moved both higher as well as lower. Imagine the short pain should this decide to bounce from here...
Source: GS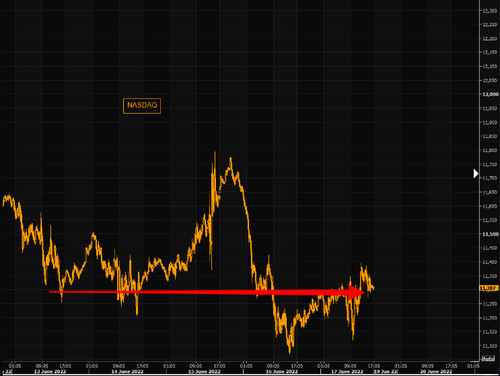 Source: Refinitiv
Severe bear
The current bear market selloff has been more severe than average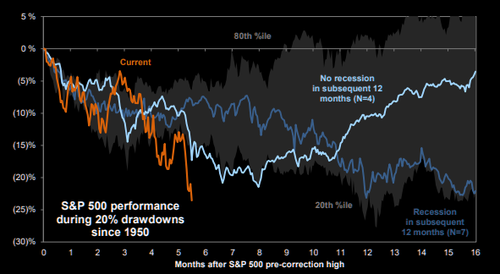 Source: Goldman
They were hedged, but less so now?
Skew has continued to flatten and is now at the cheapest levels in a very long time. Also, note the collapse in the put/call open interest. As Barclays accurately notes: "...despite some large daily moves, this selloff has been more a slow moving train wreck rather than a tail event similar to 2008 or 2020. In fact, even as the market made new lows through the year, there was no sign of panic buying of hedges." Did the institutional investor manage hedging this move, has monetized, but is now "swimming naked"?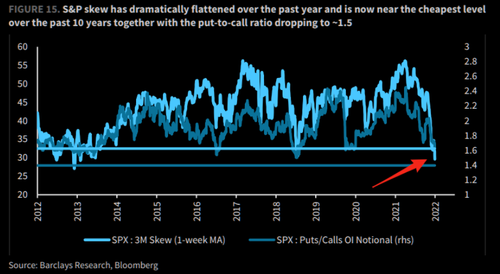 Source: Barclays
Oil is the devil in disguise
Expensive oil is a headwind for economic activity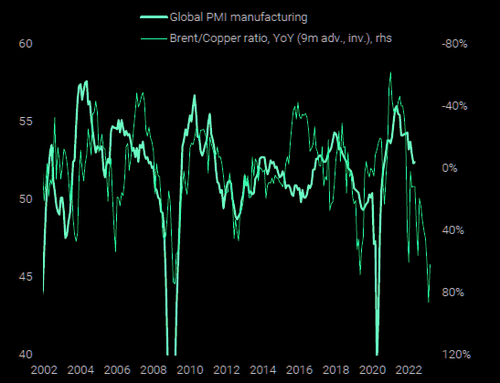 Source: TS Lombard
Oil - liquidity wound
Liquidity problems remain an open wound for CL, open interest making new lows, latest CFTC report (6/14) showing net long large spec position off, spreaders bailing which had been the catalyst on the push above $120/bbl and commercial shorts forced to cover on the recent strength, keep in mind the CFTC report does not cover Friday's -$10/bbl debacle, oil remains essentially a liquidity and intervention play, broken record, trading against flows in front of the intervention train carries outsize risk, technically CL is firmly back in $93-$116/bbl trading range.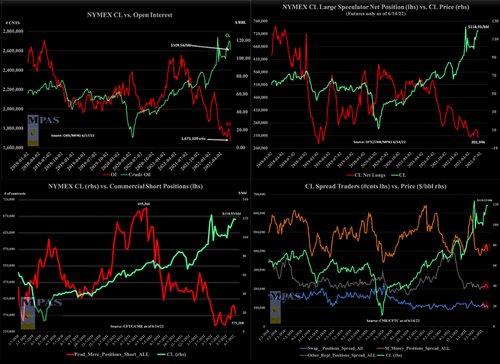 Source: MPAS
US Consumer
Mike Wilson's latest survey of ~2k US consumers, which was conducted 6/11 - 6/13, showed inflation concerns continue to rise across income cohorts – 67% (all-time high) vs. 64% just two weeks ago and 62% in April. 70% said they will likely curb spending over the next six months because of inflation (vs. 63% two weeks ago)… but despite groceries and gasoline being the expenses where consumers are noticing prices going up the most, both are at the bottom of the list for pullback on spending (see below). Only 53% are planning to travel over the next six months (vs. 58% two weeks ago and ~64% last summer), with the decline mostly driven by those earning $75 - $149k, while households with income ≥$150k were more committed to travel plans so far.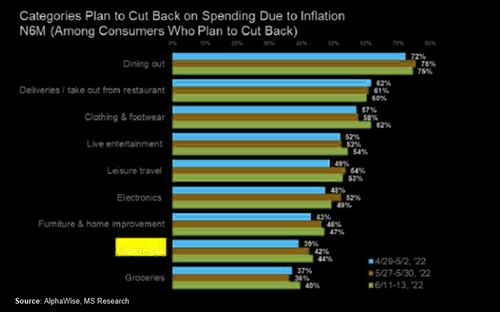 Source: Morgan Stanley
From cuts to hikes in a pic
That was quick...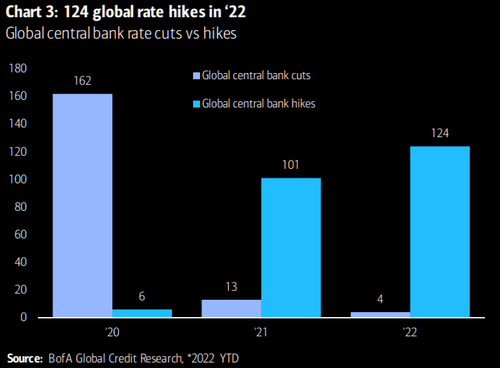 Source: BofA
The fraction of global negative-yielding bonds has collapsed
Proportion of negative yielding global bonds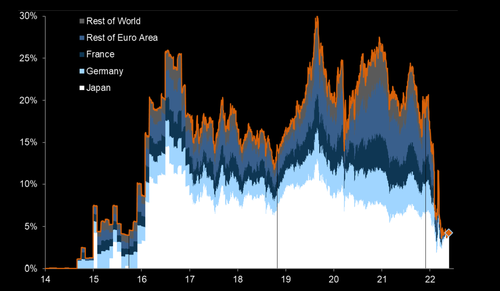 Source: Goldman
You really want to be the new web?
It was less than 10 days ago (here) we reminded our readers about ETH's "web connection" referring to Thanfield Capital:"...if Ethereum is the new web then some may be realizing most internet stocks are trading at pre-COVID highs." Since then ETH has gone from 1800 to now trading at 990...and the reset vs FDN is still not "closed". Second table should be familiar to most TME readers by now. Irrespective of what assets you trade, your only job is to produce positive p/l. Number one lesson in all trading is to never tolerate big draw-downs. It takes only one big draw down to depress your p/l forever.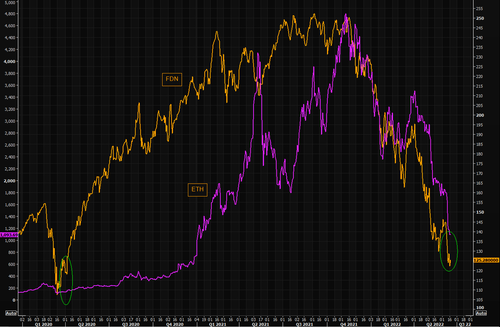 Source: Refinitiv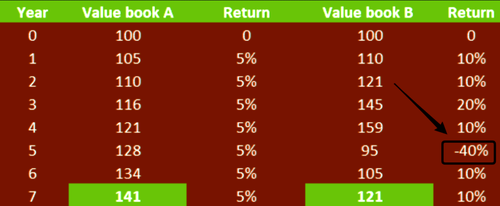 Source: TME
Selling the BTC lows again?
It would be almost too perfect...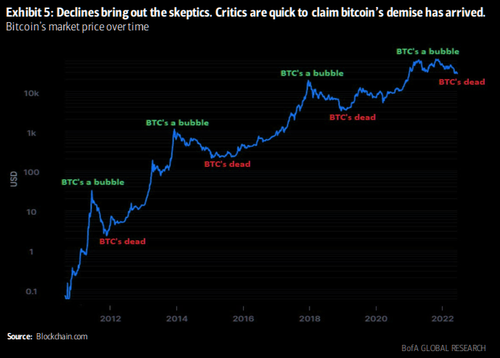 Source: BofA