---
Trying to figure out the "delta"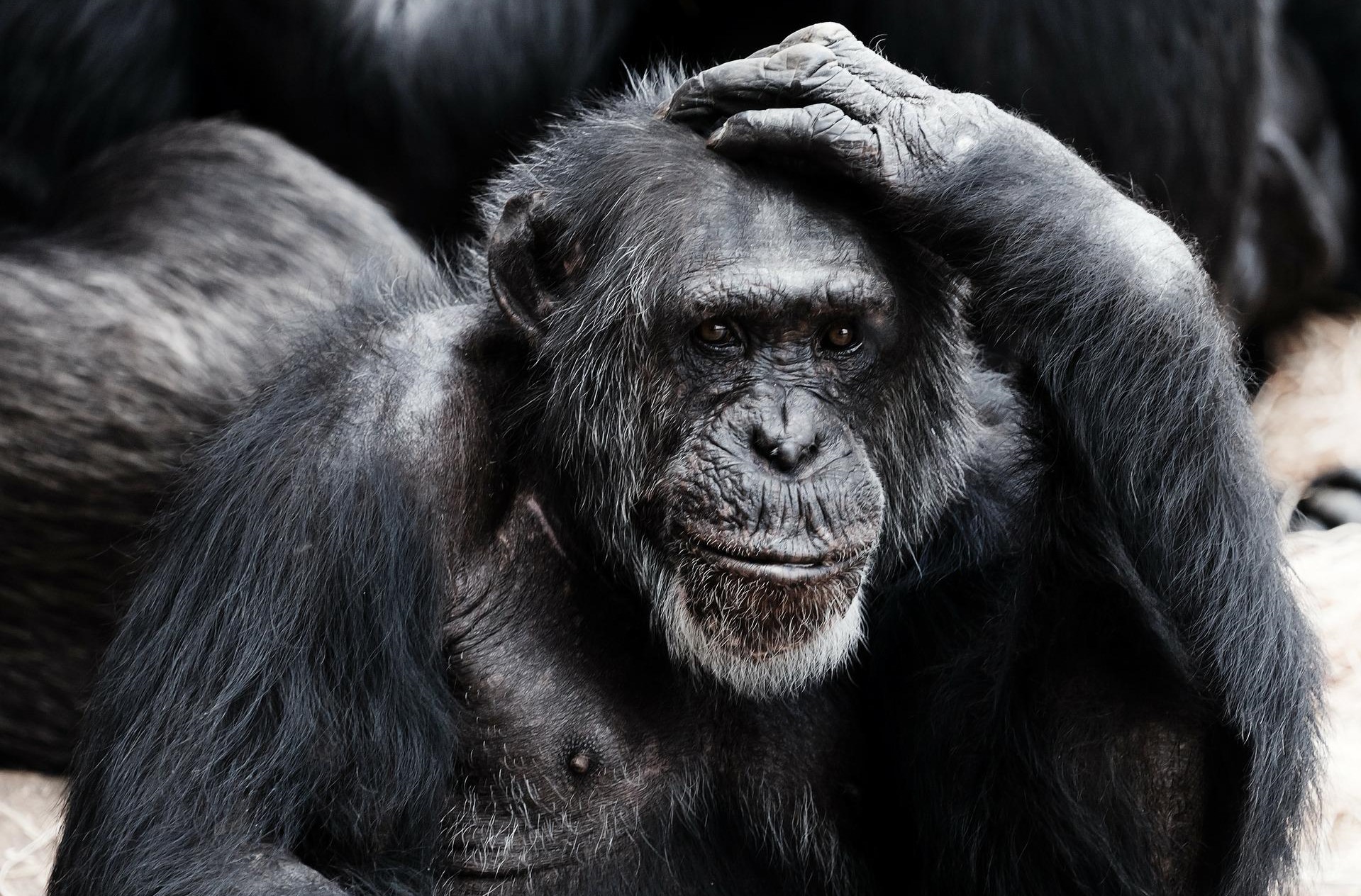 See TME's daily newsletter email below. For the 24/7 market intelligence feed and thematic trading emails, sign up for ZH premium here.
Always that "delta"
Markets are always looking for the delta in everything. Will it start to notice the delta of margin debt soon?
Source: Tier1Alpha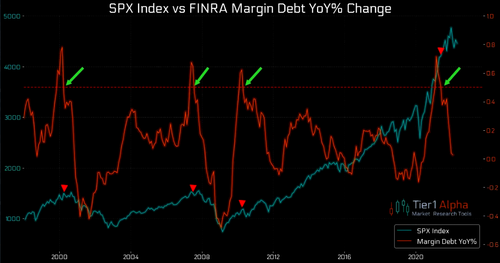 Source: Tier1Alpha
Does tech care about real yields?
NASDAQ has neglected some of the latest moves in real yields, but should we be bothered by the latest gap between the two? Tech and real yields have moved in tandem so watch this gap closely.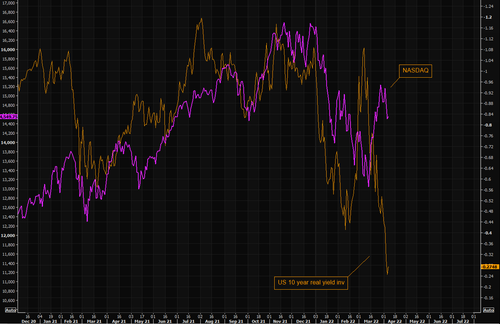 Source: Refinitiv
Scared of the bubble?
First chart shows breadth disconnecting from headline index performance during the dot.com bubble as well during the Japanese bubble. This time around there is no meaningful breadth disconnection (chart 2). One thing is sure, if this is a market trying to make a top, it will make sure to frustrate both bulls and bears.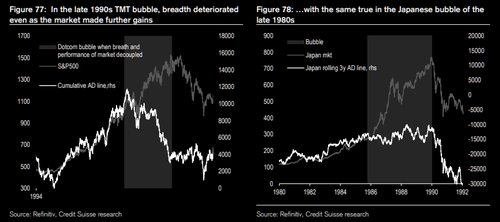 Source: CS
Source: CS
The bond vs equity stress gap stays very wide
Small changes in this "spread" over past sessions, but the gap between MOVE and VIX stays at "impressive" levels. Do you dare the pairs trade? Second chart shows the volatility of the 2s vs 30s Yield Curve spread we showed a few days ago. You get the point, bond volatility remains extreme.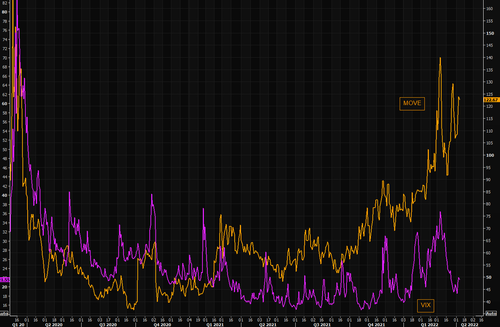 Source: Refinitiv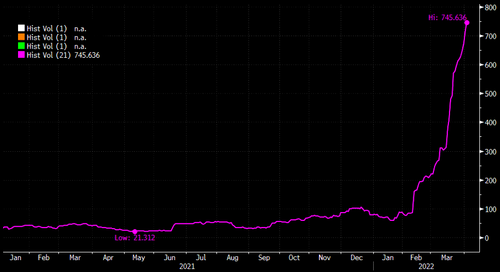 Source: Harley Bassman/Bloomberg
Correlation between equities and cryptocurrencies
Correlation between equities and cryptocurrencies
Source: Goldman
S&P 500 net margins will reach record high in 2022
Tech sector margins of 25% are roughly 2x the 12% margins for broader market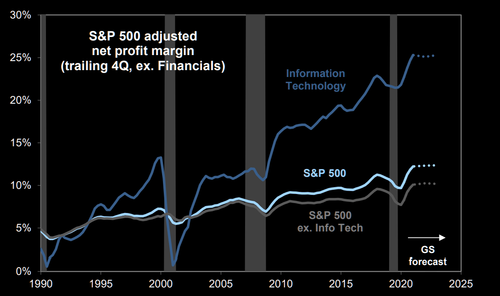 Source: Goldman
On war signal, start upgrade EPS
S&P500 2022 EPS estimates have been upgraded since the war started. Thanks oil.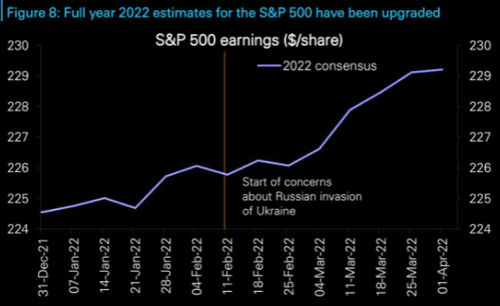 Source: Deutsche
US 30 year - the longer term view
Cramer out talking about the 30 year going to 3.5%. Sure we have inflation, but most have been wrong on both yields and the inflation. What about the "chart"? The 30 year is approaching huge resistance levels at 2.8%. This is where the long term negative trend line comes in. If there is any mean reversion to rates, the fact we are trading well above the 200 day moving average should start to "matter" soon, if nothing as a short term factor to consider.
Source: Refinitiv
Plenty of headwinds
Credit Suisse lists seven longer term bullets to consider going forward:
1. Unemployment is now below full employment. The Fed have to raise rates to slow growth below trend. 
2. More tightening than expected. Credit Suisse feels that the market has underestimated QT. The Fed is likely to be aggressive on this.
4. No potential upside on CSs' ERP model (for first time since 2016) or empirical P/E model.
5. Earnings revisions just about to turn negative (so far disguised by commodity upgrades). 29% of the time markets have risen in the next quarter when this has happened.
6. Credit is flashing warning signals.
7. Inverted yield curve 2 year to 10 year is a problem as profit share of GDP is very high and unemployment is below full employment, meaning markets are flat.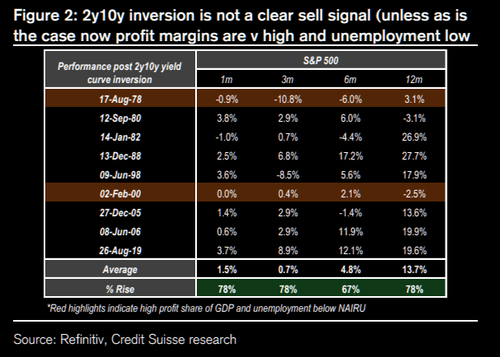 Source: CS
Loading...