---
Still buying the dip?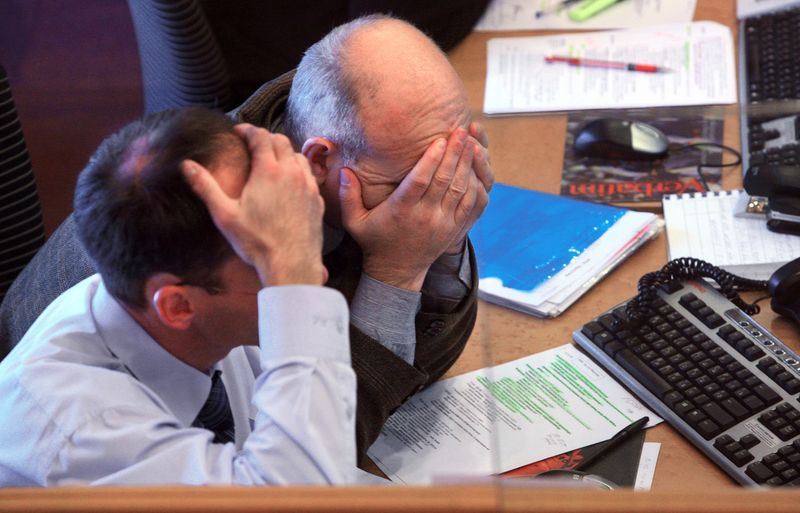 See TME's daily newsletter email below. For the 24/7 market intelligence feed and thematic trading emails, sign up for ZH premium here.
Commodity - buy the dip hasn't worked in a while
Most investment banks have remained buying the dip in the commodities space over the past weeks. This has been a very expensive strategy. BCOM continues collapsing today and what looked impossible only a few weeks ago is now reality; the BCOM approaching the 200 day moving average. This remains a massive consensus long and pain needs to grow even larger...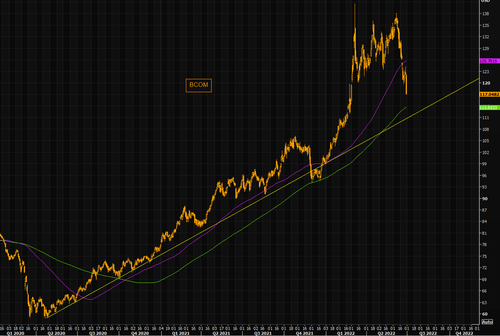 Source: Refinitiv
The crash in energy
Energy is not oil only. The BCOMENTR, energy sub index (crude oil, heating oil, unleaded gasoline and natural gas), is crashing today (again). The index is down almost 8% as of writing, falling below the 100 day for the first time since January this year. This darling long is causing huge p/l pain. Parabolic moves always end up in tears...and this is one of them (chart 2). Still see inflation and yields only going higher?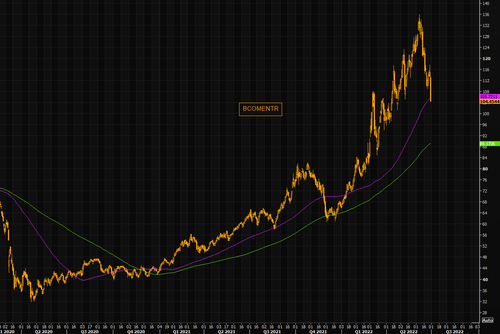 Source: Refinitiv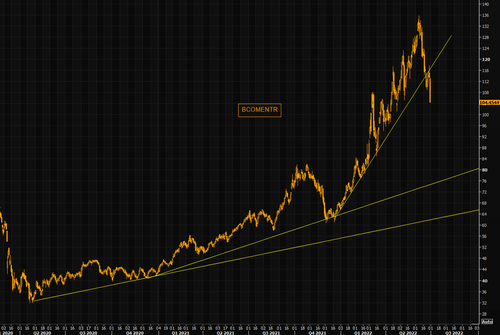 Source: Refinitiv
Metals screaming cuts
Metals sub index, BCOMIN, is printing new recent lows (again). Overlay the EDZ2 vs EDZ3 spread and you get the point. Some assets are busy pricing "needed" cuts...
Source: Refinitiv
TLT - the break out continues
TLT broke above the shorter term negative trend line yesterday and continues squeezing today. Note we are approaching the 50 day right here, something we haven't seen in TLT since late February. Recall what Albert Edwards wrote last week (here): "Will a recession dispel inflation fears (temporarily) and drive bond yields substantially lower? The outlook for commodities is key, especially with the backdrop of the war in Ukraine. But I still see commodity prices plunging just like in Q4 2008, back then taking headline CPI inflation from +5% to -2% in just 12 months." It looks like consensus regarding rates and commodities moving only higher could be in for a wild ride...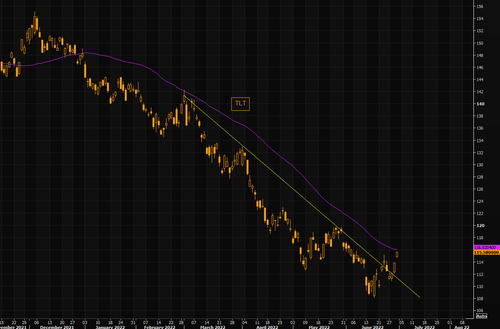 Source: Refinitiv
Recall the Gundlach indicator?
The copper/gold ratio worked well when it comes to rates moving higher. Obviously a lot of things have changed since that narrative, but the copper/gold ratio can't catch a bid. Let's see where yields decide going from here...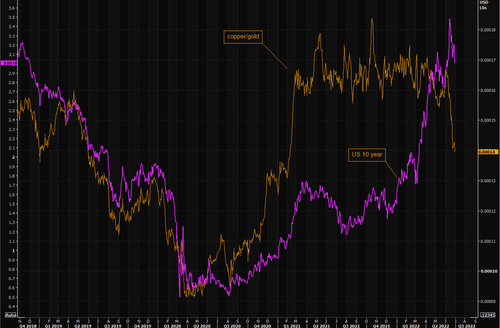 Source: Refinitiv
Copper and inflation
Copper vs US 10 year break evens needs little commenting.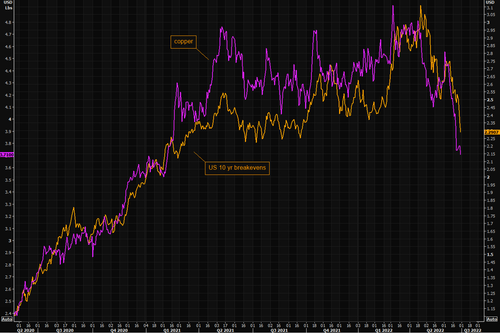 Source: Refinitiv
Still worried about inflation
BCOM vs US 10 year break evens needs little commenting.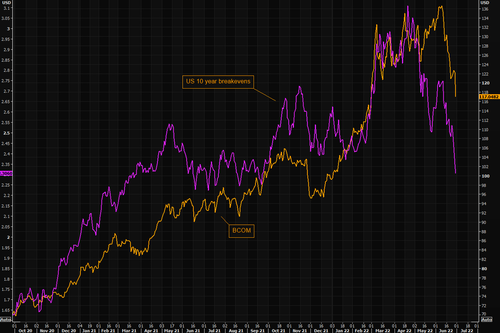 Source: Refinitiv
Short gamma pain is back with a vengeance
On Monday we reminded our readers that the dealer positioning with regards to gamma had turned into a sell or sell event (here). Equities have since then sold off sharply and dealers are back into "deep" short gamma territory. This means we are back to the "sell low, buy high" feedback loop, magnifying all moves. Add extremely poor liquidity (here) and you understand p/l pain is back...

Source: Tier1Alpha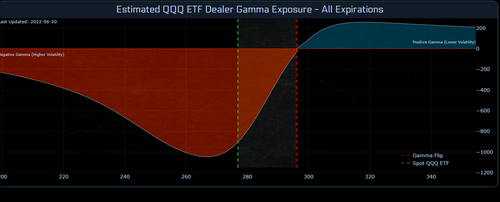 Source: Tier1Alpha
Bitcoin problems persist
No, the institutional inflow isn't here, volatility remains huge and momentum is pointing one way, lower.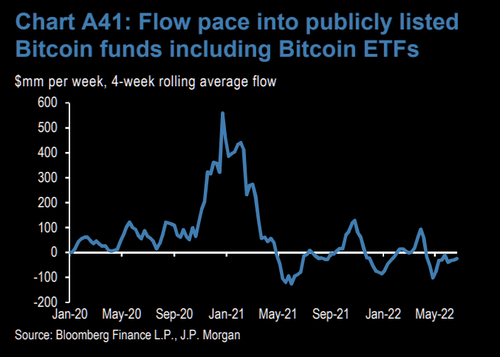 Source: JPM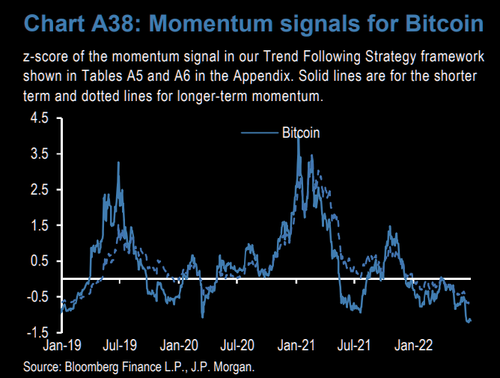 Source: JPM
China COVID: reasons to get worried again?
Deja Vu all over again? Daily new domestic cases ticked up over the past week (chart 1). Cities with high-/mid-risk districts ticked up to around 9% of national GDP due to local cases in Nanjing (chart 2).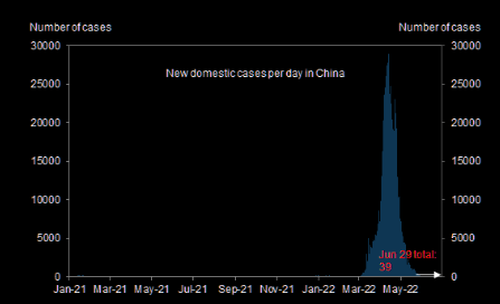 Source: NHC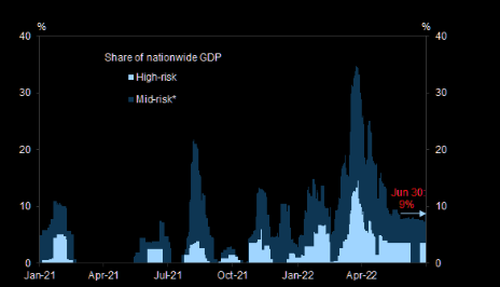 Source: NHC
$1000 per night is the new normal
Vacationing in Europe this summer will be insanely expensive. Bernstein: "Hotel and OTA demand is currently very robust with May running ahead of expectation, especially in Europe. We expect a material step up in RevPAR in Q2 vs Q1, with several CEOs calling this summer "a record summer for leisure travel". Accor looks set to be the first hotel group to cross 2019 RevPAR for a full quarter" (Sanford Bernstein)
Equity flows actually stronger than performance would justify
Despite some recent weeks of equity outflows, global positioning in equity funds remains at the highs, consistent with the outperformance of flows versus equity returns. Since late 2020, flows into equity funds have totaled over +$1.2tn, and investors have, as shown above, clearly net purchased equities year-to-date.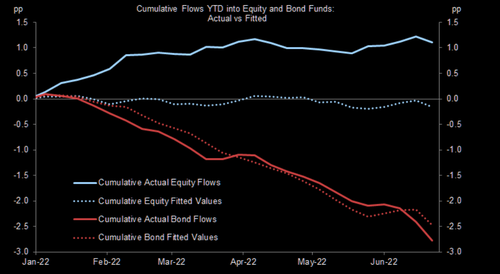 Source: Goldman