---
Alaska Peninsula Rattled By 7.2-Magnitude Quake After Volcanic Eruption
The United States Geological Survey recorded a magnitude 7.2 earthquake that hit off Alaska's southern coast late Saturday. A tsunami warning was issued for nearby areas but was later canceled.
USGS said the quake struck offshore about 55 miles southwest of Sand Point, Alaska, at a depth of 13 miles around 2248 local time or about 0248 ET.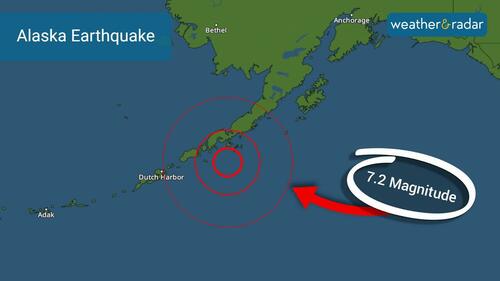 Homes violently shook during the quake. 
Earthquake just hit Kodiak, Alaska Residents are bracing for an incoming tsunami pic.twitter.com/0H8Ow8KlJE

— Redneck Azn (@LMFireSystems1) July 16, 2023
The tsunami alert was posted for about an hour across Aleutian islands, extending from Unimak Pass to Kennedy Entrance. 
🚨#BREAKING: Massive Magnitude 7.2 Earthquake Triggers Tsunami Sirens Along Alaskan Coastline

📌#KodiakIsland l #Alaska

Sirens were sounding off in response to a tsunami warning. The warning came after a strong 7.2 magnitude earthquake hit the coastline of Alaska. The Tsunami… pic.twitter.com/rccv1h5hgW

— R A W S A L E R T S (@rawsalerts) July 16, 2023
Social media users reported minor flooding. 
Bill the patent holders for damages . Alaska | Tsunami Warning on the southern coast of Alaska following a 7.4 earthquake. pic.twitter.com/3iVqlJDNWZ

— Prześladowany Politycznie Banowany (@banowany86345) July 16, 2023
📍📌Alaska Tsunami

🚨 A #tsunami warning has been issued after a 7.4 magnitude #earthquake in the Alaska Peninsula region,

Follow @CBKNEWS121 for more updates#earthquake #tusunami #tsunami #Alaska pic.twitter.com/yf2zQujBPl

— CBKNEWS (@CBKNEWS121) July 16, 2023
Nearby, earlier in the day, the Alaska Volcano Observatory said the Shishaldin Volcano erupted in a "significant explosion," sending an ash cloud soaring up to 40,000 feet above sea level. 
BREAKING: Shishaldin Volcano in #Alaska is currently showing signs of explosive eruption, near where earthquake occurred hours ago. pic.twitter.com/S6UUN1ky6r

— Beams (@wxandnews) July 16, 2023
One week ago, a swarm of earthquakes preceded the eruption of a volcano on the Reykjanes peninsula in Iceland. 
Loading...