---
Iceland Declares Emergency As 'Quake Swarms' Signal Potential Volcanic Eruption
Authorities in Iceland declared an emergency and issued an evacuation order for thousands of people in a popular tourist town in the country's southwestern Reykjanes Peninsula after quake swarms intensified in the last 48 hours - sparking fears that the next big volcanic eruption could be imminent. 
WATCH: Series of earthquakes being felt in Iceland due to volcanic unrest pic.twitter.com/3XGMWLXgqn

— BNO News (@BNONews) November 10, 2023
OMG....Another earthquake video #Iceland. This was happining all day yesterday. They are still getting loads of earthquakes but not as big.....😱👇

I can't verify the video as I can't find the original but it does look legit. All credit to them! pic.twitter.com/7T81XBzEbk

— Volcaholic 🌋 (@volcaholic1) November 11, 2023
On Friday night, Iceland's National Police Commissioner declared a state of emergency for civil defense. Residents in Grindavík were ordered to leave after a magma tunnel formed under the area. 
"We want to reiterate that residents MUST evacuate their homes and leave the town. But we also want to reiterate that this is not an emergency evacuation, there is plenty of time to prepare, secure things and drive out of town calmly," the agency said.
The Icelandic Meteorological Office's latest update warned:
"The seismic activity has moved south towards Grindavík. Based on how the seismic activity has evolved since 6 PM today, along with results from GPS measurements, there is a likelihood that a magma intrusion has extended beneath Grindavík." 
It said: 
"At this stage, it is not possible to determine exactly whether and where magma might reach the surface. There are indications that a considerable amount of magma is moving in an area extending from Sundhnjúkagígum in the north towards Grindavík. The amount of magma involved is significantly more than what was observed in the largest magma intrusions associated with the eruptions at Fagradalsfjall."
Magma coming to the surface produced the first seismic activity on Oct. 25, and since then, 22,000 quakes have been reported.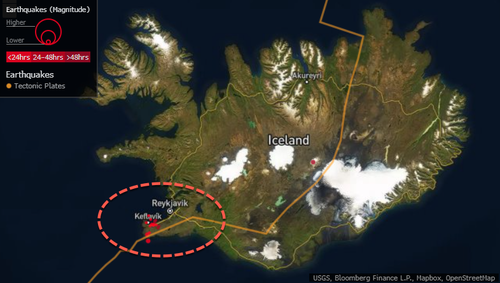 In the last 48 hours, seismic activity has intensified with over 1,500 quakes.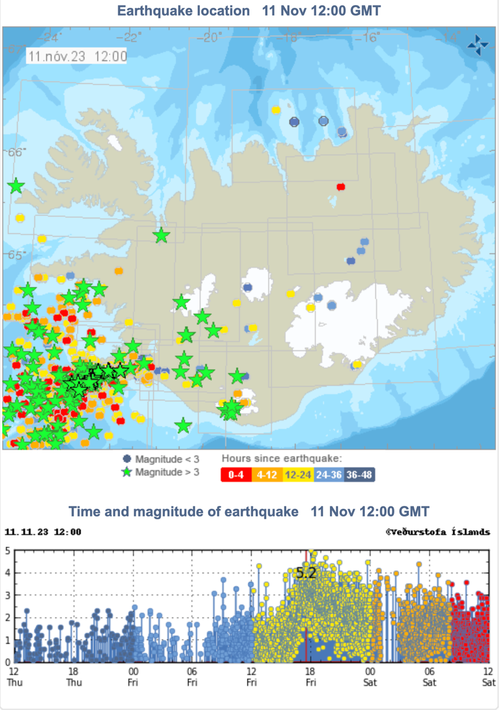 Officials have elevated the volcanic warning system to "orange," which means heightened unrest with an increased likelihood of eruption. 
The road between Grindavik and Reykjanesbraut has been closed by the police due to damage. A large crack has formed. #Reykjanes #eruption pic.twitter.com/dyBl2AS5Ng

— Gisli Olafsson (@gislio) November 10, 2023
The US Embassy in Iceland also issued a volcano alert, warning about the increased signs of volcanic activity. 
"If an eruption occurs, follow the instructions of Icelandic authorities. Volcanic hazards may include lava, toxic gases, and heavy smoke from fires ignited by lava," the embassy said.
In 2010, nearly all flights in Europe and across the Atlantic Ocean were halted for a week as ash from the Eyjafjallajokull volcano sparked one of the most significant air traffic disruptions in peacetime until the Covid virus pandemic in 2020. 
Loading...