---
Round Two Of Severe Storms Expected After Derecho Wallops Midwest
A derecho event on Thursday damaged buildings and vehicles, flattened corn fields, and left hundreds of thousands without power across more than 500 miles from Omaha, Nebraska, to the Ohio River. Weather reports show another round of storms could pound the same area on Friday. 
Incredible imagery of a derecho marching across the Midwest this afternoon. pic.twitter.com/E2IYKc7uM9

— CIRA (@CIRA_CSU) June 29, 2023
FOX Forecast Center said severe storms are expected to develop over the Plains and move eastward through the morning and afternoon. Lincoln, Nebraska; St. Louis, Missouri; Louisville, Kentucky; Cincinnati; Nashville; and Knoxville, Tennessee, have an elevated risk of severe strong and damaging straight-line winds today.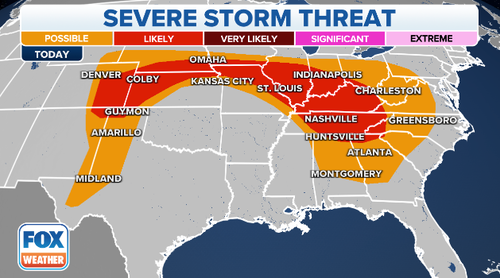 Meteorologists at Fox explained that the weather phenomenon sparking these storms is called a "ring of fire" due to a "ridge parked over the central U.S., forcing storms to move along its northern periphery." 
Today's intense derecho that blasted through Illinois is riding along the heat dome centered over the Southern Plains. A classic "ridge rider" situation. pic.twitter.com/ZXoYxhsULn

— Collin Gross (@CollinGrossWx) June 29, 2023
The severe thunderstorms on Thursday that met the criteria for a derecho have left nearly 300,000 people without power across Indiana and Illinois on Friday morning, according to PowerOutage.us.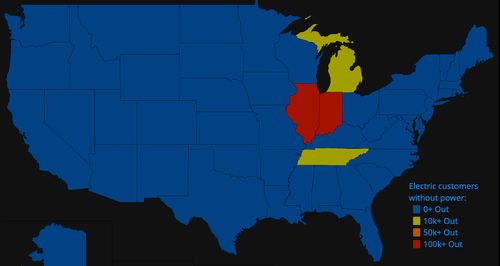 Footage of notable damage was posted on Twitter. 
Marty Marr, a farmer in New Berlin, Illinois, holds up a corn stalk flattened by the derecho that charged through the Midwest. #ILwx
( 📷: @ilcorn) https://t.co/aeUBMVnamr pic.twitter.com/LYKpjYdPRR

— AccuWeather (@accuweather) June 30, 2023
Derecho hits Illinois Thursday, which saw 64 large hail reports and 477 of wind damage. Winds over 100 mph reported in 3 counties, with rains from 0.75 – 2". pic.twitter.com/keMxHVXdIM

— 247AG (@247dotAg) June 30, 2023
Storm damage in Illinois from today. Any damage to your farm? pic.twitter.com/RWOHDjPQ2U

— IL Corn (@ilcorn) June 29, 2023
The extensive damage from today's Derecho storm that went through Iowa, Illinois and Indiana. Our power has been out since 12:45pm CST and it's only 6:55pm CST, 6 hours without it. pic.twitter.com/5gfLTjIUdw

— Red Panda Gaming | K. Morgan (@rpgkmofficial) June 29, 2023
Significant damage being reported in Central Illinois today following a derecho. It left widespread damage, which will heavily impact farmers during a critical point in the growing season. 🌽 @accuweather

📍Location: Assumption, IL
📸Credit: @ilcorn pic.twitter.com/UrhBgj5eJl

— Emmy Victor (@EmmyReports) June 29, 2023
Crop damage from derecho in Illinois. https://t.co/5efvx32wHI

— Jacqui Jeras (@JacquiJerasTV) June 29, 2023
Fox said some weather observers compared "Thursday's event to a historic derecho that moved through the Midwest in 2020, which caused an estimated $11 billion in damage." 
All eyes are on the Midwest today for the possibility of a second round of storms. 
Loading...