---
"Towns Could Get Cut Off": Hurricane Hilary Threatening "Catastrophic" Flooding Across California
As Hurricane Hilary churns 235 miles south of the southern tip of the Baja California Peninsula, moving northwest at 16 mph, the National Hurricane Center warned of "catastrophic and life-threatening flooding" across the Southwestern United States. 
"Heavy rainfall in association with Hilary is expected across the Southwestern United States, peaking on Sunday," NHC wrote in an advisory, forecasting total rainfall amounts between 3 to 6 inches, with some areas expected to receive as much as 10 inches of rain. Those areas are portions of Southern California and Southern Nevada. 
On Saturday morning, Hilary weakened from a very dangerous Category 4 with winds of 130 mph to Category 3 status, with maximum sustained winds of 125 mph. 
National Weather Service posted tropical storm warnings across Southern California, affecting 42 million people -- for the first time since Nora in 1997.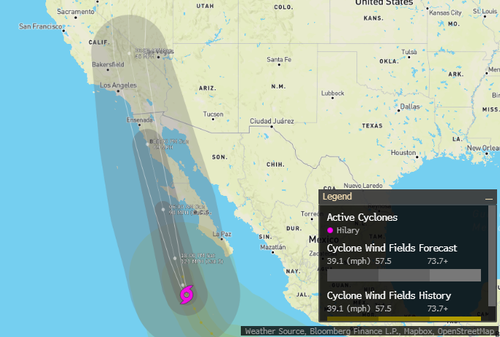 Ahead of the storm's arrival, Nevada Gov. Joe Lombardo called up the National Guard. 
"These Guardsmen will be put in place to provide support to southern counties, which may be significantly impacted by flooding.

 "As the state takes the necessary steps to prepare for flooding and severe weather, I strongly urge all Nevadans to do the same," Lombardo said in a written statement.
NHC's latest trajectory and warnings about the storm: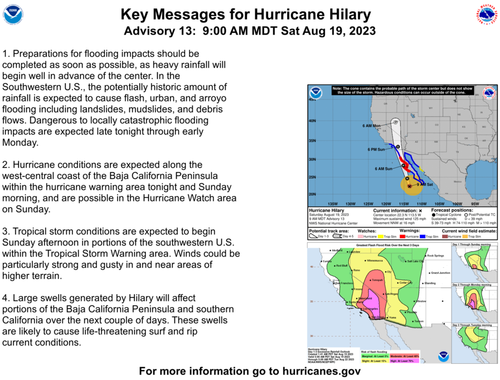 A newly updated forecast of the "catastrophic flooding impacts are expected late tonight through early Monday" for Southern California and Nevada.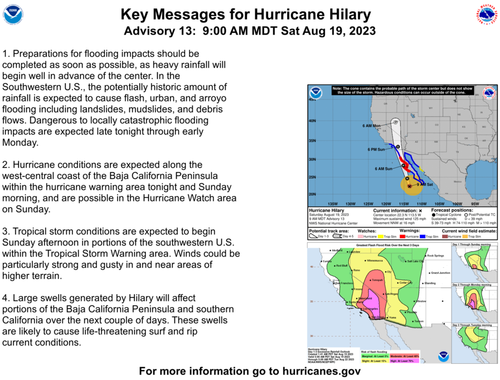 The Weather Prediction Center warned entire "Towns could get cut off" due to mudslides and landslides: 
The heavy rainfall combined with high winds expected at elevation could lead to mudslides and landslides, which would be exacerbated where trees uproot within saturating soils. Debris flows and rock slides are a given considering the volume of rainfall expected. The overall combination of effects could block and undermine roads, particularly sensitive areas such as sections of U.S. 50 in NV. Towns could get cut off. Given the overall uniqueness of this event and expected impacts, the High Risk for areas of southern CA remains justified. The main change was the joining of the two separate High Risk areas and some slight westward shift of the risk areas in CA, NV, UT, and AZ and some northward stretching of the threat areas to account for the slightly accelerated guidance.
Stefanie Sullivan, a forecaster with NWS, said a tropical storm to come off the ocean and make landfall in California is "exceedingly rare." The last time this happened was in 1939. 
Loading...