---
Tropical Storm Lee To Become Major Hurricane, Threatens US East Coast
Tropical Storm Lee was located approximately 1,265 miles east-southeast of the northern Leeward Islands early on Wednesday morning. Lee had maximum sustained winds of 65 mph and was moving west-northwest at 14 mph. 
"Continued steady to rapid strengthening is forecast, and Lee is expected to become a hurricane later today and a major hurricane in a couple of days," NHC wrote in an advisory note. 
The advisory continued, "While it is too soon to determine the location and magnitude of these possible impacts, interests in this area should monitor the progress of Lee."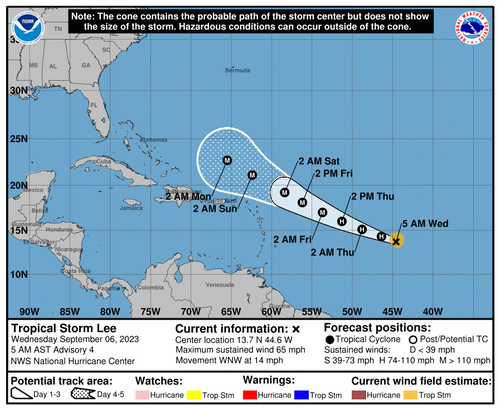 "Lee has already been strengthening fairly quickly despite some east-northeasterly vertical wind shear over the system," NHC said. 
Long-range computer models have Lee swirling to the north and not impacting the US East Coast. However, extended forecasts are not concrete.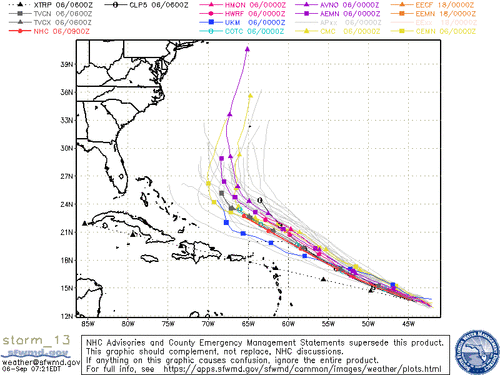 WSVN meteorologist Phil Ferro said Lee will stay east of Florida while intensifying into a Category 4 storm. 
11 pm Tuesday Forecast Cone: Up to a category one system on Wednesday and then racing up to a cat 4 by the weekend. It will be 7 mph away from a cat 5 by then. While models suggest it will stay East of Florida, stay informed and check back for updates. pic.twitter.com/aamLl5UF1j

— Phil Ferro (@PhilFerro7) September 6, 2023
Meteorologists are uncertain about US impacts, though a more precise trajectory forecast will be seen in the next 24-48 hours. 
Tropical storm Lee will become a powerful hurricane this weekend. It is uncertain how Lee will impact the United States next week. pic.twitter.com/q7Z9Mhjtyl

— Jeff Oechslein (@JeffWTOV9) September 6, 2023
We continue to watch Tropical Storm Lee out in the Atlantic and will continue to do so for at least the 7-10 days. Lee is forecast to be close to category 5 strength by the weekend! No direct impacts to the US at the moment, but it bears watching as it may get close next week. pic.twitter.com/sY16hDU8pE

— Keith Monday (@kmondayWSOC9) September 6, 2023
Here is the late Tuesday night updated forecast path for Tropical Storm Lee. pic.twitter.com/UhVAv97qIT

— Allen Strum (@WEARAllenStrum) September 6, 2023
Even though the trajectory is uncertain, there is an agreeance among meteorologists Lee will rapidly intensify into a major hurricane in the coming days. 
Loading...