---
Will Hurricane Lee Have A 'Maine Event'? 
Hurricane Lee remained a Category 3 storm on the Saffir-Simpson Hurricane Wind Scale. Lee is "beginning its northward turn" with potential landfall impacts as soon as Friday night across New England or Nova Scotia, the National Hurricane Center said Wednesday.
"Satellite images suggest that Lee seems to be beginning its northward turn on the western side of a subtropical ridge situated over the central Atlantic," NHC said, adding the system should "gradually increase in forward speed while moving northward on the west side of the ridge during the next couple of days, taking the core of the system to the west of Bermuda Thursday and Thursday night."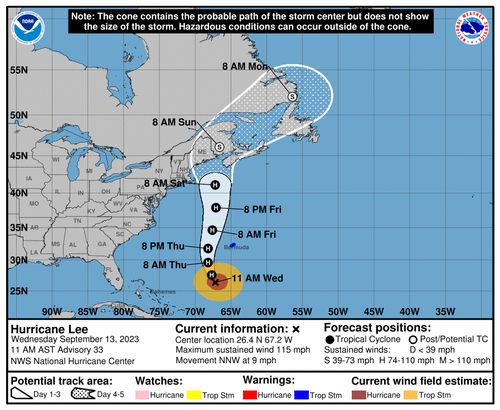 Then, on Friday, the storm's crosshairs are focused on New England or Nova Scotia: 
"The combination of a shortwave trough and a building ridge extending into Atlantic Canada could cause Lee to turn slightly to the left Friday night and Saturday, which will likely bring Lee close to southeastern New England before it reaches Maine and Atlantic Canada later in the weekend."
Spaghetti models of Lee's path are messy, but some ask: "Will Lee have a Maine Event?" 
Will #Lee have a Maine Event? pic.twitter.com/eRcHM22lMT

— Mike Zaccardi, CFA, CMT 🍖 (@MikeZaccardi) September 13, 2023
Local media outlet WGME 13 warned, "The significant impacts of Hurricane Lee will be felt along the immediate coastline and into Downeast Maine." 
WGME 13 said Maine's largest electricity transmission and distribution utility, Central Maine Power, with over 620,000 customers and about 80% of the state's customer base, has put line crews on standby.
Loading...