---
'Cocoa Mayhem' Sends Prices To $4,000 Per Ton, Highest Since 1978
Cocoa prices Friday topped $4,000 per ton in New York, the highest level since 1978, as the outlook of poor crop harvests across West Africa has been a bullish factor pushing prices higher this week. There is also an increasing risk that El Nino-induced weather disturbances could cause the global cocoa market to sink into a deficit for the third year. 
According to Bloomberg, harvests in Ivory Coast and Ghana - some of the world's largest cocoa producers - are producing lower crop yields, which has led to tighter supplies, therefore supporting higher prices. 
"The market does not seem convinced that production will recover enough to avoid a supply deficit for 2023/24," ADM Investor Services Inc. analysts said in a note.
Cocoa futures rose 1% in New York, topping $4,000 a ton for the first time in 45 years.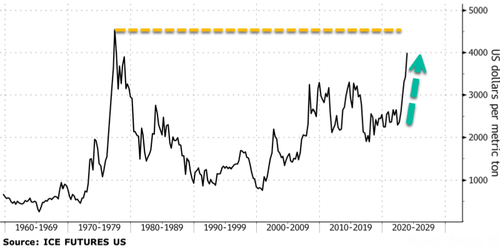 Analysts warn El Nino-induced weather disturbances could bring drier weather to top-growing regions. They say that could result in a third year of deficits. 
"The expectation of a supply deficit has been compounded with weather variations, especially in West Africa," the International Cocoa Organization said in a recent report. 
In June, we told readers: Global Cocoa Shortage Sends Prices Soaring As "Consumers Should Brace" For 'Chocolateflation'... Fast forward to Halloween, 'candyflation' strikes: 
Data from retail price tracking website Datasembly reveals consumers have been slapped with the second year of double-digit inflation in the candy aisle. Prices for candy jumped 13% this month compared to prices last October. That's up from a 14% increase in candy in October 2022. 
Earlier this week, Oreo-maker Mondelez International said it would have to hike prices on some of its products due to the soaring cocoa and sugar prices. 
Meanwhile, sugar prices hit decade highs on global shortage fears in April. And Arabica coffee prices are set to move higher after inventories hit 24-year lows. 
This all might indicate that food inflation is very sticky. As one ag analyst warned this week, the current global food crisis is 'much worse than 2008'. 
Loading...