---
IEA Boss Says "Beginning Of End" Of Fossil Fuel Era; But Is It?
The International Energy Agency will publish a new report next month, outlining, for the first time, that the world is at the "beginning of the end" of the fossil fuel era, according to Financial Times. 
"We are witnessing the beginning of the end of the fossil fuel era, and we have to prepare ourselves for the next era," IEA Executive Director Fatih Birol said in the forecast. He noted global oil demand growth will peak before 2030 as the shift to clean energy economies picks up pace.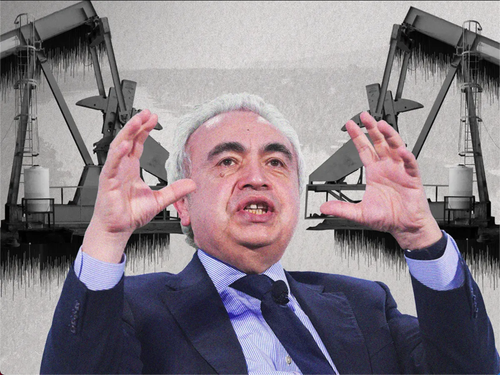 IEA's reasoning behind the slide in demand for oil, natural gas, and coal is due to the soaring growth of renewable energy production, such as solar and wind, as well as the rapid adoption of electric vehicles. 
In a previous report, the IEA, which is primarily funded by the Organisation for Economic Co-operation and Development, outlined, "The adoption of tighter efficiency standards by regulators, structural changes to the economy and the ever-accelerating penetration of EVs are expected to powerfully moderate annual growth in oil demand throughout the forecast." The global energy watchdog estimates about a quarter of all cars on highways will be EVs by 2028. 
Last year, the IEA said global fossil fuel demand would peak around 2030, but the new projections have been brought forward due to "the rollout of renewable technologies has accelerated in the past 12 months." 
Birol also said "structural shifts" in China's economy will help top global oil demand by 2030:
"In the last 10 years China accounted for about one-third of the growth in natural gas demand globally and two-thirds of the growth in oil demand.

 "Solar, wind and nuclear power will be eating up the potential growth of coal in China."
He added lawmakers need to be "nimble" to adopt "stronger climate policies" to accelerate the shift. 
Birol warned large fossil fuel projects could become stranded assets: 
"New large scale fossil fuel projects carry not only major climate risks but major financial risks."
As we recently detailed, the writing may be on the wall as "America's Oil And Gas Capital Leads The Transition To Renewables."
But there is a lingering threat to the clean energy transition: "The US Needs To Double The Size Of Its Energy Grid." 
... and maybe the entire clean energy transition is just a "delusion" as investors realize the shift will take "decades." 
We've outlined that the Biden administration's offshore wind farms need a  big bailout as the green energy bubble cracks. 
What if the future of oil demand is much brighter than we're being told? 
Loading...