---
"Large Number Of Issues Settled": Strikes At Australian LNG Plants Might End As Early As Friday
Chevron Corp. and labor unions at its liquefied natural gas plants in Australia may be close to resolving labor contract disputes as soon as this Friday. This would end the strikes that have been ongoing since September 8 and have sparked volatility in global NatGas markets due to supply concerns.  
Bloomberg said Australia's labor regulator is working closely with Chevron and the labor unions to resolve remaining contract disputes. 
"The parties are on the precipice of achieving historical first enterprise agreements," the Fair Work Commission (FWC) wrote in a statement Thursday, adding, "A large number of issues have been settled. However, a failure to settle all of the outstanding issues will result in those agreed provisions simply evaporating."
Western Australia Secretary for the Australian Workers' Union, Brad Gandy, said union members will meet Thursday evening to review the new offer: "We will take direction from our members in how we respond." 
FWC said both parties "have spent countless hours at the negotiating table" and "would be a pity and very frustrating to simply throw out these agreed positions" by failing to compromise on specific demands. 
Bloomberg said, "Workers at Chevron's Wheatstone offshore platform could be offered a field loading allowance — compensation for the remote nature of their jobs and associated travel — of A$103,000 ($66,028) a year, and staff at onshore plants a total of A$85,000 a year, the regulator said in its recommendations. Employees who suffer lengthy travel delays should be provided with a per diem of A$34.95 for breakfast, A$49.35 for lunch and A$69.20 dinner." 
Traders have been focused on Gorgon and Wheatstone LNG plants and the Wheatstone offshore platform in Western Australia because these facilities account for 7% of the world's LNG production. And since the West has made a concerted effort to cut Europe off from cheap NatGas from Russia, Germany and other countries depend more on energy supplies from halfway around the world.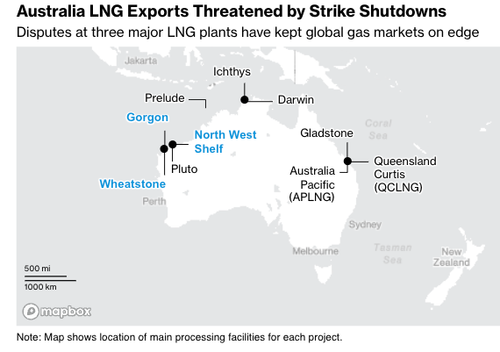 Separately, maintenance in Norway, the continent's biggest NatGas supplier, appears to be recovering as NatGas capacity from the Troll field comes back online, according to network manager Gassco AS. 
Both headlines pressured front-month futures at the Dutch TTF hub, the benchmark for Europe's gas trading, down as much as 6% early Thursday. But losses were recovered by late afternoon, trading around 38.50 euro per megawatt. Prices remain range bound for most of the year.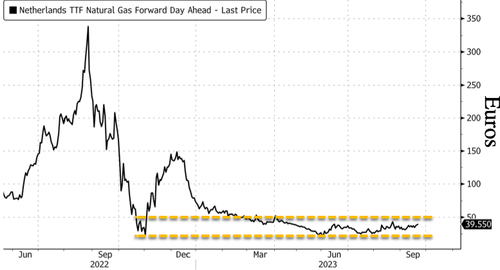 Ahead of the Northern Hemisphere winter, Europe is in excellent shape, with storage sites in the region about 94% full on average - well above seasonal averages for this time of year.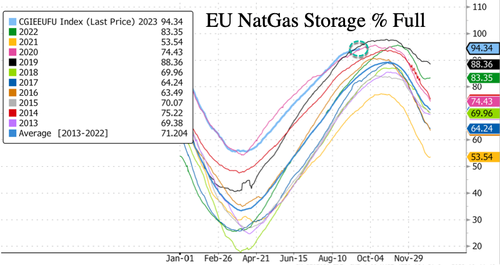 "Germany is much better prepared for this winter than last year," said Klaus Mueller, president of the regulatory Federal Network Agency, in a statement.
Mueller continued, "We can certainly be optimistic, but it is still too early to sound the all-clear."
Loading...