---
Major Shipper Maersk Warns Of Prolonged And Deeper Downturn In Global Trade
A.P. Moller-Maersk A/S, the world's largest owner of container ships and one of the best bellwethers for global trade, has spent the last several quarters warning about a slowdown in container demand on major shipping lanes. Maersk executives have cautioned about "dark clouds on the horizon," sliding demand "from both the US and Europe," and it's "going to be bumpy." 
The Danish shipping and logistics group released yet another warning on Friday. This time it feared a contraction in global trade would be longer and deeper than previously thought: 
The inventory correction observed since Q4 2022 appears to be prolonged and is now expected to last through year end. Based on the continued destocking, A.P. Moller – Maersk now sees global container volume growth in the range of -4% to -1% compared to -2.5% to +0.5% previously. Ocean expects to grow in-line with the market.
On Friday, Maersk CEO Vincent Clerc joined Bloomberg TV's Dani Burger and Mark Cudmore in an interview, discussing what's ahead for global trade. The shipping exec said, "Our case is not for a recession, but it is for a really subdued environment that will continue for the rest of this year." 
The expectation is "to see some recovery in the market in 2024 and getting back to positive growth territory," Clerc said. 
While discussing the global economy, he said his team is "still quite concerned... there are a lot of moving parts right now, from rate hikes and the risk of recession," as well as "uncertainty also about GDP growth in China and what demand is going to be in China next year." 
Container shipping depends entirely on globalization trends and enjoyed the most significant boom ever during the 2020-22 Covid era as retailers and other companies restocked inventories to meet pent-up demand from consumers flushed with stimulus checks. But since early 2022, container rates have plunged amid a monetary tightening campaign by global central banks to tame hot inflation that has stymied demand.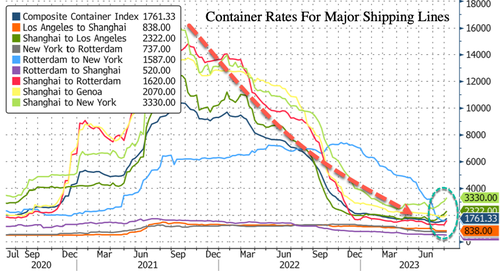 Meanwhile, China is on the brink of deflation, and authorities need more tools to stimulate the economy as a robust recovery is nowhere in sight. There were hopes that the latest rise in container rates was a sign of economic revival in the global economy, but as we noted, it's likely a function of reduced vessel capacity. 
Maersk reported a better-than-expected first-half performance Friday morning and lifted its annual earnings forecast but warned the second half of 2023 would be challenging. 
"We are in the midst of the biggest correction after the Covid boom of 2021 and 2022," Maersk CEO Clerc told Finacial Times in a separate interview. 
Here's what Bloomberg Intelligence is saying about Maersk's second-quarter earnings report:
"Maersk's solid 2Q beat and improved full-year guidance are overshadowed by expectations of a prolonged inventory correction, recession risks and weaker volume, which may shape the company's credit story in the coming months. Softer freight rates, which were down 51% in 2Q, coupled with new ship deliveries and lower disposable incomes could lead to deteriorating credit metrics in 2H and 2024."
Maersk transports about one-sixth of the world's containers. Its forecast of a long and deep contraction in global trade is an ominous sign of possible trouble ahead. 
Loading...