---
Putin Offers "Free" Grain To 6 Impoverished African Nations
Russian President Vladimir Putin 'went big' the first day of the Russia-Africa summit in St. Petersburg on Thursday, offering free grain to six impoverished African countries. 
The gathering of some 17 African heads of state (down from prior years, given US pressure and the Ukraine war) and many more senior officials from countries across the continent, comes just days after Moscow rejected renewal of the UN-backed Black Sea Grain Initiative. 
Putin vowed the following in his keynote address to the summit: "In the coming months, we will be ready to provide Burkina Faso, Zimbabwe, Mali, Somalia, the Central African Republic and Eritrea with 25,000-50,000 tonnes of grain free of charge," he said.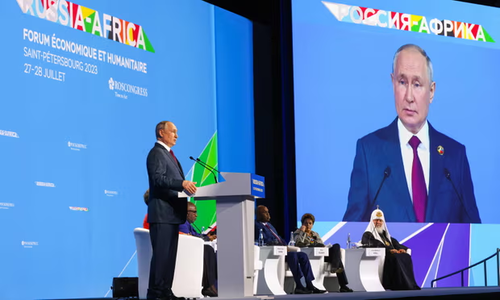 As regional reporting recounts, for "over a year, the grain deal allowed around 33 million tons of grain to leave Ukrainian ports, helping to stabilize global food prices and avert shortages."
But now with the grain deal abandoned Putin is being accused of leveraging food as a weapon to get his way in Ukraine and with the West, amid global fears that food prices will shoot higher and famine will rise in the hardest hit places.
But Putin has the whole time lambasted "well-fed European countries" getting priority when it comes to Ukraine's food exports, as opposed to struggling Africa and the Middle East, the latter with countries like Lebanon and Syria dealing with runaway inflation and the impact of prior years of war and instability.
US Secretary of State Antony Blinken issued a statement Thursday urging those African heads of state currently in St. Petersburg to apply the pressure on Putin. "They know exactly who's to blame for this current situation," Blinken said of the African leaders, and thus they should loudly let the Kremlin know. "My expectation would be that Russia will hear this clearly from our African partners," he said while on an official visit to New Zealand.
The FT's Moscow bureau chief has meanwhile alleged Putin's grain offer to Africa is not so "free"...
"Free grain" from Russia = Qatar pays Russia to send grain to Africa and Ukraine gets told to do one https://t.co/cZltVziuRW

— max seddon (@maxseddon) July 27, 2023
The Associated Press previously noted of the two-day summit's attendance that "the number of heads of states attending shrank from 43 then to 17 now because of what the Kremlin described as a crude Western pressure to discourage African nations from attending it."
In light of this, Kremlin spokesman Dmitry Peskov has highlighted "unconcealed brazen interference by the U.S., France and other states through their diplomatic missions in African countries, and attempts to put pressure on the leadership of these countries in order to prevent their active participation in the forum."
As for Putin's offer of free grain, UN secretary general António Guterres commented in response that a "handful of donations to some countries" would not correct the immense impact of the grain deal's total collapse. He is currently holding out hope the deal can be negotiated again and restored, but it's looking increasingly unlikely with the way things are going in the Black Sea and Crimea.
Loading...