---
Siemens Energy Shares Crash 37% As Renewable Bust Sparks 'Green Panic'
Siemens Energy shares in Germany crashed on Thursday after the company warned its wind turbine business is grappling with quality issues and offshore ramp-up challenges. The company said it's evaluating various measures to strengthen its balance sheet and is discussing state guarantees with the German government. This comes as a financial crisis in offshore wind energy is brewing. 
Siemens Energy said the wind business Siemens Gamesa "is working through the quality issues and is addressing the offshore ramp up challenges as announced in the third quarter communication for fiscal year 2023."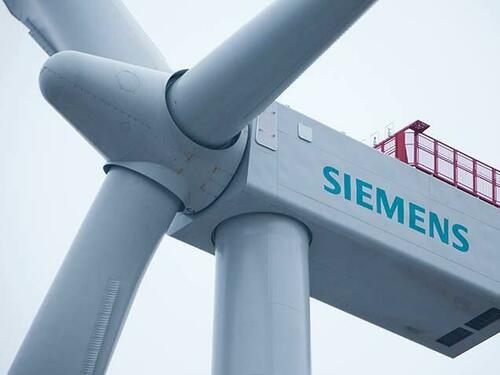 "As Siemens Gamesa is for the time being not concluding new contracts for certain onshore platforms and is applying strict selectivity in the offshore business, order intake and revenue are expected to be lower than market expectations for fiscal year 2024, and net losses and cash outflow are expected to be higher than market forecasts," the statement continued. 
The German company said, "The Executive Board is evaluating various measures to strengthen the balance sheet of Siemens Energy and is in preliminary talks with different stakeholders, including banking partners and the German government, to ensure access to an increasing volume of guarantees necessary to facilitate the anticipated strong growth." 
Shares of Siemens Energy crashed 37% in Germany. 
We have outlined for months a "financial crisis is unfolding in the offshore wind power industry" due to "soaring inflation costs have undercut the sector's growth and left major projects dead in the water just when their output is most needed." 
Two months ago, Orsted A/S, the world's largest offshore wind farm developer, saw shares crash in Copenhagen trading after it warned: "The situation in US offshore wind is severe." The stress revolves around inflation, high interest rates, and supply chain woes, which have led to the company considering abandoning US offshore projects:
"We are still upholding a real option to walk away," Orsted CEO Mads Nipper told Bloomberg in an interview in London in early September. 
It's not just wind that's in trouble. Last week, solar equipment maker SolarEdge Technologies saw shares crash as much as 30% on sliding European demand. 
We coined the term 'green panic' a few months ago. Biden's renewable bubble is imploding in today's worsening macro environment. 
Loading...