---
GOP Governors Say 'Not Happening Here' After Maryland School Implements N-95 Mask Mandate
Update (1530ET): The actions of one Maryland school - mandating n-95 masks after a tiny outbreak of COVID - has prompted fierce criticism from at least ttwo Republican governors.
Texas Governor Greg Abbott wrote on X, formerly known as Twitter, that it's "not going to happen in Texas."
Not going to happen in Texas. https://t.co/oX6lkuVISz

— Greg Abbott (@GregAbbott_TX) September 6, 2023
Sarah Huckabee Sanders wrote on X:
"Rest assured that as long as I'm Governor, Arkansas will not force our kids to wear masks in school."
Presumably, the school has not had a chance to read the latest studies
But then again, 'science' is match for ideology and religious zealotry.
*  *  *
As Summit News' Steve Watson detailed earlier, an elementary school in Maryland has reinstated mandatory mask requirements, as Joe Biden appeared in front of the press wearing a face covering Tuesday.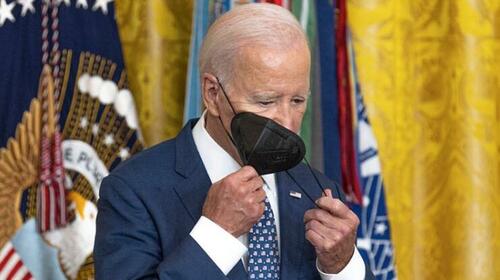 Rosemary Hills Elementary School in Silver Spring, a wealthy DC suburb, has brought back the mask mandate for students and staff, and added that the coverings should be N95 masks.
The school sent out a letter informing parents they have taken the decision after just THREE students tested positive for COVID.
A DC area elementary school — Montgomery County, Maryland — is reinstating a mask mandate — N95's — for third graders over a few kids testing positive for covid. Here's the letter. They're coming with masks for your kids again. Get ready. Read this insanity. pic.twitter.com/LZs4N19XLL

— Clay Travis (@ClayTravis) September 5, 2023
"Additional KN95 masks have been distributed and students and staff in identified classes or activities will be required to mask while in school for the next 10 days, except while eating or drinking. Masks will become options again following the 10-day period," the letter states.
We've heard that one before.
"At-home rapid test kids will be sent home and made available for students," Principal Irwin Kennedy further notes, adding that CDC guidance decrees that testing should be done "5 days after an exposure (starting day 6)" or at such time as symptoms occur.
"We will continue to reinforce good hand washing and follow cleaning and disinfection procedures," the letter further states.
The move comes as Joe Biden donned a face diaper as he arrived at a White House gathering, before removing it altogether.
Biden removes his mask during the prayer at the Medal of Honor ceremony pic.twitter.com/TyxxLEsgik

— RNC Research (@RNCResearch) September 5, 2023
The White House says Biden will wear the mask after his multiple time vaxxed and boosted wife contracted COVID again.
Karine Jean-Pierre says Biden will be wearing a mask indoors again pic.twitter.com/3NZqnP36N2

— RNC Research (@RNCResearch) September 5, 2023
Related:
*  * *
Brand new merch now available! Get it at https://www.pjwshop.com/ 
In the age of mass Silicon Valley censorship It is crucial that we stay in touch. We need you to sign up for our free newsletter here. Support my sponsor – Summit Vitamins – super charge your health and well being.
Also, we urgently need your financial support here.
Loading...