---
10 Numbers Which Prove That The US Economy Has Hit A Major Pivot Point
Authored by Michael Snyder via The Economic Collapse blog,
During the summer, many of the experts repeatedly assured us that the U.S. economy would be able to avoid a recession, but now reality is setting in. 
Credit conditions continue to tighten, home sales are falling, credit card losses are exploding, stores are closing all over the country, and the number of bankruptcies is rising to very alarming levels.  Meanwhile, the cost of living continues to become more and more suffocating.  If you have a gut feeling that very hard times are on the horizon, you are definitely not alone.  As you will see below, a staggering 71 percent of all Americans currently believe that America is on the wrong track, and our economy is one of the biggest reasons why they feel this way.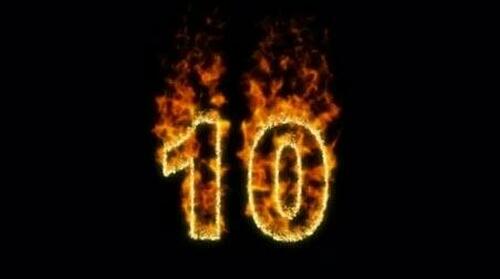 The following are 10 numbers which prove that the U.S. economy has hit a major pivot point…
#1 Consumer confidence was down more than expected this month…
The confidence of American consumers slipped this month, particularly about the future, as expectations persist that interest rates will remain elevated for an extended period.

The Conference Board, a business research group, said Tuesday that its consumer confidence index fell to 103 in September from 108.7 in August. Analysts were expecting a smaller decrease, to a reading of 105.
#2 The Conference Board's index that measures future expectations has actually dropped below a level that historically signals "a recession within a year"…
Most troubling was the decline in the index measuring future expectations, which tumbled to 73.7 in September from 83.3 in August. Readings below 80 for future expectations historically signal a recession within a year.
#3 With mortgage rates at suffocating levels, sales of new homes in the U.S. fell 8.7 percent last month…
New home sales dropped in August from the month before, as mortgage rates topped 7% and rose to the highest levels in more than 20 years.

Sales of newly constructed homes fell 8.7% in August to a seasonally adjusted annual rate of 675,000 from a revised rate of 739,000 in July, according to a joint report from the US Department of Housing and Urban Development and the Census Bureau.
#4 A record high percentage of U.S. consumers are indicating that credit conditions are getting tighter…
American consumers are worried about access to credit amid persistently higher interest rates and tighter standards at banks, according to a New York Federal Reserve survey released Monday.

Respondents indicating that the ability to get loans, credit cards and mortgages is harder now than it was a year ago rose to nearly 60%, the highest level in a data series that goes back to June 2013. The results were part of the New York Fed's Survey of Consumer Expectations for August.
#5 Credit card losses are increasing at the fastest pace in 30 years…
Credit card companies are racking up losses at the fastest pace in almost 30 years, outside of the Great Financial Crisis, according to Goldman Sachs.

Credit card losses bottomed in September 2021, and while initial increases were likely reversals from stimulus, they have been rapidly rising since the first quarter of 2022. Since that time, it's an increasing rate of losses only seen in recent history during the recession of 2008.

It is far from over, the firm predicts.
#6 At this point, things are getting so bad that even the Federal Reserve is laying off about 300 workers…
At a time when mainstream economists and FOMC policymakers are betting the farm on a "soft landing" for the US economy, an unexpectedly hard signal was just issued by none other than the Fed itself: for the first time in over a decade, the US central bank announced it would cut about 300 people from its payroll this year, a rare reduction in headcount for an organization that has grown steadily since 2010 – after all, it takes if not a village (with its own police force), then certainly thousands of workers to come up with catastrophically wrong economic forecasts and to keep the money printer primed and ready to pump out a few trillion at a moment's notice.The nu
#7 The number of bankruptcy cases in the United States has increased on a year over year basis for 13 months in a row…
Data released Tuesday showed that Americans filed more than 39,000 bankruptcy cases in Aug. 2023, an 18 percent increase from the same time last year.

The data released by Unusual Whales details how, along with personal bankruptcy filings, there were more than 41,600 new bankruptcy cases recorded in August, including for businesses. This marks the thirteenth consecutive month that bankruptcy filings have shown a year-over-year increase under the Biden administration's embarrassing and dangerous economic policies.
#8 Goldman Sachs is warning that America's strategic oil reserve has hit a 40 year low…
America's emergency oil stockpile has plunged to 40-year lows. The shrinking Strategic Petroleum Reserve is limiting Washington's ability to shield consumers from the fallout of Saudi Arabia's aggressive supply cuts, according to Goldman Sachs.

"At this point, US energy policy has fewer bullets left. It has less levers left in its policy toolkit," Daan Struyven, head of oil research at Goldman Sachs, told CNN in a phone interview.

That's one reason Goldman Sachs expects oil prices to stay high, averaging $100 a barrel this time next year. Triple-digit oil would boost already-high prices at the pump, worsening inflation and potentially influencing the 2024 race for the White House.
#9 It is being projected that the price of oil could eventually reach 150 dollars a barrel.  Needless to say, such a development would radically change our economic outlook…
That's Doug Lawler, chief executive of Continental Resources, the shale-drilling giant controlled by billionaire Harold Hamm, telling Bloomberg News on Monday that crude prices are set to remain elevated and could press to the $120- to $150-a-barrel range without new production.
#10 A new NBC News poll has found that 71 percent of Americans believe that the country is on the wrong track…
The 71% of Americans in our latest NBC News poll saying the country is headed in the wrong direction is the eighth time in the last nine NBC News surveys dating back to Oct. 2021 when the wrong track has been above 70%.

And the one exception was in Sept. 2022, when it was 68%.

We have never before seen this level of sustained pessimism in the 30-year-plus history of the poll.
For more than a year, there has been speculation about when the next wave of our economic crisis would arrive.
Well, it appears that it is here.
The months ahead promise to be very challenging, and the long-term outlook is even worse.
2024 is certainly shaping up to be quite a year.
Economic conditions will be deteriorating just as we head into the most tumultuous election season that we have ever witnessed.
Stay safe out there, because things will soon start getting really crazy in this country.
*  *  *
Michael's new book entitled "End Times" is now available in paperback and for the Kindle on Amazon.com, and you can check out his new Substack newsletter right here.
Loading...