---
Another Massive Mystery Fire Strikes Moscow, This Time Just Miles From Putin's Residence
Another explosion and fire has rocked Moscow in the overnight hours, as a warehouse in Odintsovo, which lies west of Moscow, suffered reported explosions and was engulfed in flames. 
TASS stated that the size of the fire was 2,000 square meters (21,500 square feet) as of around midnight Moscow time, and a largescale emergency response is in progress.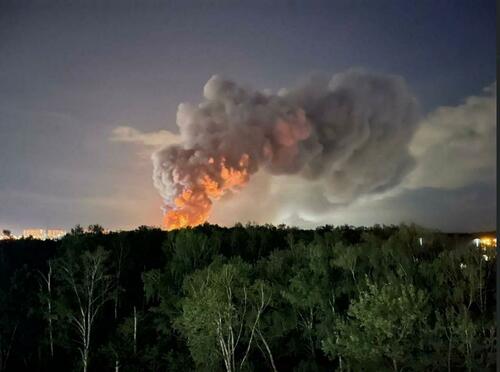 While no cause has as of yet been officially communicated, Russia's defense ministry has this week said the military intercepted several waves of drones in past days, including on the outskirts of Moscow. Drones out of Ukraine have become a serious enough threat to have briefly halted air traffic at key airports on a couple of occasions recently.
According to Reuters, the warehouse blaze is a mere miles from President Putin's presidential residence: 
It did not say how the fire had started in the warehouse, 6.5 kilometers (4 miles) away from Putin's presidential residence in Novo-Ogaryovo.
Russia is on 🔥
Moscow region again ❗
Big Black Bavovna 🔥🔥🔥💨🤌
Not just only windows lol
A major fire in Odintsovo near Moscow tonight. According to updated data a warehouse on Zelenaya Street is on fire. Fire areas around 2.000 square meters. Dark smoke rises. The cause is… pic.twitter.com/FMNop3uYcq

— LX (@LXSummer1) August 10, 2023
This current disaster follows on the heels of Wednesday's Zagorsk optical-mechanical plant fire.
The Russian factory northeast of Moscow erupted into a massive explosion of unknown cause, injuring at least 45 people, and causing damage to surrounding buildings.
Official Russian sources said it was being investigated as an "accident" - but the scale and frequency of such fires is leading to the obvious questions of whether these are covert sabotage operations or drone strikes.
In #Odintsovo, #Moscow region, #Russia, there is a large fire happening tonight. Some reports say that the fire is at a warehouse.

Odintsovo area houses multiple military bases and facilities. pic.twitter.com/D2OhUlVQxZ

— Alex Kokcharov (@AlexKokcharov) August 10, 2023
And the fact that Moscow has now witnessed two very large industrial-warehouse fires in two consecutive days, coming off a week of frequent drone attacks, strongly points to cross-border Ukraine operations (or else sabotage attacks involving NATO). 
Loading...