---
Chinese Spy Balloon Was Equipped With US Tech, WSJ Says
Days after US Secretary of State Antony Blinken held high-level talks in China with President Xi Jinping that turned out to be a bust after President Biden, who should quite honestly be in a nursing home, called Xi a "dictator," The Wall Street Journal published a piece, citing what it does best: anonymous sources, which detailed the Chinese spy balloon that the Biden administration allowed to float over the US earlier this year was equipped with American-made equipment. 
On Wednesday, WSJ revealed an analysis by US defense and intelligence agencies of the debris recovered from the spy balloon shot down by a stealth fighter jet off the South Carolina coast in February was equipped with commercially available US equipment, some of which could easily be purchased online. 
*CHINESE BALLOON USED AMERICAN TECH TO SPY ON US: WSJ pic.twitter.com/QVnEl9fVwO

— zerohedge (@zerohedge) June 29, 2023
The US-made equipment was "interspersed with more specialized Chinese sensors and other equipment to collect photos, video, and other information to transmit to China," officials told WSJ. The conclusion of the analysis disproves China's claim the balloon was for 'meteorological-puproses' and intended for intelligence gathering.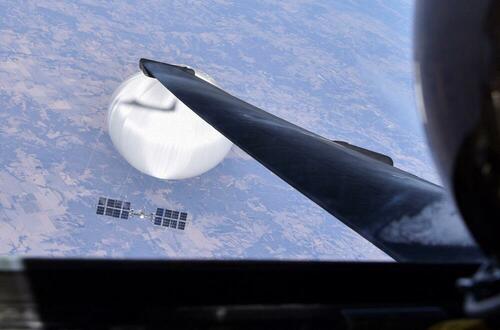 One of the officials said the Biden administration has not publicly shared its findings on the balloon and what components were used from the US. 
What's still a mystery, and perhaps why some members of Congress are pressuring the administration to release critical information about the balloon's capabilities, is why Biden allowed the spy balloon to fly over several sensitive US military sites. 
"Your administration has yet to provide the American people a full accounting of how this spy platform was allowed to traverse across sovereign US territory, what the balloon carried, and what it collected during its mission," Republican Sens. Roger Wicker of Mississippi and Marco Rubio of Florida wrote to Biden earlier this month. 
Officials provided more insight into the balloon's satellite-like device, including high-tech sensors, solar panels for power, and devices to capture photos, videos, and even radar. Biden has said the balloon was carrying a payload equivalent to "two boxcars full of spy equipment." 
Investigators "traced purchase orders for some of the equipment and the purchasers' relationship to the Chinese government," the officials said. 
Meanwhile, members of the Select Committee on the CCP sent a letter to Blinken this week, requesting the Biden administration to sever the "Agreement Between the United States and the People's Republic of China on Cooperation in Science and Technology" because US researchers have helped China advance weather balloon technology over the years:
"As you know, a few years later, the PRC used similar balloon technology to surveil US military sites on US territory," representatives wrote.
The WSJ piece was published days after Blinken visited Xi to restore Sino-US relations and one day after reports the Biden administration is preparing to tighten export controls on some artificial intelligence chips to China. 
Loading...