---
Jamie Dimon Visits China, Says No "Decoupling And World Will Go On"
As China and the United States prepare for a possible war in the Pacific and worsening technology battles, there has been strong momentum by the West for a complete economic decoupling. However, a sobering reality is emerging that an immediate destructive decoupling is becoming less likely. 
Jamie Dimon took center stage on Wednesday at JPMorgan Chase & Co.'s China summit. This is Dimon's first visit to mainland China since 2019, and he stated his bank is committed to doing business in the Communist Party-ruled nation in good and bad times.
"We're here. We're going to support the Chinese people, the Chinese government."

Jamie Dimon says JPMorgan will remain in China through good and bad times. More here https://t.co/nIsQ93c7Wy pic.twitter.com/m8BK1Gpqvj

— Bloomberg Asia (@BloombergAsia) May 31, 2023
The chief executive officer of the largest US bank said he doesn't expect a decoupling between the West and China, acknowledging the situation is "far more complex now."
"Over time, there'll be less trade," Dimon told Bloomberg Television interview at the bank's investor summit at the Jing An Shangri-La Hotel in the finance hub of Shanghai, adding, "It'll take years for this thing to take place, but it won't be a decoupling and the world will go on."
This is the first major event the bank has held in mainland China since the draconian zero-Covid policy went into effect three years ago. The lockdown was lifted late last year as policymakers have attempted to stimulate a recovery, but there are many signs the rebound has faltered. 
Dimon's remarks come one day after Elon Musk landed in Beijing and told Chinese Foreign Minister Qin Gang that Tesla opposes "decoupling" and is willing to invest more in China.
Bloomberg noted Dimon also met with Shanghai party chief Chen Jining, who sits on the Chinese Communist Party's Politburo. The Chinese official told the American exec he hopes JPMorgan can bring more international financial institutions to Shanghai and help with investments. 
Dimon called himself an American patriot. He said he's willing to help the world's second-largest economy as it deals with "scary" 20% youth unemployment: 
"We're here, we're going to support the Chinese people."
"I don't represent the government but you know everyone knows that I am an American patriot, so I am sitting here in China, but I am a red-blooded, full-throated, free enterprise capitalist," says JPMorgan CEO Jamie Dimon.

More here https://t.co/nIsQ93c7Wy pic.twitter.com/p3Uy4VzBZE

— Bloomberg Asia (@BloombergAsia) May 31, 2023
Dimon and Musk's comments come as China's recovery stalls. In a separate interview, JPMorgan's China chief executive Mark Leung noted the recovery is taking longer than initially thought. 
Data on Wednesday showed China's factory activity fell faster than expected, missing economists' estimates.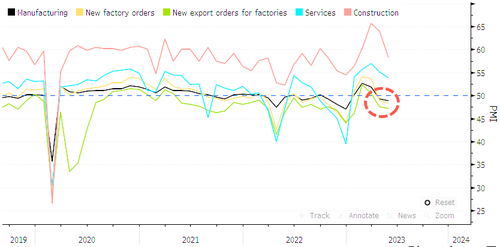 Making sense of why decoupling the world's largest and second-largest economies is near impossible is Morgan Stanley's global director of research Katy Huberty. She told clients decoupling is "neither possible nor desirable" and provided one simple chart to show why: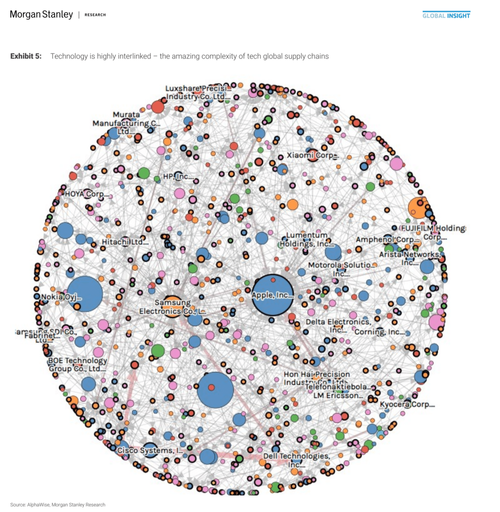 Who will be the next American executive to echo pro-China remarks, following in the footsteps of Dimon and Musk?
Loading...