---
Kim Jong-Un Shows Off 'Banned' Missile Arsenal To Russian Defense Chief Shoigu
As we detailed Wednesday, Russia is currently holding high-level defense talks with North Korea at a moment Pyongyang is conducing a series of ballistic missile tests aimed at warning the United States while it docks a nuclear-armed submarine at a South Korean port. Threats and even nuclear warnings have been on the rise on the peninsula, also after several provocative joint US-South Korea military drills.
On Thursday, Russian Defense Minister Sergey Shoigu met with North Korean leader Kim Jong-Un, and the two toured a defense exhibition which featured Pyongyang's "banned" ballistic missiles.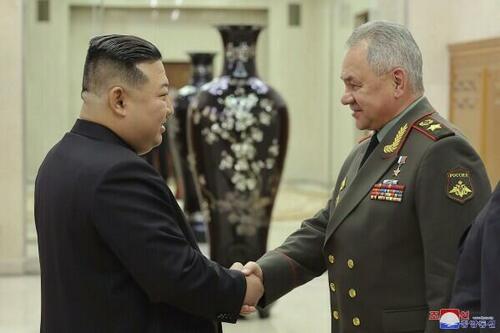 The moment was also quite the photo op, with state media publishing a series of images, upon the occasion of the 70th anniversary of the end of the Korean War, referred to in the north as "Victory Day".
"[Kim] expressed his views on the issues of mutual concern in the struggle to safeguard the sovereignty, development and interests of the two countries from the high-handed and arbitrary practices of the imperialists and to realise international justice and peace," a statement in North Korean media indicated.
North Korea's Defence Minister, Kang Sun Nam, reportedly said his government fully supports Russia's "battle for justice" and protection of its sovereignty. There was no mention that Kim himself invoked the Ukraine conflict directly.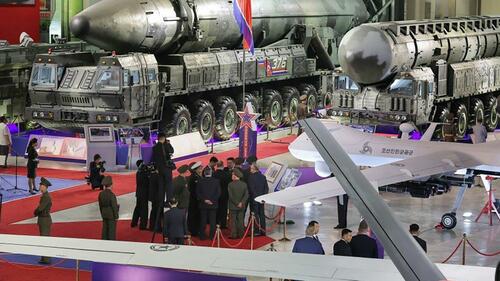 The significance of Shoigu's visit and the symbolism of it at a moment both countries are in US crosshairs and under far-reaching sanctions is underscored by the fact that this marks the first visit by a Russian defense ministry to North Korea since the 1991 collapse of the Soviet Union. Shoigu reportedly praised the north's army as among the world's "strongest".
As for the missiles unveiled upon Shoigu's visit by state media, Al Jazeera comments on the context:
The nuclear-capable missiles were banned under UN Security Council resolutions adopted with Russian and Chinese support. But this week, they provided a striking backdrop for a show of solidarity by three countries united by their rivalry with the US and a revival of what some analysts see as their Cold War-era coalition.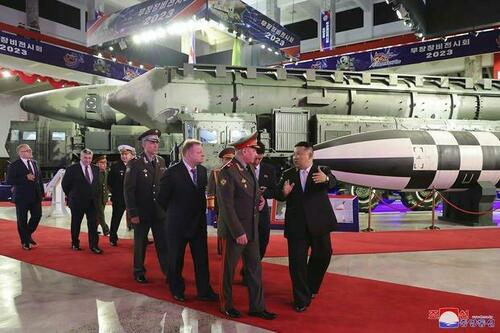 North Korean media has confirmed that Shoigu gave Kim a personal letter from President Vladimir Putin. A Chinese delegation is also in Pyongyang this week observing armistice events.
Washington has over the course of the Ukraine conflict at various points accused North Korea of supplying the Russian military with additional artillery ammo. The two countries actually share a small border.
North Korea also released a short (~6 minute) video of Kim taking Shoigu to the defense exhibition. Here they are, ogling an artillery rocket. pic.twitter.com/9CwrQSPkQw

— Dr. Jeffrey Lewis (@ArmsControlWonk) July 27, 2023
More recently, there have been accusations that Wagner Group, which is now on the outs with Moscow in the wake of last month's mutiny, purchased large quantities of arms and equipment from the Kim Jong-Un government.
Loading...