---
Zelensky Fires His Ambassador To UK Over Slight Criticism
There has continued to be fallout and embarrassment in the wake of Ukrainian President Volodymyr Zelensky's angry tweet haranguing NATO allies during the Vilnius summit of last week. As we detailed, he threw a tantrum over NATO leaders' 'weak' and 'absurd' reluctance to issue Kiev guarantees on NATO membership. He had complained that his country deserves more "respect" and that...
It's unprecedented and absurd when time frame is not set neither for the invitation nor for Ukraine's membership. While at the same time vague wording about "conditions" is added even for inviting Ukraine.
The Washington Post had in follow-up noted that this nearly backfired, given it was also a calculated effort to pressure NATO decision-makers to firmly declare a path to membership. Zelensky elsewhere lashed out at the UK while speaking to reporters at the summit.
We value our allies. We value our shared security. And we always appreciate an open conversation.
Ukraine will be represented at the NATO summit in Vilnius. Because it is about respect.

But Ukraine also deserves respect. Now, on the way to Vilnius, we received signals that…

— Володимир Зеленський (@ZelenskyyUa) July 11, 2023
Commenting on the negative impact the tweet had on policymakers gathered at the July 11-12 summit, the WaPo report suggested it nearly made NATO officials water down language on Ukraine's eventual accession even further...
Three other senior policymakers, however, two of whom were direct participants in the talks, said their strong perception was that the United States was getting ready to water down the document's language — to make it less welcoming to a speedy Ukrainian accession to the alliance.

"Some wanted to withdraw the reference to 'invitation,'" or find another place to put that word, said one of the senior policymakers, a NATO diplomat who took part in the talks.
But the whole episode not only created friction among the Western allies, it unleashed rare criticism aimed at Zelensky from within his own government.
Ukraine's ambassador to the United Kingdom, Vadym Prystaiko, had taken aim at some of Zelensky's comments at Vilnius, in particular the following prior press remarks:
"Let him write me how to thank, and I will thank you," Zelensky answered yesterday to the words of British Defense Minister Wallace that Kyiv should thank the collective West more often for military supplies.

"I do not understand the question. We have always been grateful and… pic.twitter.com/Bx59oWP97M

— Spriter Team (@SpriterTeam) July 13, 2023
As of Friday, Prystaiko has been fired from his post for daring to criticize the president, per AFP:
Ukrainian President Volodymyr Zelenskyy on Friday dismissed the country's ambassador to the United Kingdom, Vadym Prystaiko, after he criticized the president's response to a row over British military aid.

Prystaiko had criticized Zelenskyy's sarcastic response to suggestions from British defense minister Ben Wallace that Ukraine should show more gratitude for arms supplies from its allies.
Zelensky's newly published decree dismissing Prystaiko didn't specify a reason for the removal, but it's fairly obvious.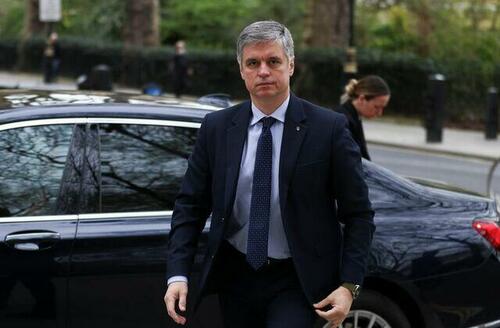 The UK's Wallace had last week in the context of the summit and in response to Zelensky's fiery tweet said the Ukrainian leader should show more "gratitude" for the abundance of arms and funds already received from Britain and the West.
Zelensky then responded at the summit during a press conference by saying he didn't know how else to make clear Ukraine's gratitude, and sarcastically quipped: "We could wake up in the morning and express our words of gratitude to the minister personally."
As for Ukrainian ambassador to the UK Prystaiko, he was interviewed by Sky News over the fallout, wherein he appeared to agree with the interviewer that Zelensky's remarks had contained "a little bit of sarcasm" directed at Wallace.
That's when Prystaiko openly voiced his concerns, saying "I don't believe that this sarcasm is healthy. We don't have to show the Russians that we have something between us, they have to know that we are working together." He asserted he was seeking to smooth over relations with London in the wake of Zelensky's words. "If anything happens, Ben can call me and tell me everything he wants," the diplomat said told Sky News. 
🇺🇦🇬🇧 #BREAKING: Volodymyr #Zelensky has fired the ambassador to the #UK, Vadym Prystayko, after he called the Ukrainian president's words to #British Defense Minister Ben #Wallace as unhealthy sarcasm#Ukraine #UkraineRussianWar #BreakingNews pic.twitter.com/F01YwUuRmU

— Attentive Media (@AttentiveCEE) July 21, 2023
Prystaiko is a very prominent career diplomat within Ukraine's foreign service, having also been the country's foreign minister from 2019 to 2020. He had been in his post as ambassador to the UK for three years before being sacked on Friday.
Prystaiko's words seemed a relatively slight bit of censure directed at Zelensky, but which clearly angered the Ukrainian leader. The diplomat had, after all, expressed that his purpose was to improve strained relations with Kiev's close ally Britain. 
Loading...