---
Bud Light's Popularity At Bars And Restaurants Is "Almost Non-Existent"
Union, a data-driven hospitality engagement platform with a point-of-sales system in bars and restaurants nationwide, published a new report showing Bud Light's "fall from No. 1 was swift following the marketing controversy that spurred a nationwide boycott." 
"Sales of what was once America's best-selling beer dropped 2.6 points from 11.3 percent dollar sales share to 8.73 percent at Union's network of thousands of high-volume venues in the first week of the boycott alone," the report said. 
It continued, "That sales spiral continued throughout Q2 at Union venues as the boycott took a stronghold across the US, dropping 34 percent in sales share compared to the prior year, since the fallout began on April 1." 
On April 2, we were among the first to point out Did Bud Light Go 'Woke' With Trans-TikTok Star? Boycott Calls Intensify... And it was only weeks that high-frequency data from bars, restaurants, and distributors that Bud Light's marketing partnership with transgender influencer Dylan Mulvaney on TikTok led to one of the largest boycotts by consumers of a product in recent memory. From neighborhood bars to high-end restaurants, even on golf courses, the message with many beer drinkers was consistent: Bud Light's too 'woke.' 
"Our on-premise ordering data shows that domestic beer brands are reaping the most benefits from the Bud Light fallout," said Layne Cox, chief marketing officer at Union. 
Cox said, "Modelo may have unseated Bud Light at retail, but at high-volume bars and restaurants, it's a different story."
We have noted that Bud Light was dethroned last month as the number-one-selling beer in America by Constellation Brands' Modelo. However, Cox said data from their POS machines "reveals that guests are now spending more on Miller Lite than Bud Light in on-premise accounts." 
POS data shows Miller Lite's sales are up 21% in the three months ending June 30, while Bud Light's sales tumbled 34%. 
Miller Lite, Michelob Ultra, and Coors Light are now the top three selling beers on Union's POS machines. AB InBev owns not just Bud Light but also Michelob Ultra, which many beer drinkers probably don't realize of the parent company's extensive beer portfolio.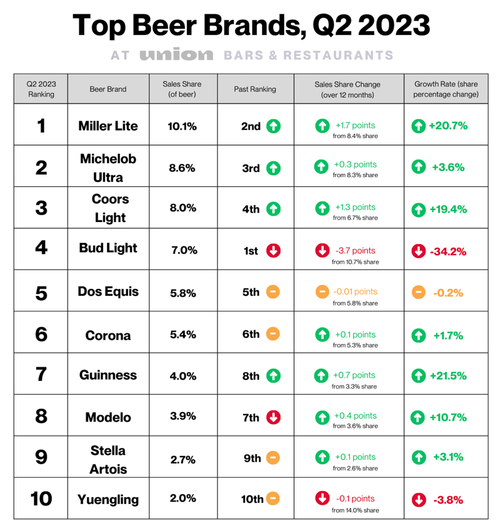 "With the boycott still making headlines three months after the initial incident and Bud Light sales at Union venues still struggling, we believe it will take a while for the brand to see a full rebound," said Cox.
POS data also showed North and South Carolina experienced the most significant declines in Bud Light sales while Miller Lite demand surged.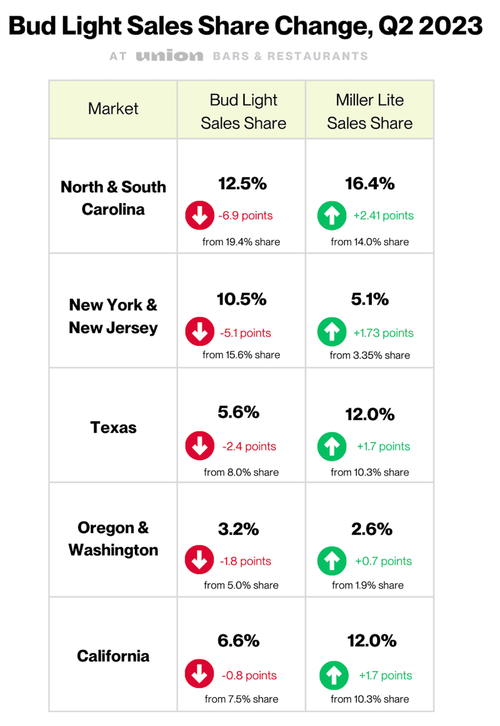 Clayton Dukes, general manager of the Blind Tiger Pub in Charleston, South Carolina, which uses Union's POS, told the data firm that Bud Light sales became "almost non-existent" since the boycott erupted in early April. 
Dukes continued, "At first I thought this might blow over pretty quick, but I think it is pretty apparent that this isn't going anywhere for a long time." 
In a separate report, Deutsche Bank analyst Mitch Collett estimated Bud Light risks a permanent loss of nearly 25% of its business. 
Loading...