---
Canada Issues 2SLGBTQI+ "Travel Advisory" For The U.S., Whatever That Means
The genius bureaucrats in Canada have issued either a "LGBTQ2S+" or "2SLGBTQI+" travel advisory for the United States, depending on which news source you pull your information from and which acronym is popular this week. 
The country has "updated its international travel advisories to warn members of the LGBTQ+ community that they may face discrimination if they travel to some places in the United States," according to CTV News. 
The advisory was put into place after at least 18 U.S. states "passed laws that limit or ban certain things relevant to the community, including gender-affirming medical care for minors and teaching about sexual orientation in schools".
We don't get it. So in other words, be careful driving on a highway in Florida, because you can't pull over and give your minor child a sex change?
The travel advisory follows the U.S. Department of Homeland Security's warning in May about "threats of violence" against the LGBTQ+ community. There's been no word on whether or not the Homeland Security warning included the "2S" and "I" portions of Canada's acronym.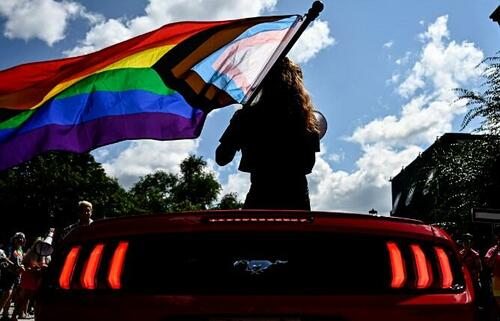 "Some states have enacted laws and policies" that affect LGBTQ+ travellers, Global Affairs Canada said Tuesday. The warning "doesn't specify which states, or which of their laws or customs, are of concern," CTV added.
"Carefully consider whether you are comfortable visiting a destination where the laws and social customs affecting (LGBTQ+) people differ from those in Canada," the Canadian government warns. 
Deputy Prime Minister Chrystia Freeland said Tuesday: "Even as we work hard on that government-to-government relationship, every Canadian government, very much including our government, needs to put at the centre of everything we do the interests and the safety of every single Canadian and every single group of Canadians."
Recall back in May the NAACP issued a travel advisory for the state of Florida, stating: "Florida is openly hostile toward African Americans, people of color and LGBTQ+ individuals. Before traveling to Florida, please understand that the state of Florida devalues and marginalizes the contributions of, and the challenges faced by African Americans and other communities of color." 
In an accompanying statement, the 114-year-old organization said the travel advisory "comes in direct response to Governor Ron DeSantis' aggressive attempts to erase Black history and to restrict diversity, equity, and inclusion programs in Florida schools." 
Loading...