---
China Factory PMI Slump Worsens As Stocks Tumble Into Bear Market
Chinese stocks slid into bear market territory after manufacturing activity contracted for a second month in May. The dismal data is more evidence that the post-Covid recovery in the second-largest economy in the world is faltering. Bad data might suggest additional policy easing is needed to prop up economic growth. 
On Wednesday, the National Bureau of Statistics announced that China's official manufacturing purchasing managers' index had dropped to 48.8 in May, down from 49.2 in April. This was the lowest reading since December 2022 and missed the median estimate of 49.5 in a Bloomberg survey of economists. It also marked the second consecutive month the index printed sub-50. 
Meanwhile, China's non-manufacturing PMI fell to 54.5 in May from 56.4 in April, also missing economists' expectations.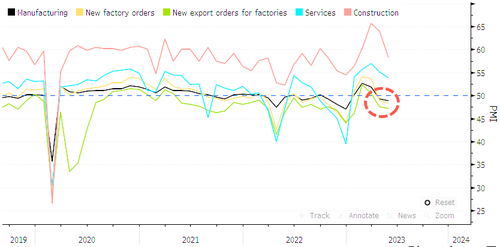 Goldman Sachs provided a breakdown of the PMIs data to clients: 
1. The China NBS purchasing managers' indexes (PMIs) survey suggested manufacturing activity contracted in May. The NBS manufacturing PMI headline index fell to 48.8 in May from 49.2 in April. Among five major sub-indexes, the output sub-index fell to 49.6 from 50.2, the new orders sub-index decreased to 48.3 from 48.8 and the employment sub-index declined to 48.4 from 48.8. The suppliers' delivery times sub-index edged up to 50.5 in May from 50.3 in April, suggesting faster supplier deliveries. The NBS commented that the drop in the May PMI reading was linked to insufficient demand (especially in chemical fibers, non-metallic mineral products and ferrous metal processing industries).

2. On the trade-related sub-indexes in the manufacturing survey, the new export orders sub-index decreased to 47.2 in May (vs. 47.6 in April), pointing to weaker external demand. The import sub-index fell to 48.6 in May (vs. 48.9 in April). The raw material inventories sub-index fell to 47.6 from 47.9, and the finished goods inventories sub-index declined to 48.9 from 49.4. By enterprise size, the PMIs of large enterprises increased to 50.0 from 49.3 while medium and small enterprises decreased 47.6 and 47.9 in May, respectively (vs. 49.2 and 49.0 in April). Price indicators in the NBS manufacturing survey suggest notable disinflationary pressures in May. The input cost sub-index fell sharply to 40.8 (vs. 46.4 in April) and the output prices sub-index also declined notably to 41.6 (vs. 44.9 in April), partly due to falling commodities prices and muted market demand.

3. The official non-manufacturing PMI (comprised of the services and construction sectors) moderated to 54.5 in May (vs. 56.4 in April), which was still solid but lower than market expectations, suggesting continued recovery in construction and services sectors but at a slower sequential pace. The services PMI slowed to 53.8 (vs. 55.1 in April). According to the survey, the PMIs of service industries such as airlines, ship and road transport services and telecommunication were above 60 while the PMI in property sector was below 50 in May. The construction PMI moderated to 58.2 in May (vs.63.9 in April) but remained elevated. The NBS noted that construction enterprises were optimistic about the outlook of construction sector.
PMI data shows the post-Covid economic recovery is slowing after a surge in consumer activity earlier in the year after draconian lockdowns were lifted. Bloomberg noted:
Exports remain weak, a rebound in the property market has faded and the government has slowed spending on infrastructure. Businesses are also being hit by falling profits and heightened tensions with the US and its allies.
As of late, there appears to be no shortage of bad news for China's recovery narrative: 
"This adds to indicators since April that suggest that the economic recovery momentum has continued to slow," said Ho Woei Chen, an economist at United Overseas Bank Ltd. in Singapore. 
Chen noted the bad news might lead to easier monetary conditions:
"There'll be pressure for monetary policy support to be stepped up given the weak domestic inflation."
Investors are losing faith in the recovery narrative as the Hang Seng China Enterprises Index dropped as much as 2.5% on Wednesday. The index stumbled into a bear market, down 21% since peaking on Jan. 27.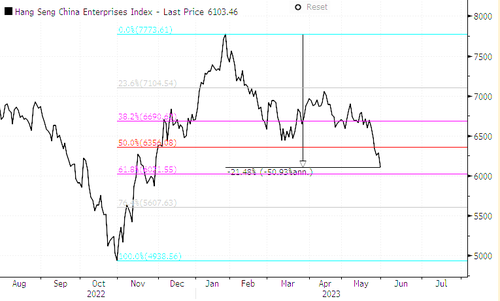 To restore confidence in investors, Vey-Sern Ling, managing director at Union Bancaire Privee, said, "More stimulus from the government may help, but evidence of sustainable longer-term growth will be required to clear investors' doubts."
Dismal PMI data is having a negative impact on the market, but sliding stock and commodity prices over the last several months show investors have priced in the rocky recovery.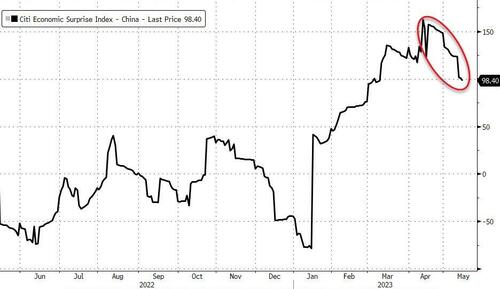 Meanwhile, Citi warned clients of another downturn:
"The Chinese economy could be at the risk of a double dip. Insufficient demand is the major concern now .. Goods deflation is weighing on profitability .. the Chinese economy could be on the verge of a self-fulfilling confidence trap .. decisive policy actions are needed."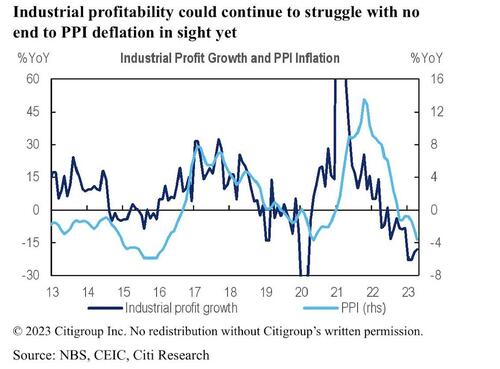 Besides a faltering recovery, geopolitical risks are another significant headwind. 
Loading...