---
Consumer Revolt? Survey Reveals Many Plan To Spend Less As Shopping Season Approaches 
Several major retailers have already raised concerns about a downturn in consumer spending that may persist through the crucial holiday shopping season. Many mid to low-tier consumers are stretched thin in the era of 'Bidenomics,' grappling with rising credit card debt, diminished savings, and steep interest rates. Additionally, tens of millions of consumers are resuming their student loan payments this month. These factors are headwinds that may spark a growth scare narrative. 
Online review platform Trustpilot published a new survey of 2,000 consumers, finding that many have less disposable income than in previous years. However, some respondents are finding ways to leverage up to fund purchases: 
Today's economic crisis is undoubtedly contributing to consumer stress levels this year with 1 in 3 considering going into credit card debt to purchase holiday gifts this year. 

This is followed by 41 percent considering Buy Now Pay Later services, while another 2 in 5 would cut down on essential expenses such as food and gas to afford their gift purchases. 

34 percent would look at dipping into their savings, and 1 in 3 would consider starting a side hustle to offset the costs.
Bad news for major retailers, Trustpilot revealed:
41 percent are considering opting out of purchasing physical gifts that require wrapping and going digital for gifts. 

38 percent are saying no to white elephant gift exchanges and Secret Santa, 38 percent are skipping gatherings that require travel, and 34 percent are ditching family gatherings altogether.
The survey further showed more alarming news: 
"That said, on average, Americans who shopped during the 2022 holiday season intend to spend 39 percent less this year, and cost is driving purchasing decisions." 
The planned reduction in holiday spending was blamed mostly on the multi-year inflation storm:
"Respondents noted an increase in price of items (43 percent) and shipping costs (42 percent) would prevent them from shopping with a business this holiday season. In fact, if delivery prices were to increase, 64 percent would reduce their overall spending to offset the cost, 64 percent would only shop in-store, and 60 percent would only shop with businesses that offer free shipping."
"People are financially struggling in today's economy, which is only heightened during the holidays," Mieke De Schepper, Chief Commercial Officer at Trustpilot, wrote in the report. 
The survey comes as we determined in a recent consumer credit report that "US consumer had finally tapped out." And we also noted it's extraordinarily rare for consumers to be in this worse shape...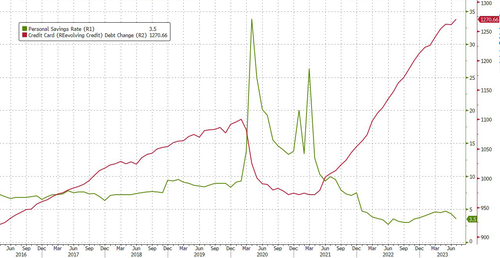 Plus, add the restart of student loan payments this month that will curb household spending by upwards of $15.8 billion per month - or $190 billion per year. 
Corporate America panicked about "student loans" this past earning season as chatter on earnings calls soared to the highest level ever. 

These mounting headwinds for consumers are why Macy's only plans to hire 38,000 full and part-time workers this holiday season - much fewer than last year and the lowest number since 2008. Meanwhile, Nordstrom recently warned about a slowdown in consumer spending. Remember weeks ago when Walmart slashed pay for new hires? All of this suggests the economic downturn has arrived. 
Loading...