---
Could WeWork's Potential Bankruptcy Be A Ticking Timebomb For CRE Markets?
If WeWork stumbles into bankruptcy, it will lead to restructuring and the continuation of operations. However, there would be mounting risks the co-working start-up could be entirely wound down. If that's the case, commercial real estate markets across major cities will suffer even more pain.  
Earlier this month, WeWork stated in a 10-Q filing that "substantial doubt exists about the company's ability to continue as a going concern." Since WeWork continues to hemorrhage cash and liquidity is running thin, the money-losing business is on its last leg.
WeWork has shuttered locations in the past, and in those cases, it relocated members to other buildings and or towers that it leases. However, in the event of bankruptcy and operations were ceased, it would mean 16.8 million square feet of office space it occupies nationwide could hit markets.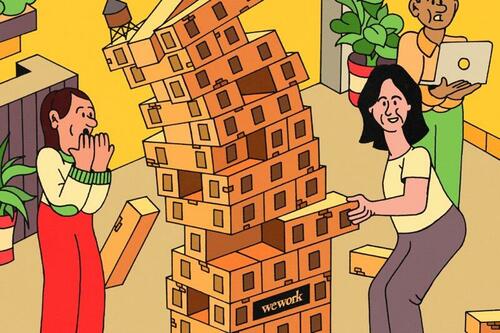 Victor Rodriguez, CoStar's senior director of analytics, told Bloomberg that even though WeWork's total exposure of the office market is "just a slice," it could still cause turmoil for the already troubled sector. 
"Its collapse will further muddle an already uncertain recovery timeline for the US office sector," Rodriguez said. 
Analysts at Barclays wrote in a recent note that lender exposure to WeWork is sizeable, upwards of $7.5 billion of commercial-mortgage-backed securities, with about 38% concentrated in NYC. 
"Given the current weak fundamentals of the office market in New York, we believe these locations might be at particular risk of closure due to overconcentration," Barclays analysts Lea Overby and Anuj Jain wrote.
Since WeWork doesn't own any offices. It pays landlords, and if the company can't renegotiate leases or flat-out cancels, it would inflict pain on building owners. 
The ripple effect of a WeWork bankruptcy leaves 16.8 million square feet of office space at risk. We suspect building owners with heavy exposure to WeWork aren't entirely pleased about its tenant being on the verge of bankruptcy. 
WeWork might be a ticking timebomb for office markets. 
Loading...