---
Elon Musk Becomes World's Richest Person (Again) After Luxury Bust Hits Bernard Arnault
Bloomberg's billionaire index shows Elon Musk has reclaimed his position as the world's wealthiest person. He surpassed LVMH CEO Bernard Arnault's $187 billion fortune by about $7.7 billion to $194.8 billion this week as the luxury bubble deflates. 

The two centibillionaires have been duking it out for the top spot on Bloomberg's billionaire index. Arnault's wealth surged in recent months as investors panic-bought LVMH's stock on the narrative that demand for brands including Louis Vuitton, Dior, and Celine was 'still in vogue.' But it wasn't until last week when news of softening US demand crushed global luxury brand stocks. 
"Slowing to negative growth year-on-year in the US is a building concern, especially given signs of softening demand from more economically sensitive aspirational consumers," Deutsche Bank analysts wrote in a note to clients last week.
The sharp fall in luxury stocks has meant Arnault is no longer the wealthiest person, losing about $15.7 billion of net worth since May 17.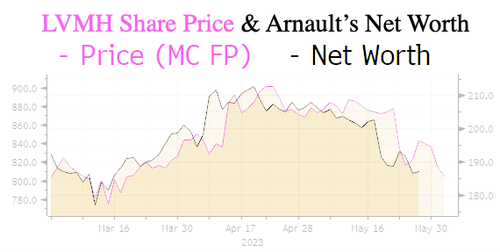 Meanwhile, Musk's net worth has soared $12.4 billion in the last week as Tesla stock breached the $200 per share level.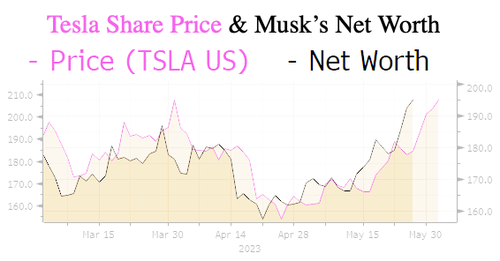 Holding up the rear is Jeff Bezos with $146.3 billion, Bill Gates with $125.9 billion, and Larry Ellison with $118.3 billion.  
Loading...