---
UAW Boss Fires Back At GM, Calls Labor Contract Offer "Insulting" 
Update (1323ET): 
We told readers earlier to expect a reaction from the United Auto Workers' boss following General Motors' labor contract offer. 
And just like we suspected, UAW President Shawn Fain called the GM's labor contract offer "insulting": 
"After refusing to bargain in good faith for the past six weeks, only after having federal labor board charges filed against them, GM has come to the table with an insulting proposal that doesn't come close to an equitable agreement for America's autoworkers. GM either doesn't care or isn't listening when we say we need economic justice at GM by 11:59pm on September 14th. The clock is ticking. Stop wasting our members' time. Tick tock."
Read below for the union's demands. GM's offer was considerably off from these, suggesting a potential strike might be on deck late next week. 
*   *   * 
Update (1217ET):
United Auto Workers has "been very clear" to Ford, General Motors, and Stellantis about "what our priorities are," such as a 46% wage increase, reinstating traditional pensions, and trimming the workweek down from 40 to 32 hours in a new four-year labor contract. 
UAW has warned Detroit's top automakers that if new contract demands aren't met by Sept. 14 or next Thursday -- then prepare for a wave of strikes. 
So, with UAW's current labor contract expiring imminently, what does GM offer the union? 
Well, as Bloomberg reports, far from the union's demands: 
GM SAYS IT OFFERS UAW EMPLOYEES 10% WAGE HIKE OVER FOUR YEARS -- AUTOMAKER

GM OFFER DID NOT INCLUDE PENSION BENEFITS FOR POST-2007 HIRES
Here's the complete list of demands (list courtesy of Automative News' Michael Martinez):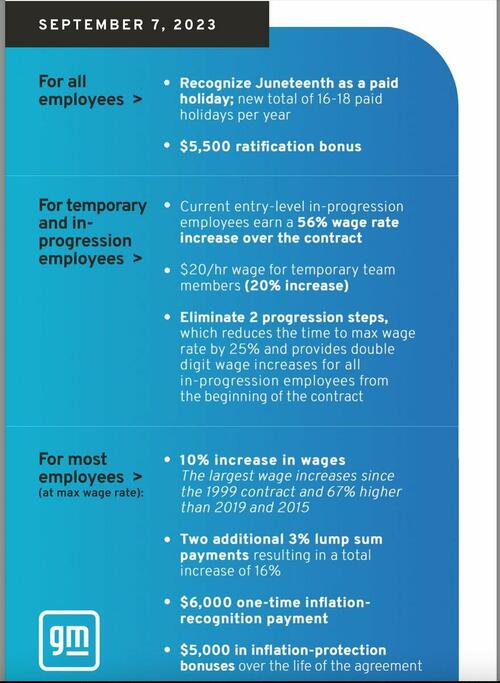 Remember Biden said he 'wasn't worried about potential strikes' last weekend while relaxing at his beach house in Rehoboth. 
Last week, Ford pitched a new labor contract offer to UAW, which was promptly declined. It seems GM's proposal might face a similar fate.
One should be anticipating some angry statements from the union boss. 
*   *   * 
Ford Motor Co. announced Thursday morning that nearly 8,000 United Auto Workers-represented employees "have been fast-tracked to higher earnings," and some will earn $9,000 more per year. This comes as the automaker and the union have been discussing a new four-year labor agreement, as the current one expires next Thursday. UAW members have already voted in favor of a strike if no labor agreement is reached.  
These employees will earn $4.33 more per hour, or $9,000 a year; some could earn more than $10,000 a year with overtime.
"The pay hikes were negotiated by Ford and the UAW in 2019 to shorten the time it takes workers to reach the average top wage rate of $32 an hour," the automaker said.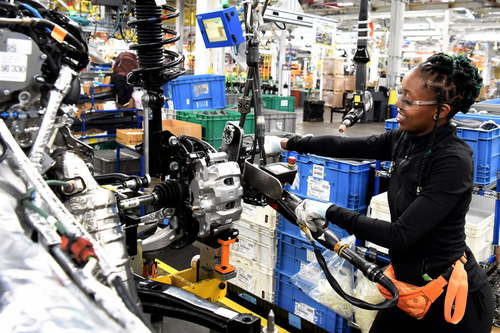 Bryce Currie, Ford's vice president of manufacturing, said the fast track to higher "pay raises" is an example of Ford's commitment to improving the finances of its workforce. 
Currie continued, "The negotiating teams nicknamed this deal '23 Jump Street' because in 2023, a significant number of UAW-Ford team members would see a jump in pay. And we are offering further improvements in the next contract."
Ford said the wage rate hikes usually takes eight years to play out, but this new agreement with 8,000 unionized employees means they have reached the top wage rate in four years. 
The automaker has 57,000 UAW-represented hourly employees, with an average of 80% of all UAW employees at the top wage rate or making around $32 per hour. 
UAW has been in heated discussions with Ford, General Motors Co, and Stellantis NV over new labor contracts that expire next Thursday. The union has demanded 40% pay hikes for its workers across all three automakers. 
Last week, Ford offered a 9% wage rise until 2027, significantly lower than the 40% increase the union demands. UAW members have voted to strike if no new labor contract can be negotiated across Detroit's Big Three automakers.
Loading...