---
Futures Rise As Regional Banks Squeezed Higher
US stock futures reversed losses and traded near session highs as the squeeze in regional banks pushed stock prices higher despite another huge (unadjusted) deposit drop last week as investors assessed the outlook for the banking crisis while awaiting inflation figures due later this week for clues about the path of Federal Reserve policy. Contracts on the S&P 500 and Nasdaq 100 rose 0.2% at 735am ET. The underlying benchmarks had rallied 1.8% and 2.1% on Friday, respectively. Oil edged higher to start the week, while European markets rose and Chinese bank stocks soared. Japanese stocks fell as traders came back online after a holiday. Elsewhere, Janet Yellen warned the debt-limit impasse may trigger a constitutional crisis. And Warren Buffett says good times are coming to an end.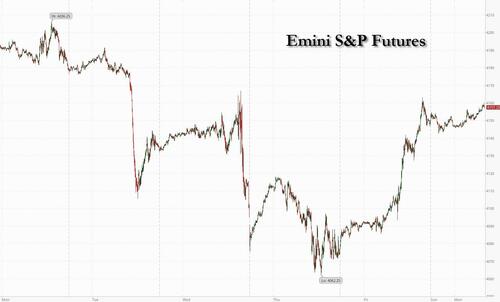 In premarket trading, Occidental Petroleum dropped after Warren Buffett said Berkshire Hathaway won't make an offer for full control of the energy group. Meanwhile, PacWest Bancorp soared as much as 32%, extending Friday's brisk rebound and leading gains in US regional banks as short were squeezed, after it slashed its quarterly dividend and said business remains "sound" even though clearly deposit outflow will continue as long as the Fed's QT continues. Tyson shares plunged as much as 10% in premarket trading Monday after cutting its sales guidance for the full year. The updated guidance also missed the average analyst estimate for the period. Cryptocurrency-exposed stocks slump as Binance restarted withdrawals of Bitcoin after citing congestion on the token's blockchain for two halts in less than 12 hours. Marathon Digital (MARA US) -6.9%, Riot Platforms (RIOT US) -6.7%.  
US stocks have tracked sideways since the beginning of April as as better-than-feared corporate earnings offset concerns around an economic slowdown and the health of regional banks. Unexpectedly strong jobs data Friday supported bets the Federal Reserve will hold rates high for longer, straining consumer spending, corporate profits and bank balance sheets. Despite Friday's stock rebound, investors still have much to worry about. The rout in US bank shares has the S&P 500 financials index on the verge of falling back below its 2007 peak.
Meanwhile, Treasury Secretary Janet Yellen sees "simply no good options" for solving the debt limit stalemate in Washington without Congress raising the cap. She even cautioned that resorting to the 14th Amendment would provoke a constitutional crisis.
"We see a chance that Treasury's cash amount is enough to sustain till mid-June and probably slightly beyond that," Oversea-Chinese Banking Corp. strategists Frances Cheung and Christopher Wong wrote in a note. However, "the irregular nature of fiscal receipts and outlays shall render investors staying cautious," they said.
Investors are monitoring turmoil in regional banks and the impact on the wider sector, with the S&P 500 financials index on the verge of falling back below its 2007 peak. Meanwhile, investors are looking forward to consumer-price data due on Wednesday to assess whether the Fed's fight against inflation has been paying off.
"None of the underlying fundamentals in US banks give us any reason to be deeply frightened, it's really more investors confidence and managements ability to rein in investor confidence fast enough that's been the primary issue," said Alexander Morris, chief investment officer and president of F/M Acceleration said on Bloomberg Television. There could be another small Fed hike and rate cuts will likely be reserved until 2024, he added.
Rates on swap contracts linked to Fed meetings — which on Thursday briefly priced in a cut in July — moved higher, to levels consistent with a stable policy rate until September, followed by at least two quarter-point cuts by year-end. Consumer-inflation data Wednesday may provide further clues on the rates path.
"Unless we see a sharp turnaround in the inflation numbers, the Fed ought to be quite comfortable with where policy rates are right now," Tai Hui, chief Asia market strategist at JPMorgan Asset Management, said on Bloomberg Television.
In Europe, the Stoxx Europe 600 index edged 0.2% higher, with energy stocks outperforming as crude oil gained. With UK markets closed for a a holiday in honor of King Charles III, trading volumes were relatively modest. The German 10-yield climbed 4 basis points. Here are the biggest European movers:
PostNL gains as much as 11.3% after the Dutch delivery company reported first-quarter revenue that beat estimates, with analysts noting that parcel volumes were better than anticipated
Novo Nordisk gains as much as 4.8%, with Citi flagging continued "stellar" growth of the Danish pharmaceutical group's GLP-1 diabetes and obesity portfolio across the past rolling four weeks
Banca Monte dei Paschi climbs as much as 4.4% after Reuters reported that Italy is open to selling down its stake in the lender if terms or buyers are right, citing three people with knowledge
Danske Bank gains as much as 3.9% after Danish newspaper Jyllands-Posten reported that the lender's number of customers in Denmark has risen by a net 14,061 since the start of 2022, citing a poll
Raiffeisen Bank gains as much as 2.3% after the Austrian lender was raised to neutral from sell at Citi following "very strong" first-quarter results and upgraded outlook
Assa Abloy shares fall 1.8% despite its announcement that it has reached a settlement with the US Department of Justice over its planned $4.3b acquisition of the HII division of Spectrum Brands
SBB shares fall as much as 9.7% after the Swedish landlord saw its credit rating cut one step to junk by Standard & Poor's with the rating agency signaling it may downgrade further
Earlier in the session, Asian stocks gained as easing banking concerns helped revive risk appetite, while Chinese financial shares saw frenzied trading amid a hunt for the next market catalyst.  The MSCI Asia Pacific Index rose as much as 0.5% on Monday, led by energy and finance shares. China and South Korea were among the best performers, while Japanese stocks retreated as trading resumed after the Golden Week holidays. Asian shares started the week on a strong note as sentiment stabilized following a rebound in US regional bank shares. An unexpected pickup in US hiring and wages tempered worries about a recession, with inflation data due this week expected to provide clues on the Federal Reserve's next move.
Chinese banking shares surged to a one-year high after more lenders cut deposit rates and further progress on state-owned enterprise reform boosted sentiment.  In contrast, shares of Japanese lenders — which are seen as the most vulnerable in Asia to the turmoil gripping the US banking sector — underperformed the broader market, with a sub-gauge of bank shares falling 1.3%.  Asian stocks have held up relatively well amid the recent volatility in global markets, with the regional stock benchmark capping a 1% increase last week.  "Thanks to a buoyant China, we expect emerging markets to maintain their economic growth advantage over developed peers," said Luca Paolini, chief strategist at Pictet Asset Management."The positive gap will lead to superior corporate earnings growth across the developing world, and therefore higher returns for emerging stocks."
Japanese stocks declined in post-holiday trade as a surprisingly strong US jobs data undermined the case for a Federal Reserve rate cut. The Topix Index fell 0.2% to end at 2,071.21, while the Nikkei declined 0.7% to 28,949.88. Sony Group Corp. contributed the most to the Topix Index's drop, decreasing 1.9%. Out of 2,160 stocks in the index, 1,332 rose and 733 fell, while 95 were unchanged. "The FOMC meeting result was expected, but the market was partly optimistic with many who thought that there would be a rate cut," said Naoki Fujiwara, chief fund manager at Shinkin Asset Management. "There was a gap between the two which weighed down Japan stocks." 
The S&P/ASX 200 index rose 0.8% to close at 7,276.50, the biggest jump in a month, boosted by mining and bank stocks amid relative calm and positive sentiment across regional financial markets. Investors await Australia's federal budget due Tuesday after market close.  In New Zealand, the S&P/NZX 50 index rose 0.4% to 11,942.49
In FX, the Bloomberg Dollar Spot Index fell 0.2% in its fifth day of declines amid continuing concern that ongoing turmoil among US regional banks could fuel a tightening in lending. Traders are betting the toll from that could be so great that the Fed will start easing monetary policy as soon as July to stimulate the economy. The Norwegian krone is the best performer among the G-10's, rising 0.7% versus the greenback. The Japanese yen is the weakest. Leveraged funds had bought USD/JPY heading into release of the Bank of Japan's meeting minutes, according to Asia-based FX traders, as investors sought to meet net dollar demand over the Tokyo fix, which came in at around 135.15.
In rates, treasuries were cheaper across the curve with stock futures steady near top of Friday session range. Treasury yields cheaper by 2bp to 4bp across the curve with front-end-led losses flattening 2s10s spread by ~1.5bp on the day; 10-year yields around 3.48%, cheaper by 5bps vs Friday close with bunds lagging by ~2bp in the sector. IG issuance slate is expected to be packed as companies front-load ahead of Wednesday's CPI data; yields spiked higher after news that Apple announced a 5-part bond offering to fund buybacks, sending the 10Y yield to session highs.  German government bonds are in the red with two-year yields rising 4bps and back to levels seen before last week's ECB decision.
In commodities, crude futures advance with WTI rising 1.6% to trade near $72.50. Spot gold gains 0.3% to around $2,023.
Bitcoin dropped 4% after Binance temporarily halted BTC withdrawals as the Bitcoin network experienced a congestion issue but then resumed withdrawals, according to CoinDesk. Binance later closed BTC withdrawals again due to the large volume of pending transactions, while it also announced it was replacing BTC withdrawal transactions with a higher fee so that they can get picked up by mining pools.
US session highlights include wholesale inventory and sales data, while at 2pm ET we get the closely-watched release of the Fed's Senior Loan Officer survey during afternoon which is expected to show a dramatic tightening in loan standards
Market Snapshot
S&P 500 futures little changed at 4,151.50
Brent Futures up 1.5% to $76.42/bbl
Gold spot up 0.3% to $2,022.38
U.S. Dollar Index down 0.1% to 101.08
Top Overnight News
Western companies warn of hit from China's slow recovery. US and European groups say they overestimated how quickly the country would bounce back from Covid-19 lockdowns. FT
Brussels has proposed sanctions on Chinese companies for supporting Russia's war machine for the first time since the war in Ukraine began, a development that is likely to increase tensions with Beijing. FT
German industrial production fell more than expected in March, partly due to a weak performance by the automotive sector, spurring again recession fears in Europe's largest economy. Production decreased by 3.4% on the previous month following a slightly revised increase of 2.1% in February, the federal statistical office said on Monday. In a Reuters poll, analysts had pointed to a 1.3% fall. RTRS
Ukraine's upcoming offensive could help pave the way for negotiations between it and Russia by the end of the year, with China potentially playing a key role in bringing Moscow to the table. WSJ
Top Democrats and Republicans are racing to try to find a politically acceptable way to raise the nation's borrowing limit in the coming weeks, diving into talks that President Biden has avoided during months of impasse. WSJ
The White House is downplaying the need to curb short-selling of banks even as it insists President Joe Biden hasn't ruled out any options to ensure the stability of the banking system. BBG
More than 60% of Americans think Biden does not have the mental or physical stamina to serve effectively as president (only 1/3 of the country feels Biden is in physical shape for the presidency vs. 64% who feel that way about Trump). WaPo
Biden polls behind Trump (44-38%) and DeSantis (42-37%) in head-to-head matchups, although there are large numbers of undecided voters. WaPo
Janet Yellen said Congress has "no good options" other than to lift the debt ceiling to prevent an economic and constitutional crisis, a day after 43 GOP senators reiterated opposition to doing so without budget cuts. Yellen told ABC she doesn't want to consider emergency options, such as Joe Biden taking unilateral action. The president meets with congressional leaders tomorrow. BBG
Although mega-cap tech's sales growth gap relative to the index narrowed between 2021 and 2022, analysts expect this gap will widen. Mega-cap tech generated average annual sales growth of 15% from 2013 to 2019 vs. just 4% for the S&P 500. However, between 2021 and 2022 the gap narrowed from 11 pp to just 2 pp (17% vs. 15%) as S&P 500 sales growth reaccelerated. Looking forward, although mega-cap tech's 2023-25 annualized sales growth is projected to decelerate, the gap vs. the index is expected to widen to 5 pp (9% vs. 4%).
A more detailed look at global markets courtesy of Newsquawk
APAC stocks mostly gained as the region took impetus from Friday's rally on Wall St and strong US jobs data. ASX 200 was led higher by the commodity-related sectors and with sentiment underpinned after Australian Treasurer Chalmers confirmed an energy rebate of up to AUD 500 for millions of Australians in Tuesday's budget. Nikkei 225 declined beneath the 29,000 level on return from Golden Week with banking shares suffering after the recent headwinds for their regional US counterparts. Hang Seng and Shanghai Comp. were positive as gains in energy and auto stocks offset the losses in the property industry, while China pledged to prioritise the real economy, adhere to the principle of seeking progress while maintaining stability, as well as strengthen the breakthrough of core technology and boost support of strategic resources.
Top Asian News
China's forex reserves USD 3.205tln at end-April vs prev. USD 3.184tln at end-March, while China's gold reserves rose to 132.35bln at end-April vs prev. USD 131.665bln at end-March.
China held security and trade talks with the Taliban as Beijing looks to boost its investment in Afghanistan and bring it into the Belt and Road project, according to FT.
Western companies have reportedly warned of a hit from China's slow recovery with US and European groups saying they overestimated how quickly China would bounce back from COVID-19 lockdowns, according to FT.
US sanctions are reportedly driving Chinese firms to advance AI without the latest chips, according to WSJ.
BoJ March meeting minutes stated that several members said they must be vigilant to the risk that inflation may accelerate more than expected and members agreed there was very high uncertainty surrounding Japan's economy. The minutes also stated that a few members said there were some positive signs towards achieving the BoJ's price target, while several members said cost-push price pressure might last longer than expected if global commodity prices rise more than projected.
Japanese PM Kishida said dialogue between Japan and South Korea is progressing in various areas including finance and culture, while Japan's government is currently taking steps to reinclude South Korea in the export white list. Furthermore, Kishida expressed support to host South Korea for restarting trilateral talks with China and believes it is his responsibility to cooperate with South Korea, according to Reuters.
South Korean President Yoon said he agreed with Japanese PM Kishida to develop bilateral ties to a higher level and both leaders welcome efforts to normalise ties on security, as well as strengthen cooperation on semiconductor and other key materials sectors. Furthermore, they agreed that North Korea's missile programme is a severe threat to world peace and stability, agreed on the strategic importance of the Indo-Pacific region and to boost coordination on Indo-Pacific strategies, while Yoon said South Korea is open to Japan joining the South Korea-US military nuclear planning in the future, according to Reuters.
European bourses are firmer across the board, Euro Stoxx 50 +0.1%, though trade has been very contained/steady with the UK away. Stateside, the narrative is much the same with US futures essentially flat ahead of numerous Fed survey's and FOMC speak; weekend newsflow was limited and focused on BRK.B and the debt ceiling. Back to Europe, sectors are mixed and lacking in breadth with outperformance in Energy given broader benchmark action while individual movers are sparse. Berkshire Hathaway (BRK.B) - Q1 earnings were USD 8.065bln (+12.6% Y/Y). Insurance underwriting profit was USD 911mln (vs 167mln Y/Y), investment income from insurance +68% to USD 1.969bln. Berkshire increased its stock buybacks by USD 4.4bln. It is reducing its investments in stocks such as Chevron (CVX). Buffett said he expects earnings to decrease this year at most of Berkshire's businesses due to an economic downturn. +1.3% in the pre-market.
Top European News
UK PM Sunak agreed with Canadian PM Trudeau to use momentum from the Trans-Pacific Partnership to further bilateral trade talks and they discussed how their countries could deepen collaboration on defence and security technology including cyber security, according to Reuters.
Chinese President Xi sent a congratulatory message to King Charles and said that China and the UK should jointly promote cooperation, while he added that China is willing to expand cooperation and cultural exchanges with the UK.
ECB's Knot said that they are starting to see that policy is working but more will be needed to contain inflation and it is still not certain how high European rates will have to go, according to Reuters.
Fitch affirmed the European Stability Mechanism at AAA; Outlook Stable and affirmed Switzerland at AAA; Outlook Stable, while it affirmed Slovenia at A; Outlook Stable.
FX
DXY dangles above 101.000 awaiting more US debt ceiling developments, employment trends and Fed surveys; in 101.04-101.33 bounds.
Aussie and Kiwi outperform as AUD/USD probes 100 DMA at 0.6789 and NZD/USD rebounds firmly through 0.6300.
Franc claws back post-Swiss CPI losses and reclaims 0.8900+ status, Euro firm on 1.1000 handle irrespective of bleak EZ Sentix index and Pound retains strength around 1.2650 in UK Coronation holiday trade.
PBoC set USD/CNY mid-point at 6.9158 vs exp. 6.9159 (prev. 6.9114)
Fixed Income
Bunds hit Fib resistance and retreat sharply between 136.21-135.46 parameters, regardless of weaker than expected German industrial output and Eurozone Sentix index.
BTPs top out after opening mark-up and uptick within a 115-19-114.48 range and take note of Italian Treasury announcement of new 4 year retail supply for early June.
T-note hugs base of 115-16+/115-27 + band ahead of US employment Trends, Fed Senior Loan Office Survey and NY Fed Consumer Expectations.
Italian Treasury to sell a 4yr BTP bond as part of a new "bond type group" which will be for retail investors only, to be offered across 5th-9th June and have step-up coupons and a loyalty premium.
Commodities
Crude benchmarks are firmer on the session, in a continuation of the attempted recovery which began towards the latter half of last week and despite the broader tentative tone; crude benchmarks are posting gains of over USD 1/bbl at USD 72.70/bbl and USD 76.50/bbl for WTI Jun and May Jul respectively.
Spot gold is essentially unchanged on the session with sub-10/oz parameters and still comfortably above the USD 2k/oz mark while base metals are modestly firmer on the session as the USD pulls back towards a 101.00 base in thin trade owing to the absence of LME participants given the UK Bank Holiday.
More broadly, the Barrick Gold CEO Bristow in an FT interview said the Co. expects gold and copper prices to increase, to the benefit of mining stocks.
Iraq set June Basrah medium crude OSP to Asia at minus USD 0.15/bbl vs Oman/Dubai and OSP to Europe at minus USD 4.60/bbl vs dated Brent, while it set OSP to North and South America at a discount of USD 1.00/bbl vs ASCI.
Geopolitics
Russia began evacuating hundreds of civilians from occupied areas in south-eastern Ukraine including families with children from a town housing workers for the Zaporizhzhia nuclear power plant which has raised fresh concerns about its safety, according to FT. In relevant news, a Twitter source noted air defence activity in Dnipropetrovsk and Zaporizhzhia oblast, while missiles were launched from bombers flying over the Black Sea towards Odesa oblast, while Ukraine media confirmed a missile attack on Odesa and Kyiv's Mayor said drone wreckage hit Kyiv's Sviatoshyn district.
Russian President Putin has not yet responded to the proposals by UN Secretary-General Guterres on the Black Sea grain deal, according to a Kremlin spokesman cited by TASS.
Russia's Wagner Group Chief Prigozhin said he was promised as much ammunition and weapons needed to continue fighting in the Ukrainian city of Bakhmut, according to Reuters.
Russian Foreign Ministry accused the US and the West of supporting terrorism carried out by Ukraine after a car bomb attack which injured a Russian nationalist writer and killed his driver, according to Reuters.
Brussels is planning sanctions on Chinese companies aiding Russia's war machine, according to FT.
Chinese Foreign Minister Qin met with the US ambassador to Beijing and said it is imperative to stabilise Sino-US relations, avoid a downward spiral and prevent accidents between China and the US. Qin added the US side should correct its understanding of China and return to rationality and the US must especially correctly handle the Taiwan issue, as well as stop continuing to hollow out the One-China principle, according to state media.
US State Department spokesperson said the US does not believe Syria merits readmission into the Arab League at this point in time and the US is sceptical of Syrian President Assad's willingness to solve the crisis but is aligned with Arab partners on ultimate goals, while the US understands partners intend to use direct engagement with Syria's Assad to further push a solution to the Syrian crisis.
Qatar Foreign Ministry spokesman said Qatar's position over normalising relations with the Syrian regime has not changed and it hopes that the Syrian regime would be motivated to fix the roots of the crisis that led to a boycott, according to Reuters.
Armenia and Azerbaijan are to resume peace talks in Brussels, according to FT.
US Event Calendar
10:00: March Wholesale Trade Sales MoM, est. 0.4%, prior 0.4%
10:00: March Wholesale Inventories MoM, est. 0.1%, prior 0.1%
14:00: Fed Releases Senior Loan Officer Opinion Survey
16:00: Fed Releases May 2023 Financial Stability Report
16:45: Fed's Kashkari Moderates Panel Discussion on Minimum Wages
Loading...