---
Hollywood Screenwriters Reach Preliminary Labor Deal With Studios To End Strike
After more than four months, the Writers Guild of America (WGA), which represents more than 11,500 screenwriters, has reached a preliminary labor agreement with studios including Netflix, Disney, Amazon, Discovery-Warner, NBC Universal, Paramount, Apple, and Sony. 
Negotiations between WGA and the Alliance of Motion Picture and Television Producers restarted in recent weeks - after several months of on-and-off discussions over a new labor contract.
"We have reached a tentative agreement on a new 2023 MBA, which is to say an agreement in principle on all deal points, subject to drafting final contract language," WGA wrote in a statement. 
The union continued, "What we have won in this contract—most particularly, everything we have gained since May 2—is due to the willingness of this membership to exercise its power, to demonstrate its solidarity, to walk side-by-side, to endure the pain and uncertainty of the past 146 days." 
"It is the leverage generated by your strike, in concert with the extraordinary support of our union siblings, that finally brought the companies back to the table to make a deal," the union added.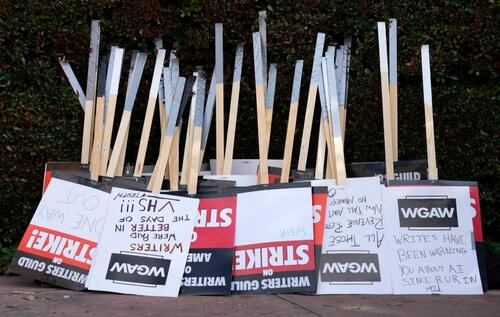 The writers have been on strike since May 2 - the first time since 2007 - have demanded higher pay from streaming services and protections from the use of artificial intelligence. 
It has also caused many Hollywood productions to grind to a halt. Several high-profile shows, such as Netflix's "Stranger Things," and various Marvel/Disney productions (such as Dune: Part Two featuring Christopher Walken) have hit the pause button.
Last week, CNBC's David Faber wrote on X that WGA and studios were inching closer to a deal.  
After face to face meeting today, writers and producers near agreement to end WGA strike. Met today and hope to finalize deal tomorrow, according to people close to the negotiations, who, while optimistic, warn that without deal tomorrow strike likely continues through year end.

— David Faber (@davidfaber) September 21, 2023
As soon as this week, WGA members might be able to vote on the new provisional three-year deal. 
The union said, "Once the Memorandum of Agreement with the AMPTP is complete, the Negotiating Committee will vote on whether to recommend the agreement and send it on to the WGAW Board and WGAE Council for approval. The Board and Council will then vote on whether to authorize a contract ratification vote by the membership."
This news propelled Paramount Global shares up 3.5%, Netflix +1, and .8% in premarket trading.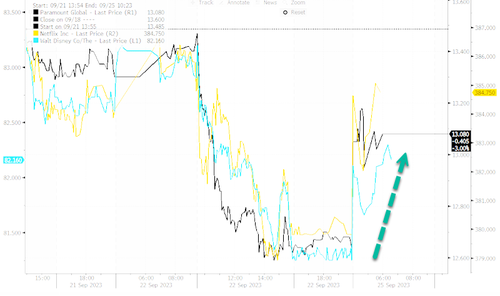 Following WGA's preliminary labor agreement, attention will turn to the Screen Actors Guild-American Federation of Television and Radio Artists. They have been striking since July and have similar demands in new contracts. 
Loading...