---
Home Depot CEO Warns 'Organized' Theft Tsunami Is "A Big Problem"
Like many other retailers, Home Depot has been forced to lock high-value items behind cages to counter rampant theft as Democrat officials in major cities fail to enforce law and order, which has only emboldened criminals. 
Home Depot CEO Ted Decker spoke with CNBC's Becky Quick about retail theft and other inventory loss -- known as "shrink" -- ravaging the home improvement stores nationwide. 
Quick pointed out Home Depot was very early in warning about America's retail theft crime wave several years ago. She asked Decker what items were currently being locked up at stores. 
Decker responded, "It's (shrink) is a big problem for retail. And it goes across retail," adding, "This isn't the random shoplifter anymore."
The CEO is likely referring to criminal organized gangs stealing merchandise and reselling on online marketplaces. 
Many of these thefts occur in Democrat-controlled metro areas where progressive city leaderships have relaxed theft rules, which has only backfired and sparked a shoplifting epidemic. 
He said Home Depot is working with state and local officials nationwide to inform officials about the theft wave. And he championed a new law requiring those selling items on online consumer marketplaces to be vetted, a move that might prevent stolen items from being resold. 
Decker continued, "We hate doing it ... but have had to lock up a lot of high-value items ... and they're not all big like power tools and generators ... some are as small as circuit breakers." 
Quick asks the CEO if there's going to be a point if stores will have to close because of out-of-control theft. Decker said,
"A certain number of retailers had to shut down stores in a number of tough cities, but we're fortunate we have not." He added,
"We are increasingly concerned about the life safety of our associates and our customer base." 
Quick noted that two Home Depot employees were recently killed over trying to stop thieves. She asked the CEO, "How big of a problem is it (shrink)? -- can you quantify it?" 
Decker said, "We know what our number is, and we don't talk about it, but it has been pressure on our gross margin."
"It's a big problem for retail," says @HomeDepot CEO Ted Decker on retail theft. "A lot of this product is [re-sold] on online marketplaces...We are increasingly concerned with the safety of our employees and customer base." pic.twitter.com/zUTIxNg3mj

— Squawk Box (@SquawkCNBC) June 13, 2023
Shrink is a $100 billion problem for US retailers. It's becoming such a problem that execs that mentioned "shrink" on recent earnings calls surged to the highest level ever in data compiled by Bloomberg from 2013.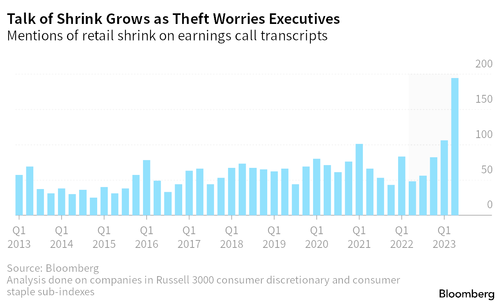 Weeks ago, David Johnston, vice president of asset protection and retail operations for the National Retail Federation, told FOX Business that retailers are expected to lose $100 billion this year due to theft. 
"Based on what we're hearing already from many of these CEOs and based on what we're experiencing daily in retailers across the nation… I do foresee us to have a much higher loss in 2023," Johnston said. 
As a result, retailers are shutting down stores in certain Democrat-controlled cities (read: here & here) as these areas are being transformed into crime-ridden hellholes due to failed policies. 
Loading...