---
Illinois Law Forces Landlords To Rent To Illegals Or Face Civil Rights Violations
Illinois Governor J.B. Pritzker signed SB 1817 into law, which mandates landlords must rent property to illegal immigrants. Democrats in this ultra-progressive crime-ridden state are under fire for prioritizing the needs of migrants over the needs of their constituents. 
Breitbart first reported Pritzker signed SB 1817 into law on June 30. The rule amends the Illinois Human Rights Act to include "immigration status" as a protected class. This means landlords could get slapped with a civil rights violation if they 'discriminate' against a migrant. 
"This law sets clear boundaries, protecting the rights of immigrants and ensuring that financial institutions and service providers cannot engage in discriminatory practices," Democratic State Sen. Ann Gillespie wrote in a statement. 

Gillespie continued, "Putting these protections in place will promote fairness to ensure people are not unjustly denied housing."
The law comes after Texas Governor Greg Abbott sent more than 8,000 migrants to Chicago amid the worst border crisis ever -- sparked by the Biden administration's failed open border policies. In the last few years, the record surge of migrant and drug flows into the country has triggered a twin crisis this country has never seen before. 
Meanwhile, Democratic leadership in Chicago has pleaded with Abbott to halt the bussing of migrants from the southern border to their city because resources are limited to help them.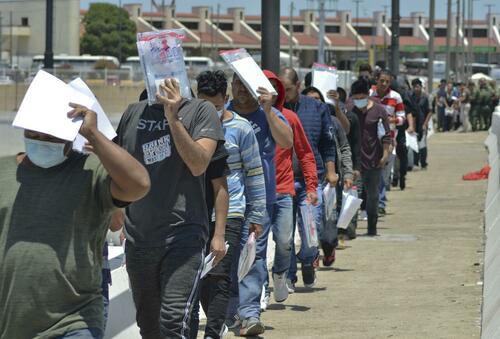 As for landlords, running a background check and credit report on potential tenants is standard. The question is, how does one vet illegals?
Just wait until the Pritzker allocates millions of dollars for 'emergency' housing assistance for illegals. 
As for the working poor and/or people experiencing homelessness in the state -- this is yet another example of Democrats putting their constituents last while trying to appease illegal aliens in hopes of becoming new voters for their party ahead of the 2024 presidential election cycle. 
Loading...