---
Iphone Maker Foxconn Slashes Full-Year Sales Outlook On Sliding Smartphone Demand
Taiwan's Foxconn, the world's largest contract electronics maker, downgraded its full-year outlook on Monday morning: 
"However, considering many external variables, in response to uncertainties such as global monetary tightening, geopolitical tensions, and inflation, the full-year outlook is now expected to slightly decline, from previous flattish expectations." 
The downgrade comes as consumers and corporations reduce spending on increasing macroeconomic headwinds as China's recovery stalls. Companies ranging from Apple to Qualcomm Inc. to Taiwan Semiconductor Manufacturing Co. have all indicated that the industry downturn, which began post-pandemic, might persist longer than previously anticipated. 
In May, the company guided 2023 sales would be around the same levels as 2022 -- but that changed as there appears to be no robust recovery in global demand for smartphones, computers, and tablets. It expects the downturn in the PC market to continue through the second half of the year (read: PC Bust Cycle Will Last Until 2024).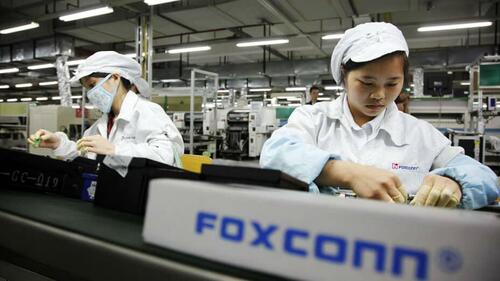 Here are other highlights from the earnings report (courtesy of Bloomberg):
Hon Hai will make key components in India in the future

Hon Hai will make consumer electronics, EV parts in India

Hon Hai will start to ship consumer electronics parts from India in 2024

Hon Hai will consider building EV and chip plants in India

Hon Hai will help more Taiwanese firms to invest in India

Hon Hai's India plants generate more than $10b in sales 

Hon Hai's generative AI servers business gained more than 200% in 1H, and will grow faster than the market average in 2H
Bloomberg recently reported Apple, Hon Hai's top customer, has requested 85 million units of the iPhone 15 this year, roughly in line with the year before. 
There was a bright spot, Hon Hai reported a net income of NT$33 billion, surpassing the NT$25.9 billion average of analyst estimates due to gains in real estate transactions. Though posted a 14% decline in revenue for the quarter, the first drop since the fourth quarter of 2021. 
Counterpoint Research analyst Ivan Lam reacted to the earnings report in a note to clients by saying:
"iPhone shipment from Foxconn in the fourth quarter and next year's first quarter will be lower than they were a year earlier, due to weak demand from multiple key markets such as the US, China and Japan, and the order shifting towards vendors such as Luxshare."
The slump in computers and handheld devices comes as the world's biggest market for smartphones, China, is sliding into a deflationary environment that might worsen. 
Loading...