---
IPO Renaissance Not So Clear: ARM 5x Oversubscribed, InstaCart Big Down-Round
Amid concerns of mounting economic headwinds and market volatility, there is renewed optimism that the 18-month slowdown in the initial public offering market, which collapsed equity underwriting revenues, could be due for a rebound. 
On deck this week is the IPO for UK-based chip designer Arm Holdings Plc, which is more than five times oversubscribed. Financials Times spoke with people familiar with the IPO that said the company would raise about $4.9 billion with shares priced at the high end of $47 to $51 per share. The deal is expected to close as early as Tuesday. 
Strong demand for the chip designer that SoftBank Group Corp owns could be what is needed to break the ice on the frozen US IPO market. A group of top tech companies have indicated interest in "purchasing up to an aggregate of $735 million of the ADSs offered" in ARM's offering, including Apple, Nvidia, Google, AMD, and Taiwan Semiconductor. 
However, Arm could be an outlier.
Also on Monday, Instacart, one of the largest online grocery delivery firms, submitted an updated filing for its upcoming IPO, indicating a money raise of $616 million, with a value of $9.3 billion -- or about 25% less than its private valuation two years ago.
Following a surge in growth stocks that pushed US equity benchmarks to near-record highs, investors have been drinking the Wall Street 'AI Kool-Aid' with hopes of a robust stock market recovery. 
"As we sit here in late August, looking towards the fall, IPO volumes are actually up 140% this year," RBC Capital Markets' John Kolz wrote in a recent note. 
Kolz continued, "Follow-on issuance is up 43%. Converts are up 140%. But those numbers are off an extremely depressed base. The NASDAQ is up 27%, but there's been virtually no tech IPOs. Deal volumes have been decent, but performance thus far has been fair at best. There's real-time momentum in the markets right now, but what does that mean for rest of the year, and for IPOs specifically?"
RBC's Mike Ventura reaffirmed Kolz's view: "If you think of the year-over-year comparisons you've listed, most of that deal volume came from a well-defined window in May and June, ahead of corporate blackouts. The market data has investors feeling good. The knock-on effect of the very strong follow-on performance has already led to a few green shoots in the IPO market."
While the headline of an oversubscribed Arm IPO brings relief for investors, there is still an unsettled macroeconomic environment where risks of a hard landing (read: Goldman questioning the soft landing narrative) mount despite investors latching onto the 'Goldilocks' view. 
Moving beyond the AI bubble, which even JPMorgan's top tech trader Ron Adler warned might have just popped, we shared a note Monday morning that shows a collapse in Bloomberg's Smart Money Flow Indicator.
There are rumblings under the surface...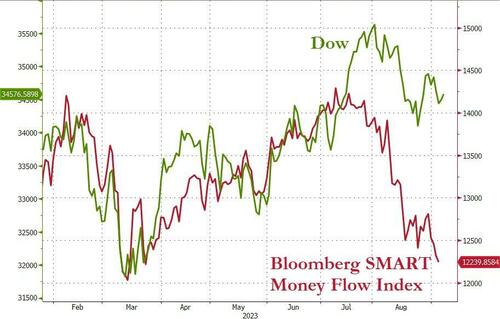 Whether it's the prospect for 'higher for longer' interest rates, another rate hike, or a scare in consumer spending, the market could be just one narrative away from de-risking, suggesting the IPO market recovery might be too premature and possibly a 2024 story.
Loading...