---
JetBlue Joins Chorus Of Airlines Warning About Slipping Demand
We recently penned an article titled "Airline Stocks Encounter Turbulence as Alaska Air Indicates Waning Demand," followed by "Air Travel Bubble Might Be In A Stall." Now, several US airline carriers are warning about a deceleration in domestic air travel demand. 
JetBlue Airways Corp. is the latest to slash its full-year profit forecast over signs of sliding US travel demand: 
"We are updating our full-year earnings outlook to reflect near-term headwinds related to the termination of the NEA, a challenging operating environment in the northeast and a greater than expected shift of pent-up Covid demand to long-haul international markets which is pressuring demand for domestic travel during the peak summer travel period," President/COO Joanna Geraghty wrote in a statement. 
"The guidance is extremely disappointing," Helane Becker, a TD Cowen analyst, told clients. 
Becker continued, "The current revenue environment where domestic fares are trending lower is driving the big reduction in earnings expectations."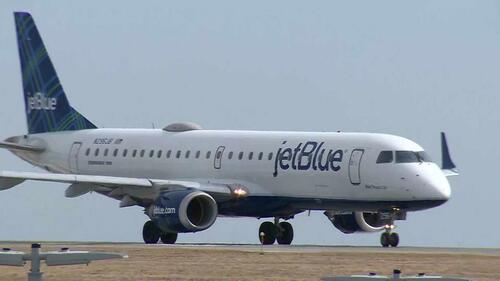 JetBlue said it would earn less due to sliding demand in the third quarter than analysts expected. It joins Alaska Airlines and Southwest Airlines, who warned last week about waning demand. 
According to tech firm Bloomberg Second Measure, which tracked credit and debit card transactions made with airline carriers, such as Delta Air Lines, American Airlines, United Airlines, Southwest Airlines, Alaska Airlines, and JetBlue, card data for the second quarter showed a decline across all carriers tracked for the first time since Covid.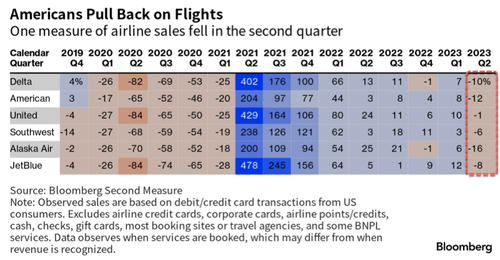 This might be an early sign that 'revenge travel' has passed the peak, and consumers are reducing travel, like other discretionary purchases, including electronics, apparel, and restaurants, as financial conditions tighten. 
In a separate note, Bloomberg believes airlines risk a hard landing after the summer travel surge: "Jam-packed airports, elevated ticket prices and cheery commentary from corporate executives all pointed to strong demand for air travel this summer, helping airline stocks stage a torrid rally heading into the second-quarter earnings. But the road ahead now is starting to look bumpy now."
Loading...