---
Morgan Stanley Prepares To Cut 3,000 Jobs As M&A Activity Sours
Morgan Stanley is planning to eliminate 3,000 jobs in the second quarter amid the continued slowdown in the merger and acquisition (M&A) space and increasing concerns about recession, as per a source cited by Bloomberg. 
"Senior managers are discussing plans to eliminate about 3,000 jobs from the global workforce by the end of this quarter," according to the source.
This proposed downsizing would equate to roughly a 5% reduction, excluding financial advisors and their support staff in the wealth management division. As of the fourth quarter of 2022, the New York-based investment bank had a workforce of 82,427 employees.
In a separate report, a Reuters source said muted M&A activity and mounting macroeconomic headwinds prompted Morgan Stanley to push forward with headcount reductions to trim costs.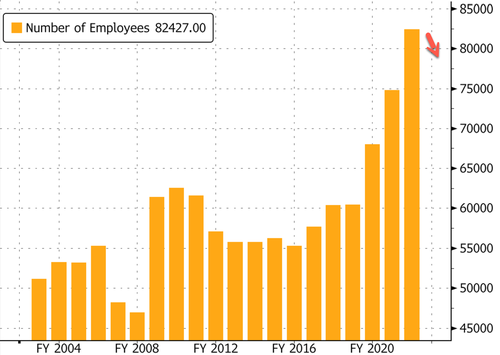 Last month, Chief Executive Officer James Gorman said subdued M&A activity is expected for this year and that he expects a rebound in 2024. 
Morgan Stanley's profit tumbled in the first quarter from a year ago, mostly pulled down by a steep decline in dealmaking, with a 32% plunge in merger advisory and a 22% slide in its equity-underwriting business. 
Data from Dealogic shows M&A volumes in the first quarter were halved from a year before. It's unlikely M&A volumes will surge anytime soon as the Federal Reserve is hellbent on raising interest rates to tame the hottest inflation in decades. Also, the regional banking crisis and credit tightening will continue to create pessimism in capital markets.  
In December, Morgan Stanley axed 1,600 jobs. Goldman Sachs in January eliminated 3,200 jobs. Just last week, Lazard announced plans to shrink its headcount by 10% due to a slowdown in M&A. 
With the continuing stagnation in the M&A space, more investment banks are expected to reduce their workforce as the threat of recession looms.
Loading...