---
Penn Sells Barstool Sports Back To David Portnoy, Enters Into Sports Betting Relationship With ESPN
Less than a year after regional casino operator Penn Entertainment plunked $388 million to Peter Chernin's Chernin Group to purchase the 64% of Barstool sports it did not already own (Chernin had purchased a majority stake from Barstool founder Dave Portnoy in 2016), the honeymoon is over (or someone actually did their DD finally), and in one giant circle, Penn Entertainment announced after the close that it was selling its Barstool Sports subsidiary back to David Portnoy for an unknown amount (but certainly much less than it paid for it) in exchange for a non-compete and "other restrictive covenants." Penn also has the right to get half of the proceeds received by Portnoy in any subsequent sale of Barstool.
Separately, and the reason why PENN is surging (and DKNG is tumbling) after hours is because the casino operator also signed a long-term exclusive partnership for sports betting with ESPN.
Penn will have the 10-year exclusive right to use the ESPN Bet name for sports betting in the US, the company said in a statement Tuesday; having disposed of Barstool, Penn will rebrand its Barstool sportsbook with the ESPN name starting this fall while continuing to operate as theScore Bet in Canada.
From the PENN 8-K: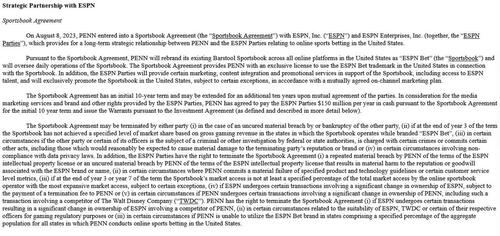 Penn will make cash payments of $1.5 billion during the 10-year term and grant ESPN $500 million of warrants to purchase Penn shares.
PENN stock surged on the news in afterhour trading...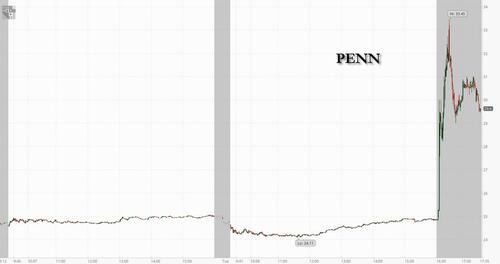 ... in a day when the two trades that worked best are betting on Americans' obesity and their gambling addictions.
Loading...