---
'Sound Of Freedom' Shatters Expectations, Hits $100 Million Milestone At Box Office
Despite the mounting hit pieces from Bloomberg, Rolling Stone, and other corporate media outlets about Jim Caviezel's anti-child-trafficking film "Sound of Freedom," Americans are still flocking to movie theaters nationwide as it appears the film has become one of the summer's biggest blockbusters so far. 
The low-budgeted, faith-inspired film is based on the life of Tim Ballard, the founder of Operation Underground Railroad – an organization committed to rescuing children from sex trafficking – achieved a significant milestone on Wednesday, taking in more than $100 million from US theaters since its July 4 debut. 
Last weekend, Sound of Freedom finished second place behind Paramount Pictures' new Mission: Impossible while outpacing Disney's latest Indiana Jones.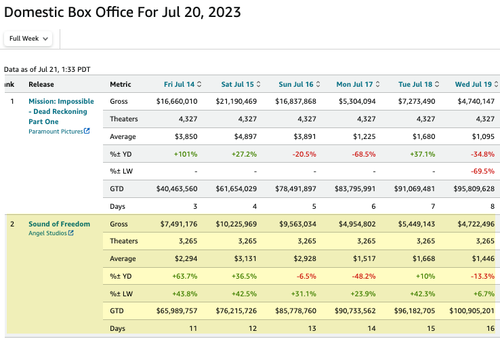 Sound of Freedom "is the first indie release in post-pandemic times to surpass $100 million at the domestic box office," Variety said. It noted the film currently "stands as the 16th-highest-grossing North American release of the year." 
"'Sound of Freedom' has become the people's movie," said Jared Geesey, SVP of global distribution at Angel Studios. 
Geesey continued, "This is the opposite of the top-down system developed by Hollywood gatekeepers. We are empowering people to be part of choosing, funding, and sharing stories that amplify light and impact culture."
But as we noted in the beginning, many mainstream media outlets have unleashed a crusade against the film to demonize it and loop it in with 'conspiracy theorists' despite Angel Studios saying this "powerful film is based on a true story" of "Tim Ballard, a former Homeland Security agent, as he battles against human trafficking. His relentless pursuit of justice exposes the dark underbelly of this global crime, leaving an indelible impact on the fight for freedom."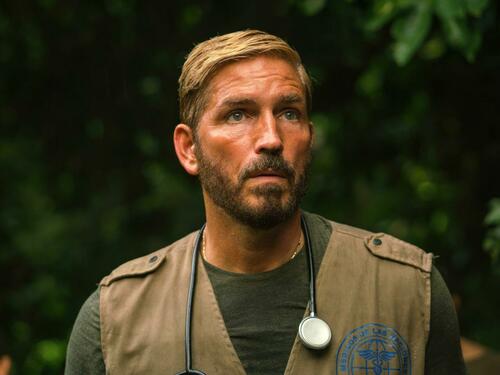 The film's release comes as disgraced financier Jeffrey Epstein's sex trafficking operation is still fresh in the minds of millions of Americans. Just last week, the US Virgin Islands said in a court filing that it seeks nearly $200 million from JPMorgan Chase for failing to detect and report Epstein's sex trafficking operation. 
Regardless of the mainstream media's constant bashing of the film, Americans remain undeterred, continuing to fill theater seats.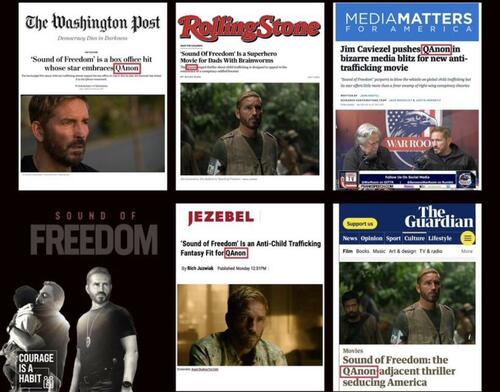 The public consciousness is shifting, with this awareness now entering the mainstream. The matrix that legacy media has controlled for decades is 'glitching.' 
Loading...