---
Starter Homes Are Becoming Extinct, Making 'The American Dream' Unaffordable
Hitting the news wires late this week are headlines about the Biden administration's plan to tackle the housing affordability crisis that has persisted since the Federal Reserve aggressively raised interest rates in early 2022 to combat the worst inflation storm in a generation. The result of tighter monetary policy has propelled mortgage rates north of 7%, making starter homes for first-time buyers more unaffordable. 
"Buyers searching for starter homes in today's market are on a wild goose chase because in many parts of the country, there's no such thing as a starter home anymore," Sheharyar Bokhari, Redfin senior economist, told Bloomberg. 
Bokhari said, "The most affordable homes for sale are no longer affordable to people with lower budgets due to the combination of rising prices and rising rates."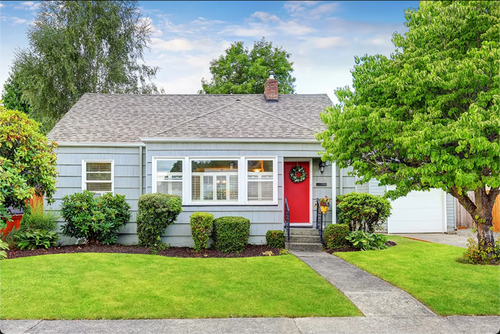 The average rate on the popular 30-year fixed mortgage was 7.34% on July 27, reaching its highest point since November, according to data published by Bankrate. This means the average priced starter home, around $243,000, has become increasingly unaffordable to many -- with that, the American Dream quickly dies.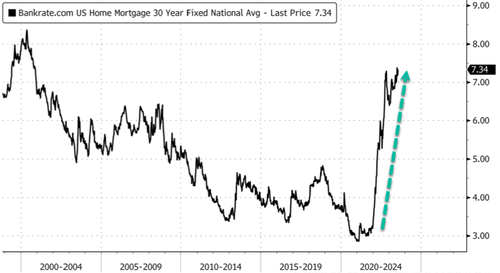 An increase in borrowing costs has led to more than a doubling of the average mortgage payment for a median single-family home over the course of a year, assuming a 30-year fixed mortgage with a 20% down payment.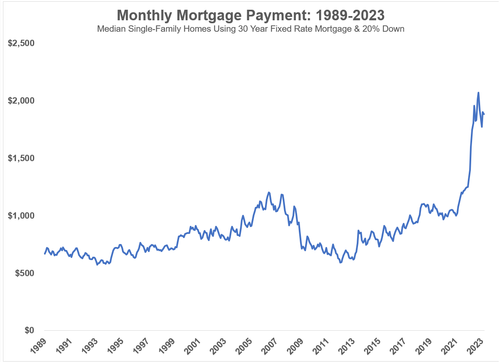 Real estate firm Redfin said buyers must earn at least $64,500 to ensure their debt-to-income ratio doesn't exceed 30% when buying a starter home. 
Buyers face a market where active listing for affordable homes across the US is rapidly plunging. Bokhari said new active listings are down 23% year-over-year due to homeowners staying put because many bought in an era of record-low mortgage rates. We pointed that out last week when only 1% of US homes changed hands in 2023, the lowest on record, indicating the market is in 'complete paralysis.' 
Bokhari said the number of affordable homes on the market had been halved in the last decade.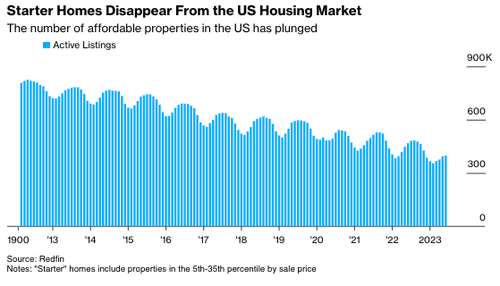 The housing affordability crisis has been manifesting for more than a year. Readers have been well-informed about this trend via notes titled First-Time Homebuyers Are Absolutely Screwed Right Now and Housing Affordability Worsens As Homeownership Out Of Reach For Anyone Making Under $100k. 
That may be why parked mobile home shipments are surging as the American Dream dies. And Home Depot understands this by offering $44,000 tiny homes (land not included). 
Loading...