---
'Streamflation' Bites As Searches To Cancel Hulu And Disney+ Erupt Nationwide
This fall, Disney+ and Hulu will hike prices on their ad-free plans. Disney+'s monthly subscription will jump from $11 to $14, while Hulu's will go from $15 to $18. For those who have been counting, Disney+ now costs twice as much as it did versus its 2019 launch. In other words, entertainment giants have unleashed 'streamflation' on their respective customer bases. 
So with Disney+ and Hulu price hikes expected on Oct. 12, we want to see how heavily indebted consumers with personal savings dwindling and student loan payments restarting have reacted to streamflation. The results are not great: 
Google Trends reveal "Cancel Disney Plus" and "Cancel Hulu" searches have erupted nationwide:
Cancel Disney Plus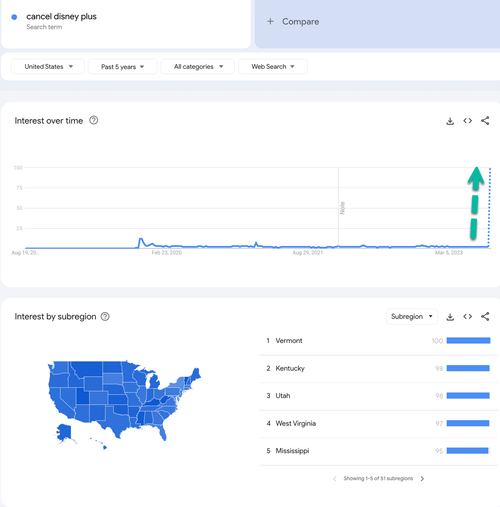 Cancel Hulu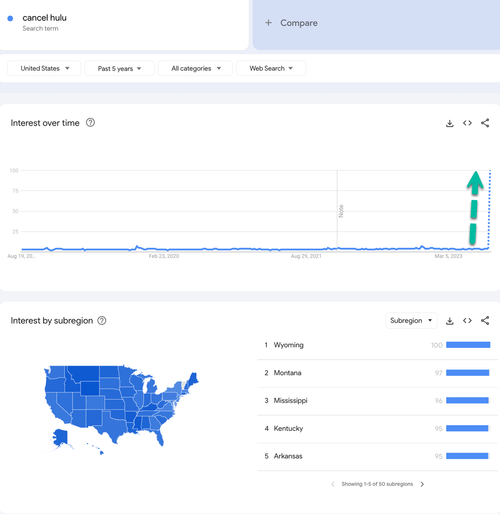 A Wall Street Journal analysis found the average cost of watching a major ad-free streaming service has surged by a quarter in the last year. It's not just Disney and Hulu raising prices; Peacock, Max, Paramount+, and Apple TV+ have all announced similar price hikes.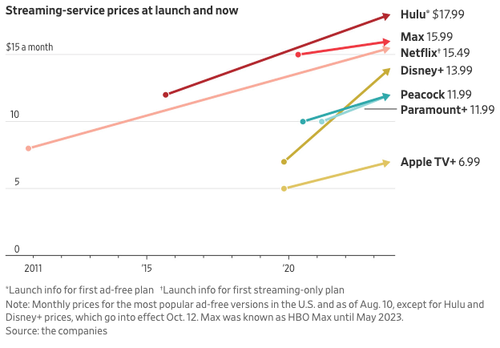 "After years of charging bargain-basement prices in pursuit of fast growth, most of the big players face a financial reckoning, with tens of billions of dollars in losses piling up," WSJ said, adding entertainment companies now seek "profitability" and this might be a major test for "loyalty of their customers" if they can afford higher prices. 
"Can you raise prices by 30% and not increase churn? That's the big question," said Rich Greenfield, an analyst with LightShed Partners.
According to new Nielsen data released Tuesday, a record 38.7% of Americans were streamers last month. 
Steaming companies are like drug dealers. They hooked consumers on cheap stimulating content for years. Now hike prices on their struggling customer base. How many folks who cold-turkey streaming go back to cable?
Loading...