---
Summer Blockbuster 'Sound Of Freedom' To Hit Movie Screens "Around The World"
Despite a wave of negative criticism from mainstream outlets like (Rolling Stone and Bloomberg) targeting the anti-child trafficking movie "Sound of Freedom," the independent film is defying expectations by increasing its nationwide screening count. The film's earnings have exceeded $140 million, and there are plans to expand its reach to over 20 countries in Central and South America, the United Kingdom and Ireland, Australia, and South Africa. 
The film's production company Angel Studios tweeted, "Sound of Freedom is on its way around the world." 
You ask, we answer. "Sound of Freedom" is on its way around the world.

Find international showtimes at https://t.co/tUytCofxfr .#SoundOfFreedom #AngelStudios pic.twitter.com/fOCIZ7od1p

— Angel Studios (@AngelStudiosInc) July 26, 2023
On Friday, Angel Studios released a statement, "SOUND OF FREEDOM enters its fourth-weekend screening in 3,411 theaters, and is crossing the total booking threshold of over 4,000 screens and topping $130M in box office revenue." 
"Everyone in the industry knows that films are generally supposed to lose screens week-over-week, not add them. And yet, the incredible word-of-mouth driving SOUND OF FREEDOM continues to spread. In response, we are continuing to expand our offering in theaters this weekend," said Brandon Purdie, Angel Studios Head of Theatrical. 
According to Box Office Mojo, the movie that only had a budget of $14.5 million has earned $140 million as of Friday since being released on July 4 -- and remains in the top five hottest movies at theaters.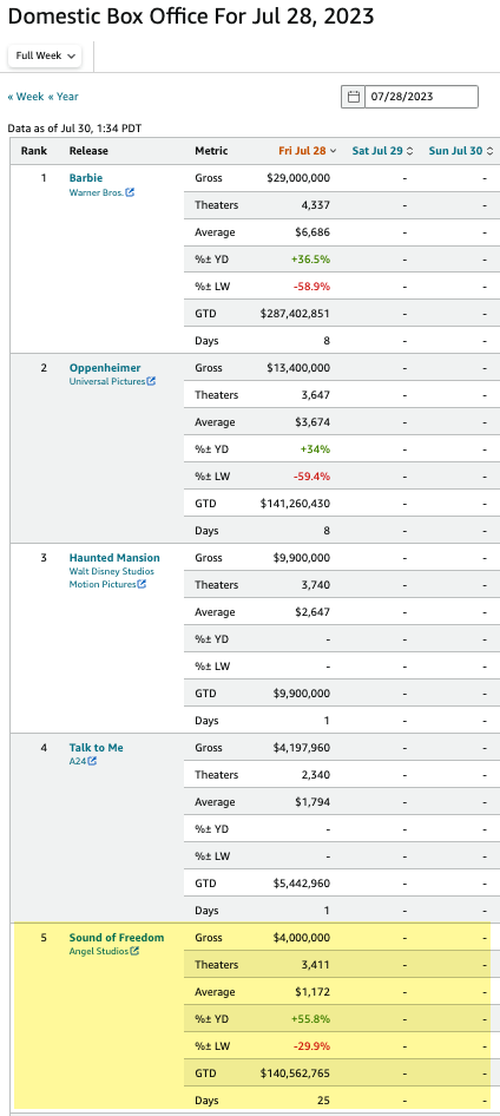 Geesey told Newsweek, "Since Sound of Freedom launched in the U.S., demand has been building around the world in dozens of regions and languages. Child trafficking is a global issue, and we hope to build on the incredible momentum here in the States and share the film's powerful message worldwide."
He told Variety: "Sound of Freedom has become the people's movie. This is the opposite of the top down system developed by Hollywood gatekeepers. We are empowering people to be part of choosing, funding, and sharing stories that amplify light and impact culture."
The film, which stars Jim Caviezel, is based on the true story of Tim Ballard, a former Homeland Security agent who battles against human trafficking. 
"A MAJOR MOTION PICTURE MASTERPIECE THAT EVERYONE MUST SEE!"

"An inspiring, life-changing film that captured my heart and changed the way I think about everything."
See showtimes at https://t.co/JEKL04lTRB #2MillionFor2Million pic.twitter.com/iCjrweVSxl

— Angel Studios (@AngelStudiosInc) June 30, 2023
At the end of the film, a message reads, "Human trafficking is a 150 billion-dollar-a-year business. The United States is one of the top destinations for human trafficking and is among the largest consumers of child sex. There are more humans trapped in slavery today than [at] any other time in history—including when slavery was legal. Millions of these slaves are children."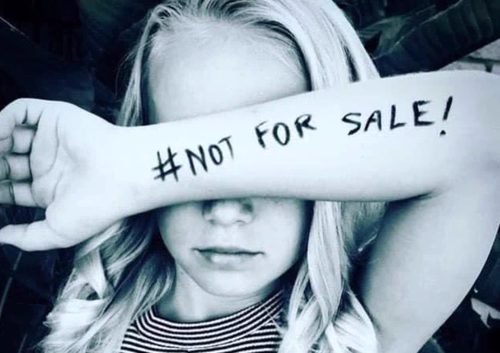 No matter how much corporate media bashes the movie as nothing more than 'QAnon conspiracy theories,' the horrors of child trafficking are very real, and the popularity of it continues to expand worldwide. 
Loading...