---
Tesla Building A "Bunkerlike" Structure In Texas To House Its "Dojo" Supercomputer
Tesla is officially thinking past electric vehicles and building a "bunkerlike" structure in Texas that it will use to house part of a new supercomputer that the company is calling "Dojo". 
The supercomputer is being put together by the company "to help run the artificial intelligence software behind the self-driving capabilities in its vehicles," according to The Information. 
The supercomputer could also eventually be used to sell cloud services to other companies, the report says. The project is is being called an "an audacious plan by Musk to take greater control over the technology it needs to run the AI software at the heart of its products".
Tesla CEO Elon Musk has already said he plans on investing "well over" $1 billion on the project, which is based on an in-house chip that was designed by Tesla. Currently, Tesla uses Nvidia AI chips to power its vehicles. 
As the company moves more toward the "robotaxi" evolution that we were promised years ago at this point, it has obviously realized it is going to need significantly more computer power. 
Glenn O'Donnell, a semiconductor researcher at technology research firm Forrester told The Information that it is tough for people in AI to get enough chips: "Everybody who is trying to do this is complaining that they can't get enough of these chips." 
A primary motivator for Tesla's development of its in-house AI chip, known as D1, is to decrease dependency on Nvidia, a sentiment echoed by other tech giants like AWS and Microsoft. Elon Musk admitted that Tesla would have stayed with Nvidia if the chipmaker could meet Tesla's growing demands. Going forward, the plan is to use both Nvidia and D1 chips for their Dojo supercomputer, the report says.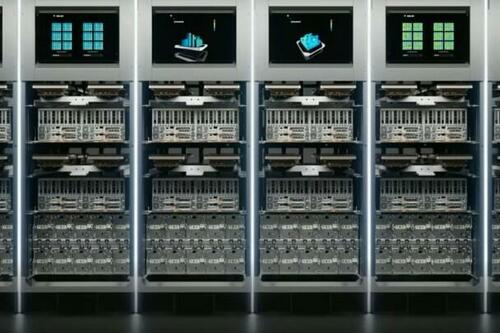 Taiwanese media revealed that Tesla recently doubled its D1 chip orders with Taiwan Semiconductor Manufacturing Co., which produces these chips for Tesla.
Obviously, as Dojo expands, Tesla will require more physical space. The firm's current strategy involves utilizing its Palo Alto data center to host seven ExaPods—a term Tesla uses to describe a cluster of Dojo servers. Within a year, Tesla expects its Dojo computing capabilities to grow to an equivalent of 100 ExaPods, necessitating additional facilities.
Recall back in early September we wrote about how Morgan Stanley's Adam Jonas upgraded Tesla based almost solely on its forthcoming "Dojo" capabilities. 
Jonas predicts that Tesla's Dojo supercomputer may add as much as $500 billion to the company's market value as a result of faster adoption of Robotaxis and the company's network services. Jonas says the technology can open up "new addressable markets" in the same way AWS did for Amazon.
Dojo could put Tesla at "an asymmetric advantage" in a market potentially worth $10 trillion, he said. 
"We believe that Dojo can add up to $500bn to Tesla's enterprise value, expressed through a faster adoption rate in Mobility (robotaxi) and Network Services (SaaS). The change drives our PT increase to $400 vs. $250 previously. We upgrade to Overweight and make Tesla our Top Pick," Jonas wrote in a 66 page note out in September. 
Jonas added: "We believe Dojo can represent the next step-change in market  perception of Tesla. Dojo emphasizes 3 of Tesla's core capabilities: 1) speed, 2) performance, and 3) cost. In the near term, we believe  Dojo can accelerate the development and monetization of Tesla's  software and services business. Longer term, we see scope for Dojo  to provide avenues for Tesla's software and hardware capabilities to  extend well beyond the auto industry. If Dojo can help make cars 'see'  and 'react,' what other markets could open up? Think of any device at the edge with a camera that makes real-time decisions based on its visual field."
And so now, all eyes are on the company's "bunker" in Austin...
Loading...