---
Morgan Stanley Upgrades Tesla, Says "Dojo" Supercomputing Effort Could Unlock $10 Trillion TAM
Tesla shares are up nearly 6% in the pre-market session after Morgan Stanley's Adam Jonas raised his price target on the name to $400, upgraded the company to "overweight" and named Tesla a top pick.
Jonas predicts that Tesla's Dojo supercomputer may add as much as $500 billion to the company's market value as a result of faster adoption of Robotaxis and the company's network services. Jonas says the technology can open up "new addressable markets" in the same way AWS did for Amazon.
Dojo could put Tesla at "an asymmetric advantage" in a market potentially worth $10 trillion, the note says. 
In its 66 page note out Monday morning, MS wrote: "We believe that Dojo can add up to $500bn to Tesla's enterprise value, expressed through a faster adoption rate in Mobility (robotaxi) and Network Services (SaaS). The change drives our PT increase to $400 vs. $250 previously. We upgrade to Overweight and make Tesla our Top Pick."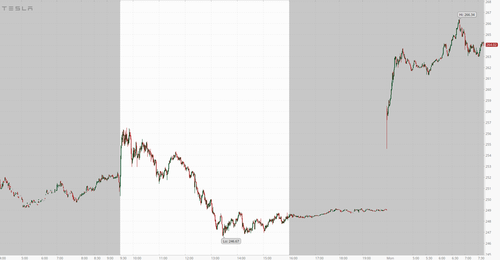 Tesla is on track to tack on about $46 trillion in market value on Monday by the cash open. Morgan Stanley has been the investment bank that has followed Tesla and Musk the closest over the years. 
"Investors have long debated whether Tesla is an auto company or a tech company. We believe it's both, but see the biggest value driver from here being software and services  revenue," Jonas says opening his note. "The same forces that have driven AWS to reach 70% of AMZN total EBIT can work  at Tesla, in our view, opening up new addressable markets that extend well beyond selling  vehicles at a fixed price. The catalyst? Dojo, Tesla's custom supercomputing effort in the works for the past 5 years."
Jonas adds: "We believe Dojo can represent the next step-change in market  perception of Tesla. Dojo emphasizes 3 of Tesla's core capabilities: 1) speed, 2) performance, and 3) cost. In the near term, we believe  Dojo can accelerate the development and monetization of Tesla's  software and services business. Longer term, we see scope for Dojo  to provide avenues for Tesla's software and hardware capabilities to  extend well beyond the auto industry. If Dojo can help make cars 'see'  and 'react,' what other markets could open up? Think of any device at the edge with a camera that makes real-time decisions based on its  visual field."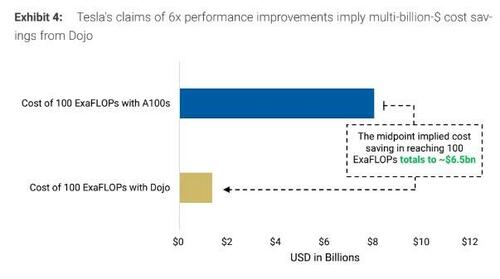 The note then talks about the cost savings that Dojo will ultimately be able to provide:
Tesla estimates that Dojo can provide 6x cost saving vs current, state of the art, GPU alternatives. On our calculations, when com paring what Tesla would have to spend on equivalent compute from  NVDIA, Dojo has the potential to drive ~$6.5bn in cost savings for  Tesla over the next couple of years to reach the company's stated  goal of materially increasing internal computing power by October  2024 (to 100 exaFLOPs). This is achieved by having a purpose built,  in-house semiconductor and AI tech stack. Dojo became operational  in July of this year and we believe the continued rollout and subsequent company announcements will provide the catalyst for investors to appreciate Dojo's potential.

We note that 6x cost savings is Tesla's claim and we are unable to verify it with specificity given the  early stage of Dojo roll-out. We also note that there are other pieces of data provided by Tesla that suggest other implied cost savings out comes that could differ from the 6x claim. Finally, just because Tesla  is making a major effort to commercialize Dojo for its in-house purposes does not mean that the system will ultimately represent the best cost/performance alternative on the market longer term give  continuous improvement of rival compute technology.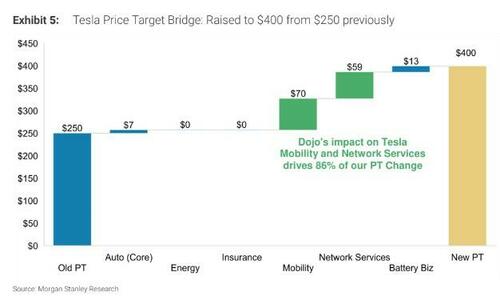 And finally, what would a shiny new technology be for a car-turned-tech company if it didn't help the "attach rate" with new vehicle purchases (this, as Full Self Driving, paid for by many Tesla owners years ago, has still not arrived). Jonas writes:
For our Tesla modeling purposes, we focused on the potential for Dojo to deliver autonomy and network services revenues at a faster attach rate with higher average monthly revenue per user  (ARPU), driving a material increase to our estimates. We have NOT given Tesla credit for specific cost savings from Dojo vs. its current supercomputing budget. Nor have we given Tesla credit for any  non-auto-related revenue streams. With significantly increased  computing power and faster processing speeds (latency), Tesla's  path to monetizing vehicle software can materialize sooner, and at  higher recurring revenue rates. We also for the first time incorporate  non-Tesla fleet licensing revenue into our Network Services model as  we expect recent charging station cooperation will extend into FSD  licensing (discussions ongoing) and operating system licensing.
The note continues:
We  now forecast Tesla Network Services to reach $335bn in revenue in  2040 vs $157bn previously, and expect the segment to represent  over a third of total company EBITDA in 2030, doubling to over 60%  of group EBITDA by 2040 (vs. 38% previously). T

his increase is  largely driven by the emerging opportunity we see in 3rd party fleet  licensing, increased ARPU, with operating leverage driving higher  long-term EBITDA margin vs. prior forecast (65% from FY26 onwards, vs. 50% previously).

In addition to Network Services, we indirectly ascribe the value of Dojo to our Tesla Mobility robotaxi assumptions (increased long term fleet size and margin), and 3rd  Party Battery Business, as we believe the charging and FSD deals will also result in higher hardware attach.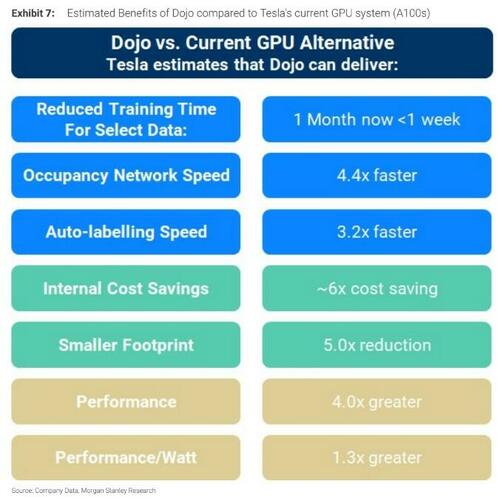 Jonas also provides a timeline of how Tesla's development of Dojo has gone over the last 5 years.
April 2019: During Tesla's autonomy day, Elon Musk mentions that  Tesla was working on a "super powerful training computer". He says  that the goal of Dojo will be to perform unsupervised training at a  large-scale level using vast amounts of video data. 
August 2019: Musk tweets "will Dojo be the difference", alluding  towards the potential significance of the supercomputer, even at an  early stage. 
August 2020: Musk makes a series of tweets about Dojo, with one  claiming V1.0 to be "about a year away". 
September 2020: More Musk tweets are made, mentioning that  Dojo uses Tesla-made chips (rather than a GPU cluster) and a computer architecture that is optimized for neural net training. He can be quoted saying "I think it will be the best in the world". 
August 2021: Tesla hosts AI Day and unveils Dojo's hardware and  software in greater detail. 
August 2022: Tesla releases two presentations at the Hot Chips 34  conference ahead of their planned AI Day that feature high-level  information about Dojo. Senior Hardware Director Ganesh Venkataramanan introduces that there is a large gap between what's  needed to accelerate AI and what is available, and that Dojo can fill  the void. Musk replies to a tweet about Dojo, saying that Tesla won't need to  buy as many incremental GPUs next year. 
September 2022: Tesla hosts AI Day and provides further updates  on Dojo's architecture and progress. 
June 2023: A twitter account from Tesla is created in May 2023  called "Tesla AI", and a series of tweets are made in June with videos  of the autonomous technology in action, prompted by their neural  networks. Tweets mention that these models will learn from a huge  set of data, and that it will be trained on "enormous amounts of compute" using Dojo in the future. A chart is released that projects that  Dojo will start producing (one ExaPOD will be completely brought online) in July 2023, Tesla will have a top 5 compute power in the  world by January 2024, and Tesla will reach 100 exaFLOPs of compute by October 2024. 
July 2023: Musk confirms that Dojo is online and handling production workloads via liking a Tweet. Tesla reports 2Q earnings and provides updates on Dojo in the  earning call, including R&D/CapEx costs over the next year of $1bn+. 
Pro subscribers can read Jonas' entire 66 page note in the usual place.
Recall, we just wrote over the weekend about how Tesla's price cuts were helping it excel in China, where it posted month over month delivery gains of 30.9% for August. 
It was slow going for Tesla in China in July, with some questioning whether or not saturation in the market was slowing the company's growth. But in August, the EV company saw a return to growth as it slashed prices on vehicles even further and Beijing enticed citizens to go EV shopping with tax breaks. 
For the month of August, Tesla sold 64,694 vehicles and exported 14,465 vehicles, according to data from China's Passenger Car Association.
It marked the first year over year gain since May 2023, Reuters noted. China's auto marker is also seeing a tailwind from lower rates on existing mortgages and lower rates for first time home buyers, CPCA Secretary General Cui Dongshu noted.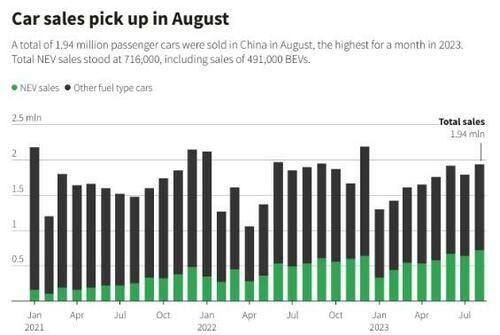 Recall we just noted last month that Tesla had cut the price of its Model S Plaid in China by 19%. 
We also noted that Canadian VC and self-labeled "SPAC Jesus" Chamath Palihapitiya was out over Labor Day weekend praising the speed and aggressiveness of Tesla's price cuts, which seem to be working. 
"Some companies cut prices, but most keep prices flat or increase them," he added. "Some companies improve products quickly. But no one has actually given you more for less on such a big ticket purchase so frequently."
Loading...