---
Think Tank Warns Biden's Inner Circle 'Bidenomics' Media Blitz Failed
A progressive think tank recently met with President Biden's top aides at the White House and delivered a stark warning: The economic policies often referred to as "Bidenomics" were not resonating with most Americans.
According to Politico, members of the Progressive Change Campaign Committee (PCCC) visited the West Wing in September and October to brief White House officials about Bidenomics' branding failure. They presented numerous polling data that showed Americans aren't convinced about economic policy accomplishments under the president. 
"Democrats can't just hammer people over the head with an insistence that the economy is great," Adam Green, co-founder of the PCCC, told Politico.
Green said, "We have to acknowledge pain and pivot, and there are ways that we can optimize that pivot to hit Trump for mismanaging the economy."
Politico said PCCC supplied White House officials with several surveys that showed Americans weren't buying into the Bidenomics story:
Just 35 percent of Americans trusted Democrats more on economic issues, according to weeks of private polling presented to the White House in mid-September and recently obtained by POLITICO. The data reinforced broad concerns over the public's dismal outlook. Despite expressing widespread support for Biden's policy agenda, few voters were aware he'd made much progress on any of a dozen-plus top priorities, like drug pricing or infrastructure.

Perhaps most alarming, 7 out of 10 people surveyed believed the economy wasn't getting better — even after they were explicitly told that inflation had eased and unemployment sat near record lows. That preface, designed specifically to persuade voters to brighten their view of the economy, did not seem to move them.
Green continued, "When we intentionally put our finger on the scale, and 100 percent of people hear good economic indicators before saying if the economy's going well for them, we still get walloped."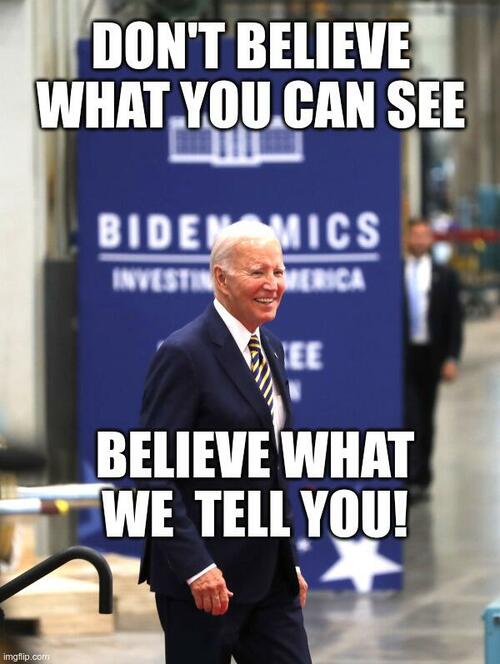 Headline count data via Bloomberg shows the White House launched the "Bidenomics" media blitz in late June.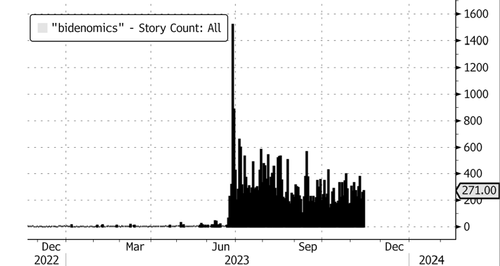 Despite the media blitz, Biden's job approval polling data via Real Clear Politics went down.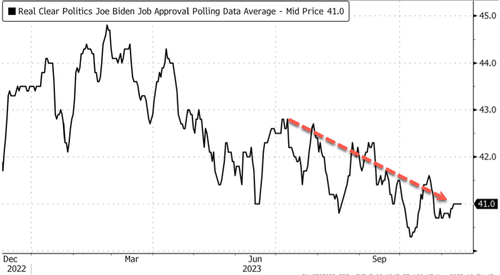 Perhaps the Biden administration fails to admit that two years of negative real wage growth crushed many low/mid-tier households.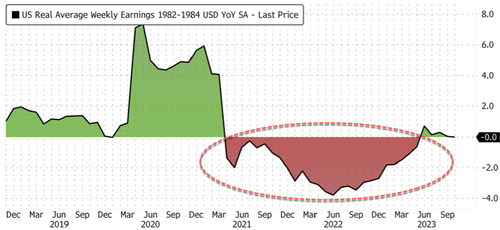 We've recently shown consumers have never been in this worse shape, draining personal savings while racking up insurmountable credit card debt in the highest rate environment in a generation. Many folks are struggling with out-of-control food prices, elevated pump prices, and high shelter costs.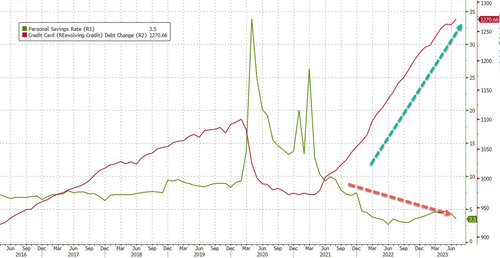 Biden has lost the GenZer vote.
Millennials crying about life, rent, groceries.

"and all we do, we record a video and post it on social media. Then we close up the app and go about our day."

Do you have sympathy for their situation? Or do you want to tell them, "try voting differently next time." I sort of… pic.twitter.com/KEZ3rjxdxw

— Wall Street Silver (@WallStreetSilv) October 12, 2023
In other words, the Biden administration has failed to control the narrative. Now it's time for them to usher in more censorship of 'free speech' or label anyone with non-approved gov't narratives 'Russian bots'.
Loading...